With the emergence of new genres and their rapid development, rhythm accompaniment has acquired a new meaning in performance. And, of course, many guitarists are searching for the best rhythm guitars, which will be discussed in this article. It should be noted that there are no special instruments for the performance of a particular style, but there are those that are better suited than others.
The rhythm guitar is a percussive auxiliary instrument to the bass. It once replaced the banjo in reggae, jazz, and blues. Today almost no style is without rhythm parts. And such a guitar, even if it's electric, must be able to stand heavy loads and be comfortable for playing chords and riffs. And so, first of all, I will tell you the details you should pay attention to when choosing such an instrument. It will be interesting!
Our pick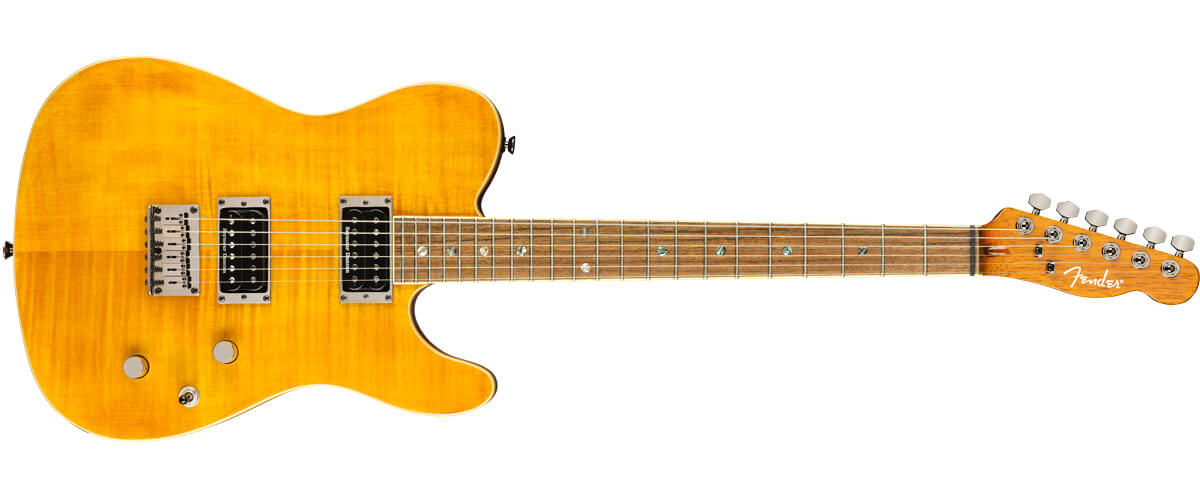 Fender Special Edition Custom Telecaster
Best rhythm guitar
Fender Special Edition Custom Telecaster sounds phenomenal, with dual Seymour Duncan humbucking pickups, three-way pickup switching, and a push/pull coil tap switch built into the master tone control knob.
Read the full review
.
Rhythm guitar comparison table
Guitar
Scale, in/cm
Fretboard radius, in/cm
Neck joint
Detailed review
Fender Special Edition Custom Telecaster

best overall

25.5/64.7
15.7/40
one-piece
Review
Jackson Pro Series Dinky DK2

best metal rhythm guitar

25.5/64.7
12-16/30.4-40.6
bolt-on
Review
Epiphone Firebird
24.7/62.6
12/30.4
bolt-on
Review
What to look for in a rhythm guitar?
Pickups
The pickup system is the most important thing to consider when we talk about the best electric guitar for rhythm. HH humbuckers are optimal because they have a deeper, cleaner sound to accompany the bass lines. In addition, they provide the clarity that you need for your chords. They also usually have multiple positions for simultaneous or split playing.
Of course, it is not necessary, and you can play rhythm parts on single coil pickups or even on a single bridge pickup. You can also choose an acoustic instrument as a rhythm guitar.
Tonewood
Electric guitars usually use solid wood with good tone data. The body and neck material of the guitar affect the final result of the sound, providing a certain tone and resonance, so you should learn to be as knowledgeable about them as you are about the other parts of your instrument. Either way, it all depends on the musician's taste, but a few types of wood are generally accepted among players as being of the highest quality. These are Maple, Ebony, Spruce, or Alder. But at the top of the charts is Mahogany, which has the most durability and a warm, soft tone, and this is exactly what you need for a rhythm guitar.
String gauge
The rhythm guitar is a heavy, deep sound, which means you need thick strings and a strong bridge. I recommend the strings with sizes 10-56; the bridge is better to choose a fixed one. I think such a combination will hold the line reliably when playing dynamically.
Bridge type
The bridge of a guitar is one of the most important components, significantly impacting sustained tone, intonation, and overall sound. For rhythm guitarists looking to maximize string stability, a fixed bridge is often preferred because it securely holds the strings in place. However, a movable bridge, such as the Floyd Rose bridge (I have one model with this type of bridge in my review), may be the better option for those experienced enough to maximize its capabilities. Ultimately, it all depends on the level and preference of the guitarist.
Scale length
The scale length of a guitar determines its playing and timbral characteristics. And to make the right choice for guitars for rhythm playing, it's important to determine what kind of tuning you desire. For standard or slightly lower tunings (say, a tone lower), a scale length of 25.5 inches is ideal, providing a balanced response. For lower tunings, a longer scale length of 26.5 inches is recommended to maintain string tension and clarity of sound. But in the end, it will again come down to your personal preference and comfort.
Best rhythm guitar reviews
When you hear a Telecaster, you know we're talking about the popular Fender guitar. But what if the manufacturer decided to surprise you this time? I offer you the Fender Special Edition Custom Telecaster review, an unusual model with several differences from the classic version. But such differences take the Telecaster to a new level of sound. Are you ready? Go for it!
Body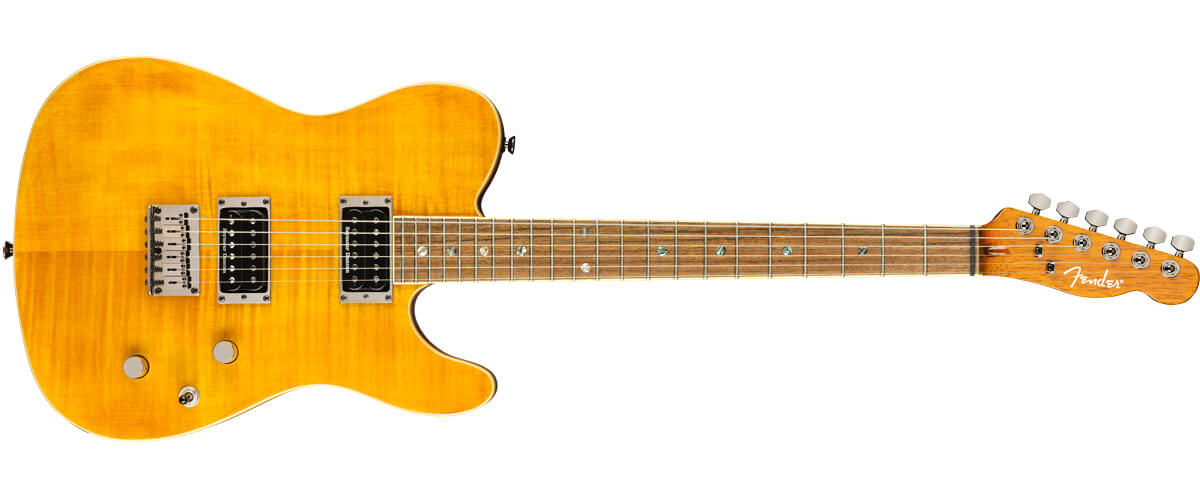 Even the Special Edition Custom Telecaster FMT HH case is made of solid Mahogany, which makes it stand out from its predecessor. After all, this wood is characterized by its resonant properties and gives the instrument a warm tonal sound. The carved Maple top comes in three colors Amber, Crimson Red Transparent, and Black Cherry Burst with Gloss Urethane Finish as if saying that this guitar is fire!
The Knurled Dome Control Knobs (master volume, master tone with built-in push/pull coil tap) and Black Switch Tip are located right on the top. They are easy to operate and don't get in the way when playing. The Black Nickel hardware complements the bright image of the Telecaster FMT HH.
Pickup system
Well, as for the electronics, Fender didn't disappoint. The rock parts on the fiery Telecaster look beautiful and sound vintage and snarly. The dual high-octane Seymour Duncan humbucker delivers power and old-school style. The '59 SH-1N Neck Pickup produces an elevated midrange and pot, while the Pearly Gates bridge adds grit and dynamics. The 6-Saddle String-Through-Body Hardtail With Block Saddles Bridge provides stability and sustain, so you can really "go wild" on the toughest compositions. The HH in the name refers to the configuration, and the three-way pickup switching and push/pull coil switch built into the main tone control knob allow you to have a wide range and perform a variety of styles even on one coil.
Neck, fingerboard, headstock
The neck is the same as the standard Telecaster - a modern C-shape with Gloss Urethane Finish, but like the body, it is made of Mahogany. Its playability and stability are both amazing. It fits perfectly in hand, and the 15.75-inch radius makes it suitable for musicians with large hands. In addition to the glossy finish, the Indian Laurel fretboard with a 25.5" scale length provides optimal speed. It features 22 Jumbo frets with Abalone Dot Position inlays that are extremely comfortable, smooth, and well-polished. Standard Cast/Sealed Tuning Machines and Graphite Nut complete the neck construction. Perhaps they could have been better, but to save the cost of the guitar, the manufacturer spared on something that could well be replaced if desired.
Sound quality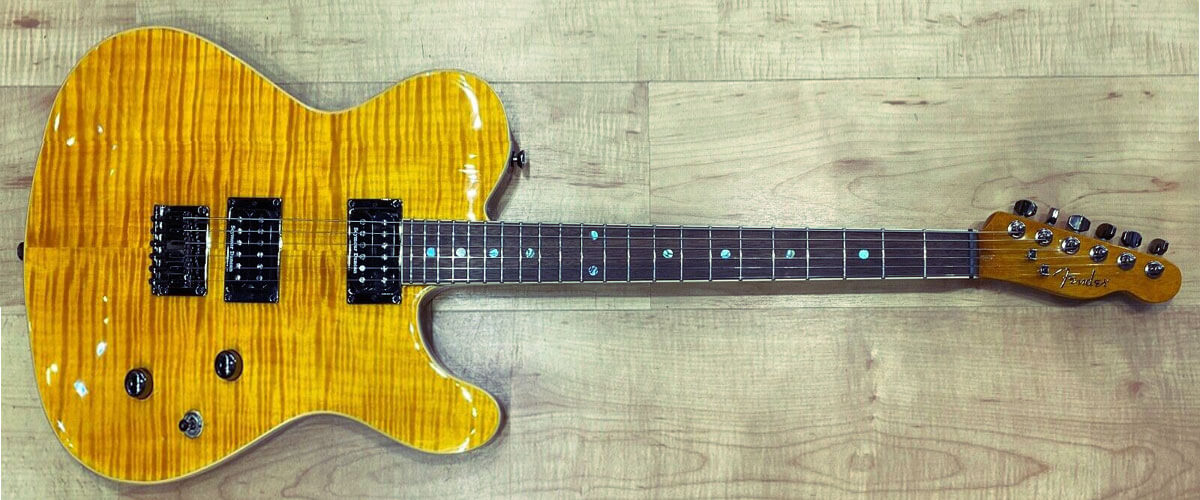 Basically, I've already told you what kind of sound you can expect from a Fender Special Edition Custom Telecaster. I didn't hear any dead notes, buzzing, or tinny effects. Instead, everything works quickly and smoothly. You get a powerful, as many call it, "beast" that will please you if you like heavy styles. But the guitar will also suit other styles, so you should try it. If I were asked if the Fender Special Edition Custom Telecaster guitar is good, I would say yes. But as we all know, there is no perfect thing for everyone. Who knows, maybe this is just the perfect one for you?
Key specs
Scale, in/cm: 25.5/64.7.
Frets: 22.
Fretboard radius, in/cm: 15.7/40.
Type: electric.
Body material: mahogany, maple.
Neck material: mahogany.
Neck joint: one-piece.
With that said, the title of electric guitar for hard rock rhythm playing on my list goes to the Fender Special Edition Custom Telecaster. The mahogany body and the double Seymour Duncan high-octane humbucker give off a vintage warm sound. The 6-Saddle String-Through-Body Hardtail Bridge allows you to get away with dynamic parts. It is an excellent instrument that will suit many styles, but rock is its true element.
Jackson Pro Series Dinky DK2 – best metal rhythm guitar
My Jackson Pro Series Dinky DK2 review is dedicated to an interesting model made in Indonesia, like most Jackson guitars. It's not cheap, but it doesn't cost a fortune, so it might appeal to many who appreciate good playability, decent sound, build quality, and unusual appearance. Let's go!
Body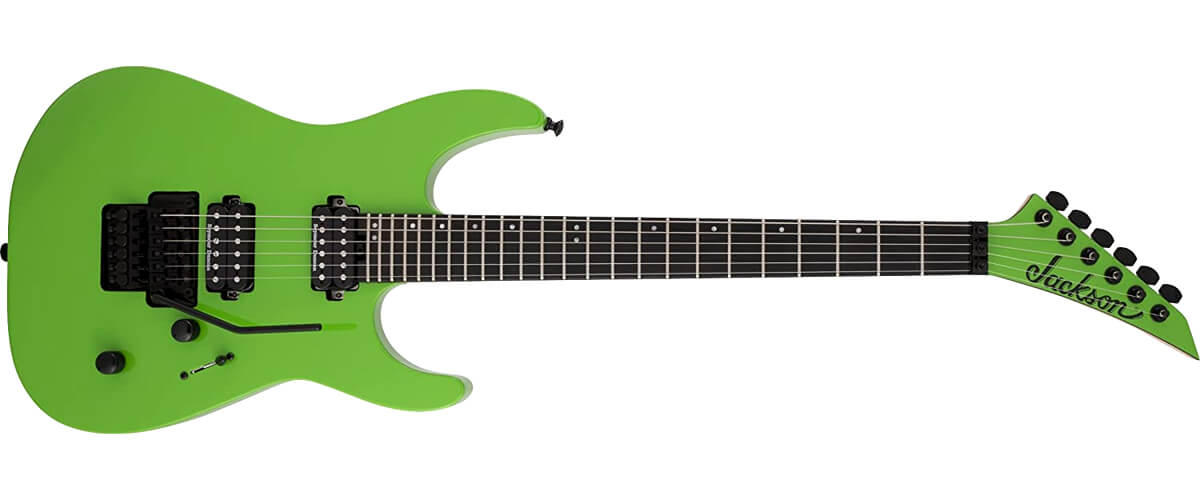 Well, those who like to stand out from the crowd will love the two colors of Neon Pink or Slime Green finishes. These colors are stage-worthy; you'll be seen even from Mars! They look incredibly cool on the Alder body in Gloss, which resembles the Strat shape, but with sharper edges and is, therefore, a licensed Jackson Dinky shape. The two deep notches give the guitar the aggressiveness it needs, especially when combined with the hardware in black (pickups, bridge, tone and volume controls, and slide switch and tuners), and provide access to the high frets. The DK2 is fantastically beautiful, comfortable, and reliable.
Pickup system
Now let's take a look at the Jackson Pro Series Dinky DK2 specs. And there is something that might surprise you! A pair of humbuckers from one of the world's leading manufacturers sounds great, and you won't have to worry about replacing them for years to come. More power, more sustain, more sound!
The Seymour Duncan JB TB-4 bridge and the Seymour Duncan '59 SH-1N neck with HH configuration are controlled by single volume and tone controls and, at the same time, a five-position switch that opens up the range of pickups for playing a variety of styles. Mostly heavy, but also ones with some distortion, like jazz and blues.
The Floyd Rose 1000 Series recessed tremolo bridge with double-locking for improved tuning stability also fits the guitar's style perfectly, though some might find it challenging. Well, this guitar will satisfy the needs of sophisticated players as well!
Neck, fingerboard, headstock
The neck didn't let you down, either. Made of Maple, it is attached to the guitar's body by a reliable Bolt-On system with graphite reinforcement and a scarf joint. The urethane coating is hand-applied, feels great in the hand, and is conducive to fast playing. Then there's everything for the comfortable playing of heavy styles. For example, the 12"-16" radius Ebony fingerboard with 24 Jumbo frets is perfect for chords and solos, and the crank adjusting wheel mounted on the heel allows for quick and comfortable fingerboard relief changes. Finally, a pointed beveled head with Jackson sealed die-cast tuners and inlaid offset Pearloid dots, as on many Jackson models, completes the Metallic look of the Jackson Pro.
Sound quality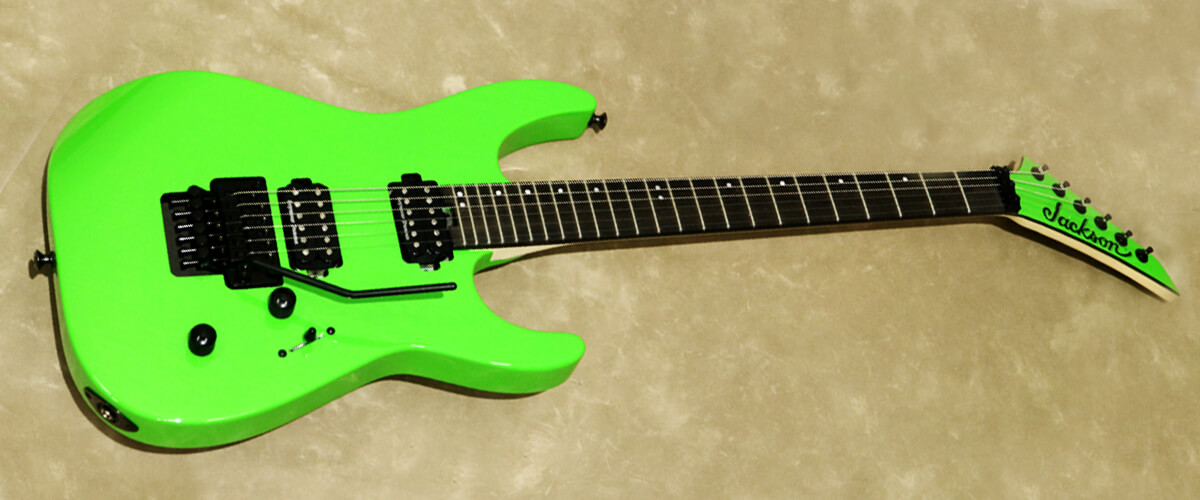 The Jackson Pro Series DK2 Dinky sound is amazing. By changing the gain mode and switching the pickups, you get a wide range and variety of tones. The melody and riffs of classic rock, the warmth of jazz, aggressive metal - all distortion styles are available to it. Yes, it's not as versatile as many models of its rank, but Hard Rock and Heavy Metal fans will definitely love it. I mean, what's so surprising? It was created for that purpose!
Key specs
Scale, in/cm: 25.5/64.7.
Frets: 24.
Fretboard radius, in/cm: 12-16/30.4-40.6.
Type: electric.
Body material: alder.
Neck material: maple.
Neck joint: bolt-on.
The best metal rhythm guitar on my list is the Jackson Pro Series Dinky DK2. Here you'll find a pair of Seymour Duncan humbuckers, considered some of the finest for the Metal style because they give off the necessary distortion. As well as a great Floyd Rose 1000 Series recessed tremolo bridge with double blocking. With this instrument, you can play rhythm parts for a very long time without worrying about the stability of the tuning and the quality of the construction and sound.
Epiphone Firebird
Since Epiphone focuses on producing affordable alternatives to the famous Gibson luxury models, I thought it was worth making an Epiphone Firebird review. Agree that this model is worthy of attention in terms of how popular and unusual the original is. Running a little ahead, I will say that if these two guitars can't be compared from the beginning to the end, Epiphone still tried to keep maximum traditions of construction and appearance, replacing humbuckers with cheaper ones and probably lost in the identity of sound, nevertheless having created a decent instrument. Let's go.
Body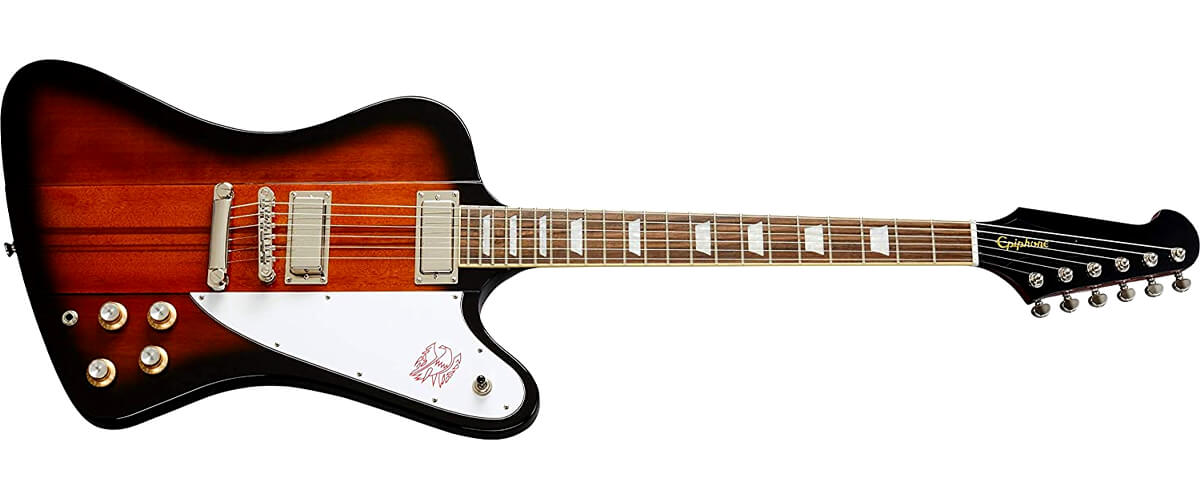 Gibson first introduced the reverse slim body and headstock design in 1963. No one is surprised by it today, yet the Firebird shape looks unique and recognizable. Well, the Epiphone Inspired by Gibson Firebird has a solid Mahogany body and glossy finish, which, like the other models, is inferior to the original, though identical in appearance. The instrument comes in one Vintage Sunburst color, and in my opinion, you couldn't have thought of a better one. It looks gorgeous and really fiery, especially with the Nickel fittings and the white Pickguard with the Firebird image.
The body features an Epiphone LockTone Tune-O-Matic Bridge, four Gold Top Hats with Silver inserts Control Knobs, and bottom and heel Strap Buttons, and you can purchase the Firebird Hard Case 940-EFBCS separately. And while I'm not a fan of unconventional shapes, the guitar still impresses me with its look.
Pickup system
Epiphone Firebird specs are inferior to Gibson, as I said in the beginning. The HH configuration offers us the Epiphone ProBucker FB720 Neck Pickup and the Epiphone ProBucker FB720 Bridge Pickup. But I am not saying they are bad on their own. They are passive pickups cleaner than single-coil ones but don't provide as much distortion and power as the more expensive models. Nevertheless, this is a Rock guitar with warm tones to suit many styles. And you can replace the humbuckers over time if you suddenly want to change your style to a more hardcore one. For me, the native ones are fine.
The humbuckers are controlled by four CTS pots for Volume and Tone separately for each, as well as a 3-way Epiphone toggle Pickup Selector that allows you to combine or separate them, which provides a fat range of genres. It was easy for me to control the instrument, and the result was very satisfying.
Neck, fingerboard, headstock
This model uses Neck-through fingerboard mounting technology. It provides incredible stability. The 9-ply neck is made of Mahogany/Walnut and has a SlimTaper C-profile shape. It conveys an incredibly warm, rich tone and feels great in hand, allowing you to move along quickly and easily. Pretty standard for Epiphone guitars of this rank, the fingerboard is made of Indian Laurel, has 22 Medium Jumbo frets with Trapezoid Inlays, and a 24.75" scale length.
The tapered top has a 1.692" Graph Tech NuBone Nut and a headstock with Grover Mini 18:1 ratio machine heads on one side. The guitar sounded great out of the box, though. Although the guitar sounded great out of the box, I tried out the picks and found them smooth and comfortable.
Sound quality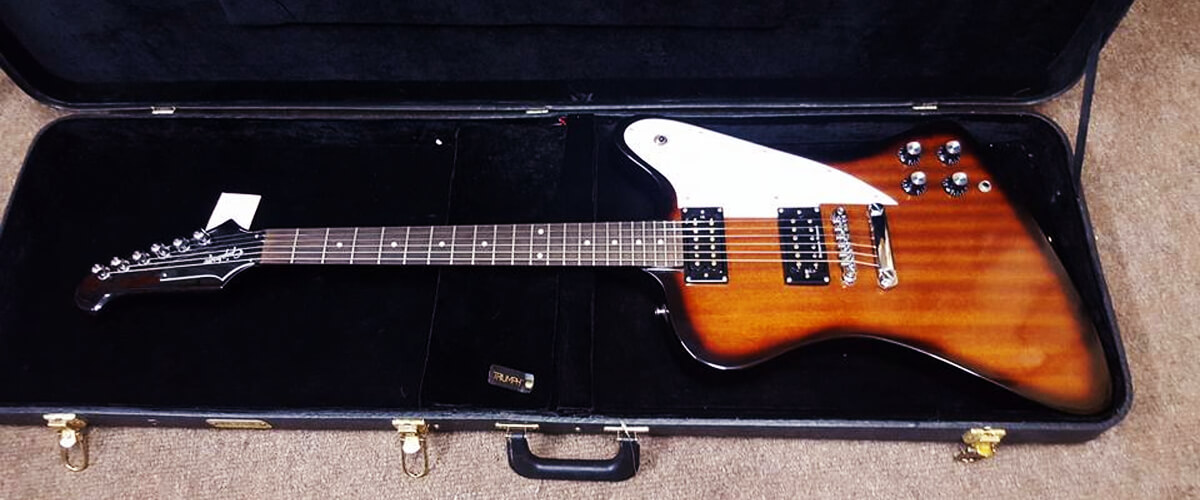 The Epiphone Firebird sound is deep, warm, and rich, as I mentioned earlier. It's incredibly pleasant but can sound dirty when distortion or overdrive pedals are used. Although after trying a few different genres to determine what the Firebird suits better, I can say it's pretty versatile, I still lean toward styles like classic rock, blues, and jazz, and I also see it as a good rhythm guitar. It doesn't produce the cleanest notes but feels great in those not-so-hard genres.
Key specs
Scale, in/cm: 24.7/62.6.
Frets: 22.
Fretboard radius, in/cm: 12/30.4.
Type: electric.
Body material: mahogany.
Neck material: indian laurel.
Neck joint: bolt-on.
Another best rhythm guitar is the Epiphone Firebird, an affordable version of the famous Gibson. Besides the incredible unique design, the instrument offers all the necessary features: a Mahogany body, an Epiphone LockTone Tune-O-Matic Bridge, and a pair of Epiphone ProBucker humbuckers. This guitar's warm, mellow sound will suit many styles, including heavy. But it's absolutely amazing in blues and jazz.
ESP LTD EC-256
Designed by ESP, a reputable guitar manufacturer, the EC-256 model is a part of the LTD series, which aims to provide professional-level performance at a more accessible price point. If you are a fan of vintage-inspired design and this popular brand like me, my ESP LTD EC-256 review is for you! I tested this guitar and am ready to share the secrets of this instrument.
Body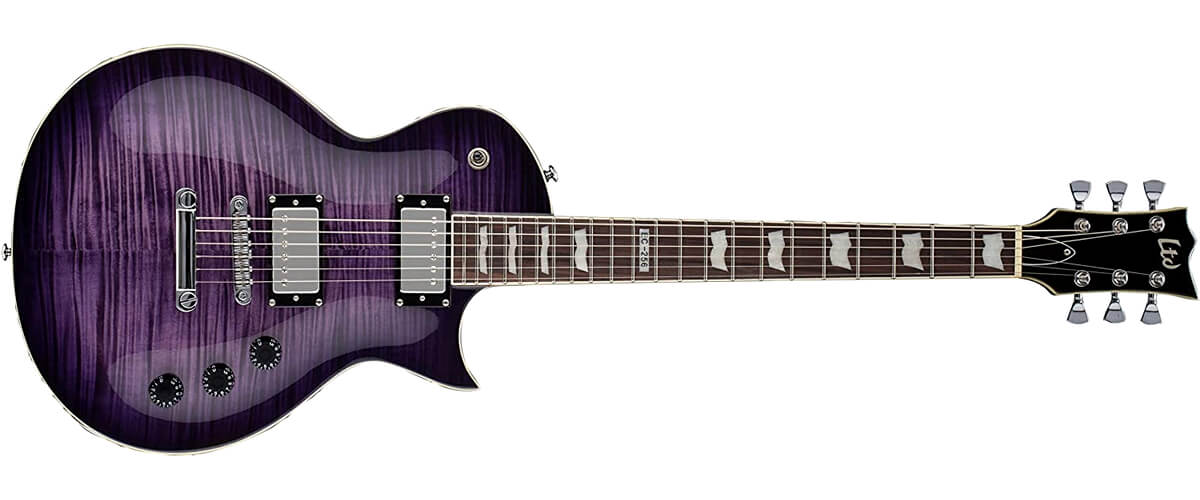 The EC-256 is reminiscent of iconic guitars from the '50s and '60s. The body is made of mahogany, which gives a warm and resonant characteristic.
The single-cutaway design of the body allows for easy access to the upper frets, making it well-suited for lead playing. ESP LTD Les Paul style guitar like EC-256 showcases a classic and elegant aesthetic, with smooth contours and a visually appealing finish in black, black satin, and snow white shades.
Pickup system
In terms of pickups, the EC-256 is equipped with a pair of ESP-designed humbuckers. The LH-150B bridge pickup delivers a punchy and aggressive tone, while the LH-150N neck pickup offers a warm and smooth tone. The pickups can be controlled via separate volume and tone knobs for each pickup, as well as a three-way pickup selector switch, providing a range of ESP LTD EC-256 sound possibilities. However, I noticed that the toggle switch sometimes doesn't switch the bridge humbucker on the first try.
ESP LTD EC-256 specs also include a Tune-o-Matic bridge with a stop tailpiece, providing stability and accurate intonation, as well as a set of high-quality tuning machines for reliable tuning stability.
Neck, fingerboard, headstock
A special place in the LTD EC-256 Eclipse review is occupied by the neck, which is glued into the body, enhancing the overall sustain. It is made of 3Pc mahogany as well and is carved into a comfortable "Thin U" profile.
The fingerboard is made of roasted jatoba with a radius of 350mm, offering a smooth surface with good durability. It has 22 XJ frets, allowing for extended range and versatility in playing styles. Note that this model does not need painstaking fret alignment like the EC 1000.
I only made a very slight truss rod adjustment to eliminate minor fret buzz and compensate a bit for drop tuning when I play certain material.
Sound quality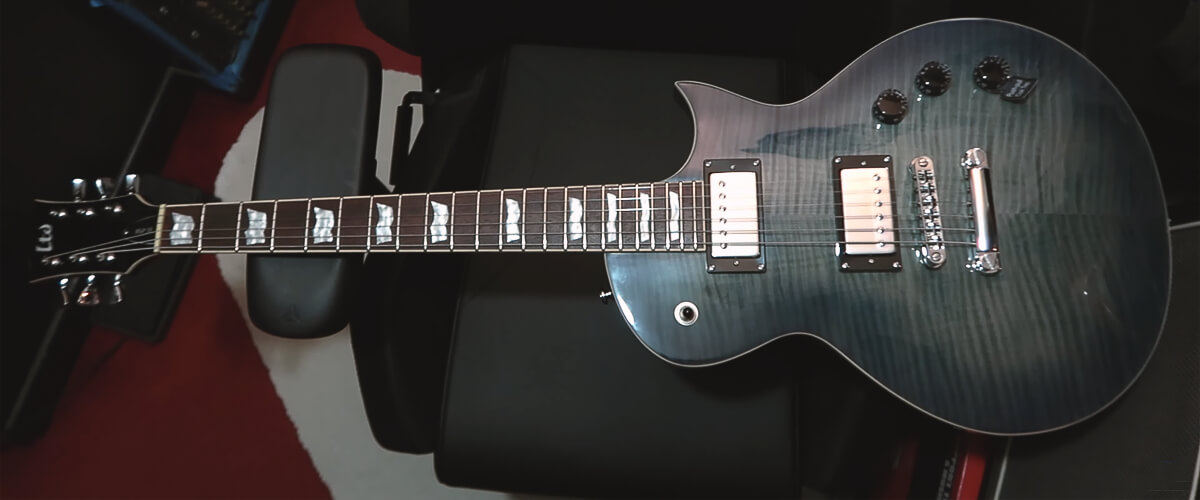 Overall, the guitar sounds and feels better than my 70s Les Paul Studio or 80s Les Paul Standard. The neck pickup sounds very close to a real 70s PAF that Gibson put stock in their Studios. And the bridge pickup in this ESP sounds like a Duncan Screamin' Demon.
I'm sure my LTD Les Paul guitar review showed you how versatile this instrument is. This model will perfectly show itself in rock compositions, blues, and jazz. But only you can truly unleash the potential of the EC-256!
Key specs
Scale, in/cm: 24.7/62.7.
Frets: 22.
Fretboard radius, in/cm: 13.7/35.
Type: electric.
Body material: mahogany.
Neck material: mahogany.
Neck joint: fixed.
Another representative of the best rhythm electric guitars in my selection is a wonderful ESP LTD EC-256 with a fixed bridge, which perfectly reveals the diversity of rock compositions, blues, and jazz. The instrument produces an authentic 70's sound, is comfortable in the hands, and is priced quite adequately.
FAQ
Can I play the electric guitar unplugged?
There are situations where you cannot use an amplifier. For example, maybe your neighbors aren't music fans, or you're on the road. Or are you a beginner yet without a chance to splurge on the device? Don't despair. There are several ways to solve this issue, and you'll learn more about them by reading
this article
.
Is rhythm guitar easy to learn?
Learning to perform any style, genre, or technique is easy if you have an unbridled desire to achieve it. Nothing can stop you or knock you out when you're burning for your goal. But, of course, any professionalism involves a tremendous amount of practice. And rhythm parts are not the easiest. So you should be ready, that this process will not be fast, but the result will be tremendous, I am sure. So believe in yourself, and work on your technique. Everything is possible!
Is rhythm guitar easier than bass?
It's believed that it is. Because the bass guitar has fewer strings and the parts are lighter, as are the chords. And you're more likely to master the bass than the rhythm guitar. Nevertheless, if you plan to become a versatile guitar player, I recommend starting with the complicated ones, i.e., with the rhythm parts. That way, it will be even easier for you to master the bass!
Can a rhythm guitarist play solos?
The rhythm guitarist can play solo if he knows how. I don't see a problem. But if you've been practicing playing rhythm all the time, you'll have to learn again to play lead guitar. There is a significant difference between these guitars and performance styles. Lead guitarists play the role of melody in a composition, producing solos and riffs, using sliding, bending, and vibrato techniques. Rhythm parts – help the bass, follow the beat and focus more on the chords. Accordingly, sometimes even the instruments may differ. For example, the neck. The lead guitar needs to have a thinner fingerboard for fast playing. And a rhythm guitar has a more solid feel for stability. In general, no one stops you from being a versatile player if that's what you want. Practicing and perfecting your technique for long hours is what you need!
Is there a recommended string gauge for rhythm guitar playing?
In general no, there is no recommended gauge of strings for rhythm guitar playing, although there is one that is generally agreed to be optimal. And that's Medium (10-46). Most musicians and, in particular, rhythm players adhere to this standard.
There are also Light (9-42) and Extra light (8-38). The former provide softness but are considered unstable. The latter is just a little softer than Medium.
Your comfort, which is the most important thing in any guitar playing, can also depend on the type of strings, guitar size, scale length, fingerboard radius, and many other factors.