If you see yourself on stage as the guitarist of The Kiss with a V-shaped electric guitar in your hands, if you are ready to play incredibly fast in the heaviest genres, then this Jackson X Series King V KVXMG review will be a revelation for you. Spending a tolerable amount of money to buy this instrument, you'll also have a chance to touch the history of another legendary band, as a young Black Sabbath member, Randy Rhoads, was involved in developing the unusual design used by many metal fans today, back in the 1980s. The growling, quality-made guitar is worth your attention for many reasons.
Body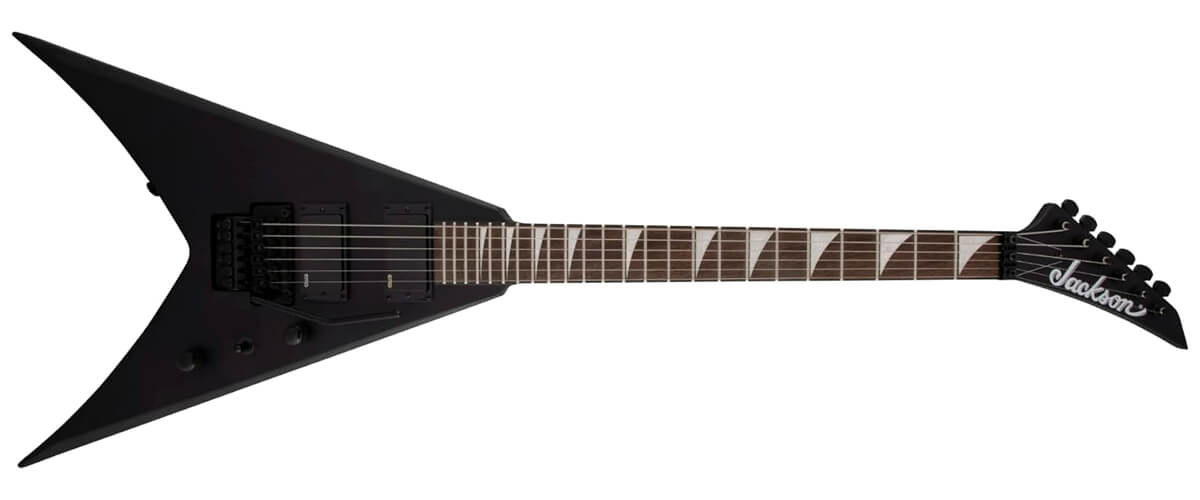 Poplar is not the optimal choice for a guitar, especially when playing hard, but it still has decent tonal properties. Plus, it's lightweight. But a manufacturer has to condition the cost with such compromises, and I tend to think the guitar will suit both aspiring metal players and more professional players who know how to keep their instrument alive.
The gorgeous Jackson X Series King V KVXMG V-shaped body, painted in Satin Black or Slime Green with 6 strings, features a Floyd Rose Special bridge system with double-locking tremolo, a matte black three-position toggle switch, and Volume and Tone controls in the same color. It is a truly royal look that your fans will definitely appreciate.
Pickup system
Jackson X Series King V KVXMG specs include EMG 85 neck active pickups with Alnico magnets and EMG 81 bridge. This is no surprise, as they are better suited for heavy genres, but jazz also sounds great with them. The combination of these two Humbucking Pickups provides a wide range of tonalities, as the 85 neck can produce both smooth, long steel notes and distorted screaming notes, while the 81 bridge is very smooth. These babies are capable of very tight bass and crystal highs.
Neck, fingerboard, headstock
The 25.5-inch scale-length neck is made of Maple. It's through-hole and has graphite reinforcement and a pivot joint so that it will stand up to all your styles. The fingerboard is made of Laurel and is decorated to match the unusual design, adorned with beveled Sharkfin pearloid inlays in a light color as if to emphasize the aggressive style. The uneven radius ranges from 12″to -16″, but my experience has shown that you'll reach all 24 jumbo frets easily. This allows your hand to move as fast as you can, as the fingerboard is more curved on the nut and flattens out as your palm moves.
Rounding out the splendor is an angled cutaway fingerboard head with a bright and large Jackson logo, with the signature sealed molded tuners. They hold tone superbly even when played for long periods.
Sound quality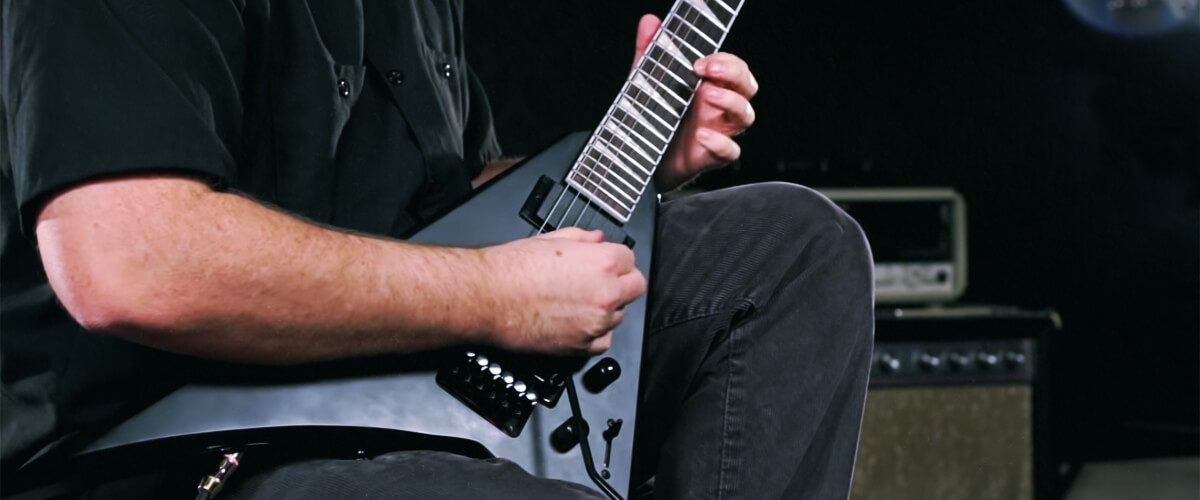 The Jackson X Series King V KVXMG sound is fantastic, especially considering its price point. This is one of the few guitars I can say after holding it in my hands that is built for fast playing. After studying user opinions, you will be convinced that shredding is exactly what you need to do with the King V KVXMG. It took very little to get it to the perfect tone when I took it out of the box. There were so many tones and nuances that I forgot I was testing the guitar. I just played, trying all my favorite Hard Rock and Heavy Metal songs on it. The hand moves smoothly, the satin finish is impressive, and the humbuckers and bridge provide stability and allow you to play exactly the way you want. You might want to replace the strings if you're not a beginner.
Key specs
Scale, in/cm: 25.5/64.7.
Frets: 24.
Fretboard radius, in/cm: 16.8/42.8.
Type: electric.
Body material: poplar.
Neck material: maple.
Neck joint: fixed.