The Affinity Series Stratocaster HH is a popular choice for beginner and intermediate guitarists, designed by Squier, a subsidiary brand of Fender. In my Squier Affinity Series Stratocaster HH review, I will tell you about this instrument and share my testing experience. You will learn its strengths and weaknesses as well as individual characteristics.
Body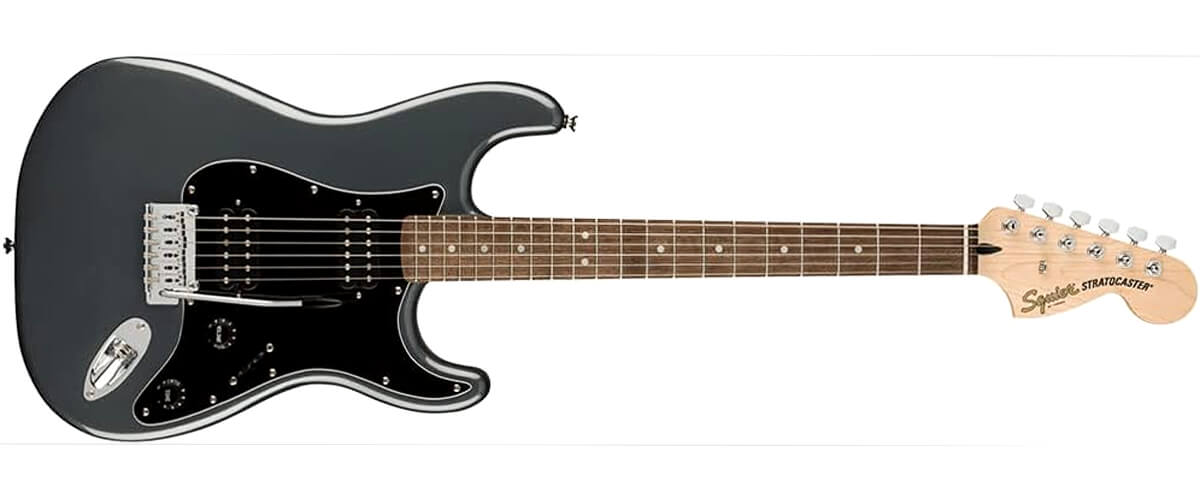 As usual, I start Squier by Fender Affinity Stratocaster review with the body's construction. The shape follows the familiar double-cutaway design that has made the Stratocaster one of the world's most recognizable and beloved guitar styles. The contoured curves and beveled edges of the body contribute to its sleek and ergonomic profile.
The body is made from lightweight poplar, which provides good resonance. I have tested Charcoal Frost Metallic Stratocaster, but it is also available in Olympic White shade, covered with polyurethane.
The Stratocaster HH features a pickguard that adds a touch of visual appeal and protects the body from scratches and accidental damage. The design of this model incorporates the contours of the forearm and belly, so I was pleasantly surprised by how naturally my hand rests on the body during the game.
Pickup system
Affinity Series Stratocaster is equipped with dual humbucking pickups. The bridge pickup provides a bright, biting tone with enhanced attack and sustain. It produces a rich and powerful sound that I think is ideal for heavier riff-oriented music. The neck pickup offers a warmer and more rounded tone. It delivers a smooth and mellow sound, perfect for clean or rhythm playing, and provides a balanced output when combined with the bridge pickup in the middle position.
There's also a three-way pickup selector switch, so you can change configurations to achieve a wide range of sounds and textures. By the way, for further control over the Squier Strat HH sound, I used separate volume and tone controls for each pickup.
Neck, fingerboard, headstock
Maple necks offer a snappy and articulate response, contributing to the guitar's overall clarity and note definition. The neck of the Affinity Series Stratocaster HH features a "C" shape with a comfortable and familiar feel. The neck profile fits nicely in the hand, allowing for comfortable chord shapes, scales, and soloing.
Squier Affinity Stratocaster HH specs for the fingerboard, made of Indian Laurel, ensure a comfortable playing surface, adding a touch of elegance to the overall aesthetic of the guitar. It includes 21 medium-jumbo frets as well, which allows for ample range and flexibility while playing.
Sound quality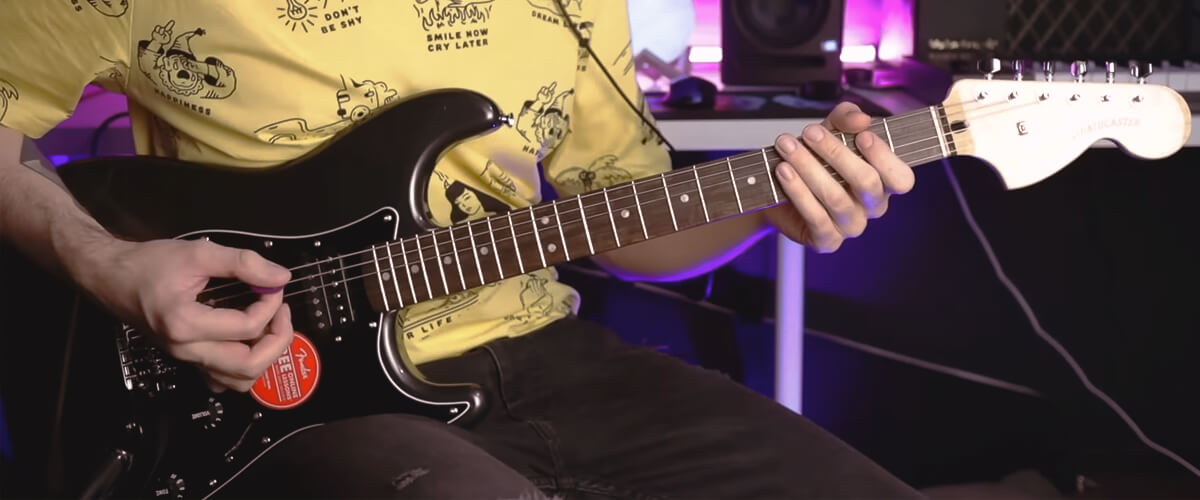 The guitar resonates well and sustains notes for a longer duration, allowing for expressive and melodic playing. Its sound remains articulate even when I play complex chords or fast lead lines, allowing individual notes to ring out with clarity and precision. Affinity Series Stratocaster HH responds well to playing dynamics. When played clean, it offers a warm and balanced sound with good note separation. When I push into overdrive or distortion, the humbuckers deliver a thick and saturated tone with ample sustain.
Finishing my Squier HH Strat review, I'd like to note that while the Stratocaster HH offers great sound quality for its price range, it may not have the same tonal complexity and refinement level as higher-end guitars.
Key specs
Scale, in/cm: 25.5/64.7.
Frets: 21.
Fretboard radius, in/cm: 9.5/24.1.
Type: electric.
Body material: poplar.
Neck material: maple.
Neck joint: bolt-on.