Punk Rock and Heavy Metal greatly influenced the formation of Grunge, so it is characterized by a "dirty" sound with alternating volumes and dark lyrics. Moreover, you have to play overloaded intonations, which will be much lighter than in metal. Thus it is very important to choose an instrument that will reveal all the facets of this genre. That's why I offer you my selection of the best electric guitars for grunge, where you will definitely find one that will make your image and sound worthy of the great representatives of this style.
Our pick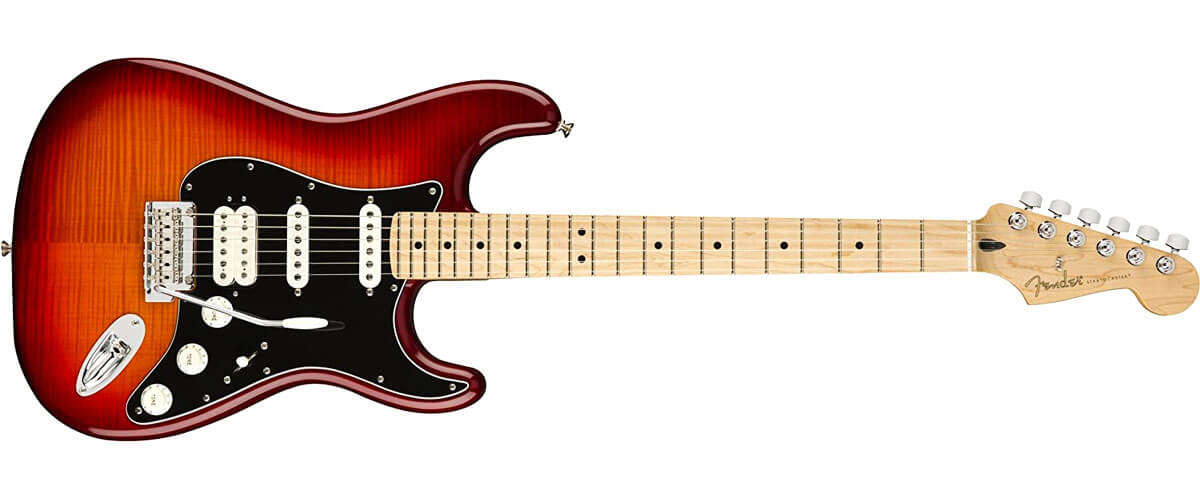 Fender Player Stratocaster HSS
Best electric guitars for grunge
The inspiring sound of a Stratocaster is one of the foundations of Fender. This classic sound features a bell-like high end, punchy mids, and robust low end, combined with crystal-clear articulation.
Read the full review
.
Electric guitar for grunge comparison table
Guitar
Scale, in/cm
Fretboard radius, in/cm
Neck joint
Detailed review
Fender Player Stratocaster HSS

best overall

25.5/64.7
9.5/24.1
bolt-on
Review
Yamaha PAC012DLX

budget

25.5/64.7
13.7/35
bolt-on
Review
Yamaha PAC611HFM
25.5/64.7
13.7/35
bolt-on
Review
Guide to the grunge sound
Guitar
Of course, there is no guitar specifically for grunge, just like other genres. And it can be played on any guitar that has strings. Moreover, both acoustic and electric guitars are absolutely suitable for this style. Therefore, first of all, the guitar should be comfortable, as well as have a certain appearance. Most of all, the classic vintage design of the instrument suits grunge guitars, a little worn (naturally or artificially), as its performers were famous for a sloppy look. And you'll need a good, voluminous timbre.
Strings
Just like with the guitar, there are no special strings for any particular style of music. The strings are usually matched to the guitar, as well as to one's comfort. But, of course, light, thin strings will be much more comfortable, if only because they bend, which means that any player can effortlessly perform compositions of different complexities. Also, the grunge uses a standard guitar scale, so you don't need thick strings.
Pedal effects
As was already mentioned, grunge is characterized by some distortion and overdrive, so to perform it fully on an electric guitar, you'll need effects pedals. These pedals are called Overdrive, Crunch, and Distortion. They are usually easy to use and will give your guitar a unique sound.
Amplifier
You will definitely need an amplifier, preferably with a good distorted signal. Any tube or solid-state amplifier will be fine, as it has the most natural and warm sound. But also try those that have a lot of tuning. You can get stunning results in this genre by experimenting with your amp, guitar, and pedals.
Best electric guitars for grunge review
I think anyone who knows about guitars in one way or another knows about Fender. In this Fender Player Stratocaster HSS review, I will tell you why a guitar born in 1954 still deserves the best reviews from musicians. The embodiment of the classics combined with modern electronics is a great choice for affordable money. It's likely to be the instrument that stays with you for life.
Body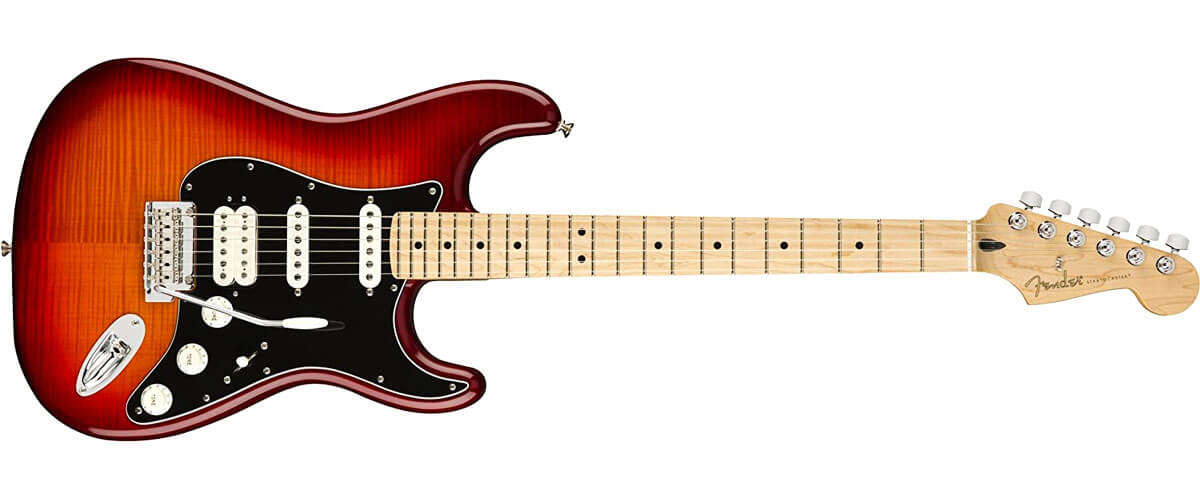 Let me start with the body. It is made of solid Alder with a glossy polyester finish in the classic Stratocaster shape that many people use now. This body allows you to play even when lying on the bed. The double cutaway cutout allows you to play all the frets without having to reach for them. The guitar does not slip in your hands and is extremely comfortable. The series has seven colors: 3-color Sunburst, Tidepool, Black, Polar White, Buttercream, Silver, and Capri Orange.
There is a 3-layer Pickguard parchment on the body. And on that, in turn, are the pickups, knobs, and bridge. The standard molded/sealed knobs are made of parchment plastic and are easy and comfortable to operate. The impeccably smooth two-point tremolo bridge is quiet in operation. Many people don't like bent steel saddles, but I find the bridge particularly stable in this configuration. The new logo on the head end completes the design.
Pickup system
To understand if the Fender Player Stratocaster HSS is a good guitar, you need to get to know its electronics. After all, this is what makes the guitar modern and so desirable for many people. The manufacturer himself writes their pickups are "a modern modification of our classic sound." Indeed, with the Stratocaster, you'll hear clean tones and articulate dynamism when overdriven/distorted.
To elaborate a bit more, the guitar has a 5-way switch for the Player Series Alnico 2 Humbucking bridge and two Player Series Alnico 5 Strat Single-Coil on the midrange and neck. The versatile HSS pickup configuration gives your instrument an unmistakable sound. And it allows you to play absolutely any genre and style.
Neck, fingerboard, headstock
The modern C-shaped fingerboard is made of Maple, with a Glossy Urethane finish on the back and a Satin finish on the front. Thanks to its 9.5" radius, which is not too narrow, it fits in your hand without question. It's incredibly fast and pleasant to the touch. You can play anything from classical to heavy rock.
The Pau Ferro fingerboard has a 25.5-inch scale length and 22 medium Jumbo frets. The frets are beautifully polished; there are no gaps, and you can easily reach any of them. There's no question why the Fender Stratocaster is so popular. A 4-bolt neck plate with the "F" logo and standard Fender cast/sealed picks rounds out the construction.
Sound quality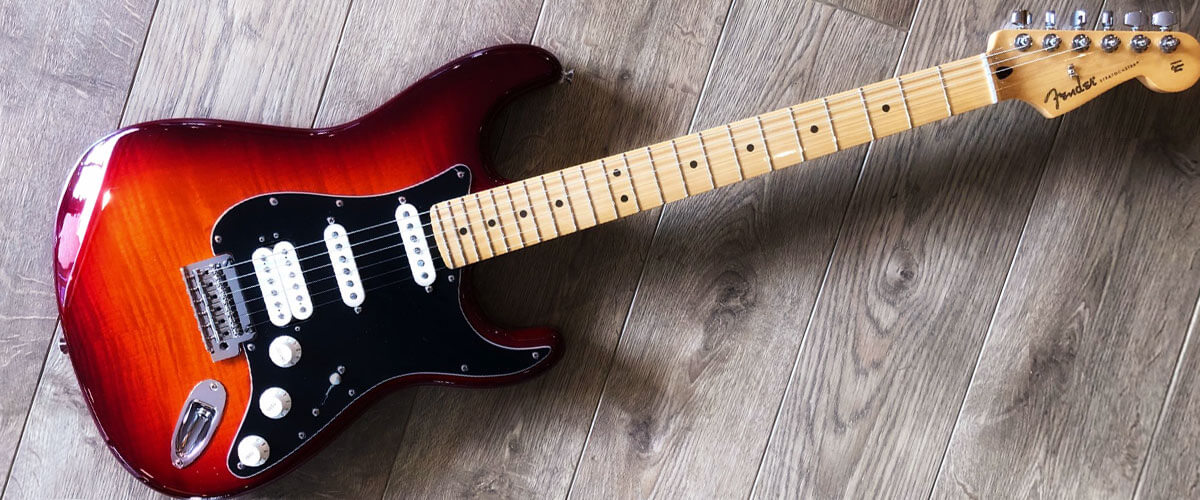 The Fender Player Strat HSS sound is recognizable, that's what I can say. In the right hands, the guitar produces tonal dexterity and expressive vibrato. All frequencies are clear and crisp, powerful but not ringing. I heard every note I extracted without swallowing. The pickups really do their job perfectly. The 5-step positioning allows you to achieve effects not available on other instruments. That's why I think musicians of all genres use the Strat - the guitar offers the widest range of possibilities.
Key specs
Scale, in/cm: 25.5/64.7.
Frets: 22.
Fretboard radius, in/cm: 9.5/24.1.
Type: electric.
Body material: alder.
Neck material: maple.
Neck joint: bolt-on.
Musicians of different genres use Fender Player Stratocaster HSS because the guitar offers the widest range of possibilities. Its tonal dexterity and expressive vibrato make it the best electric guitar for grunge. All frequencies are clear and crisp, powerful but not ringing, and the 5-step positioning allows you to achieve effects unavailable on other instruments.
Yamaha PAC012DLX – budget
Yamaha is known for producing budget guitars with high build and sound quality. And today, I have a Yamaha PAC012DLX review for you, where I will examine this kind of instrument. The Pacifica 012 Deluxe is a special version of Yamaha's most affordable model. It has a different color and is made of different wood, but otherwise, they are similar. So let's take it apart.
Body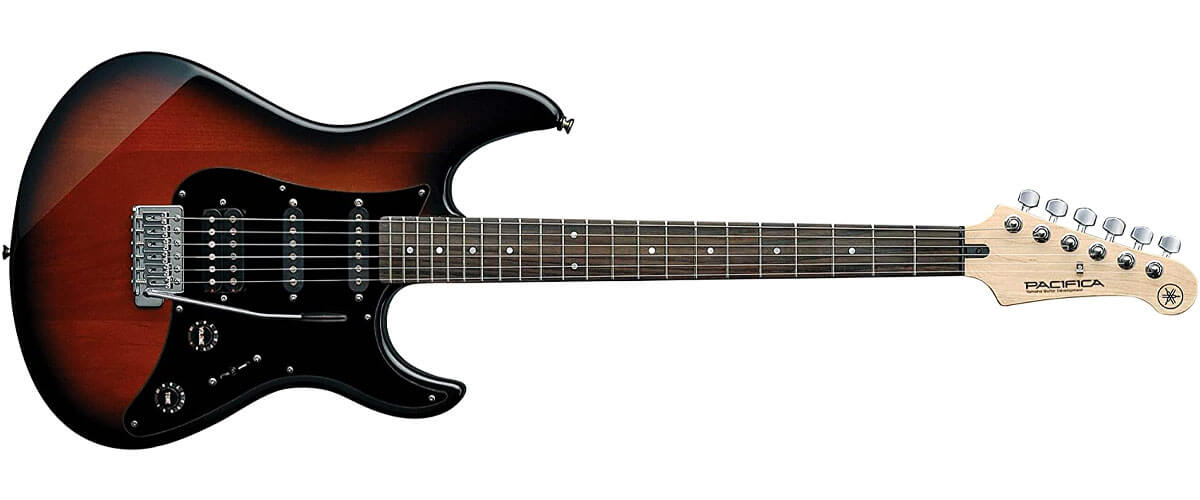 Unlike the basic model, the Strat body of the PAC012 Deluxe is made of Solid Agathis rather than Mahogany. Agathis has excellent properties and is often used for instruments because of its resonating properties and malleability. The elegant, stylish Vintage Sunburst coloring in gloss looks great. The guitar is lightweight and will suit any level of player, even a beginner.
Let me remind you that this is a budget model, so the hardware is simplistic. But for a guitar of this level, it is even good! For example, the Vintage Tremolo bridge and Nut are made of urea, similar to plastic. If possible, I would replace the Nut. The chrome Yamaha Sealed tuners and control knobs look quite reliable and soft to use.
Pickup system
The Yamaha PAC012 DLX electronics include a package of three passive HSS configuration pickups. The combination of the Ceramic Bridge Humbucker and two Ceramic Single Coil Pickups can produce distortion and is suitable for heavy rock. So it feels right at home here. But the 5-way blade pickup switch forms a wide enough range to do jazz and blues.
I would summarize that the electronics here are very decent. It's quite successful, and I've personally experienced that. If you don't like the ceramic at all, you can always replace it over time.
Neck, fingerboard, headstock
Several factors usually determine a guitar's playability. And its fingerboard is one of the most important. The Yamaha PAC012DLX has a smooth C-shaped maple neck with a Sonokelin (Rosewood) fingerboard. It attaches to the body with the Bolt-On system for stability when playing dynamic compositions. With a 13.75" radius, it is very comfortable, fast, and responsive when playing. The 25.5" scale features 22 Jumbo frets, which are very comfortable to play due to the instrument's shape.
Sound quality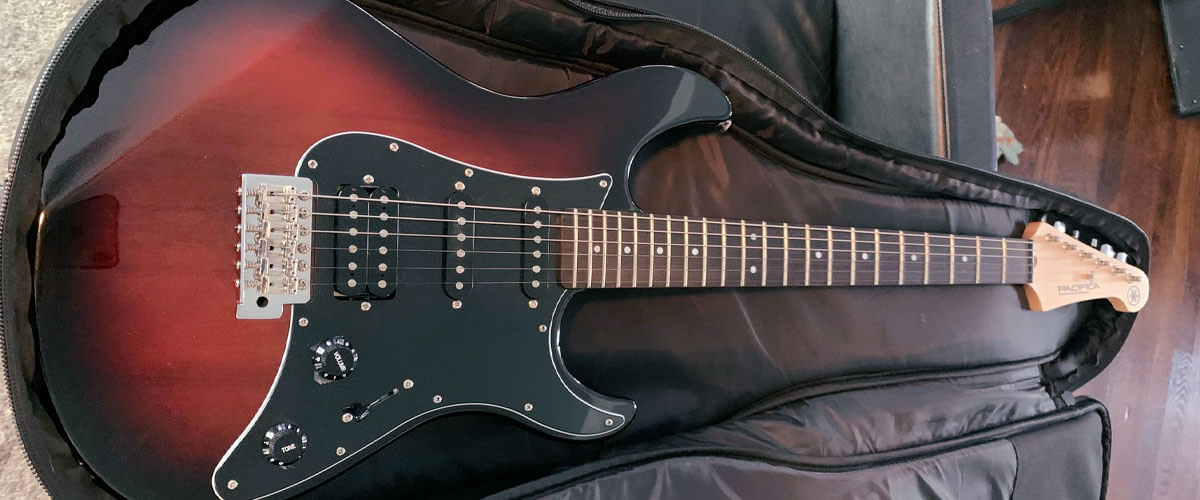 It is definitely a good rock guitar. It will surely appeal to those who like aggressive genres and distortion. At the same time, it is not recommended to play metal, although it is capable of that too. So say, if you're a fan of that genre exclusively, you might want to consider other options as well.
At the same time, its electronics and 5-band switch are able to play quality rock, blues, and even jazz. Of course, it all depends on how sensitive you are to the detail of the sounds.
My overall impression of the guitar and its "voice" remained good. I've already mentioned many times that the Yamaha PAC012DLX is a budget guitar, but it sounds wonderful for its price rank. Weigh the pros and cons and make your choice consciously.
Key specs
Scale, in/cm: 25.5/64.7.
Frets: 22.
Fretboard radius, in/cm: 13.7/35.
Type: electric.
Body material: mahogany.
Neck material: maple.
Neck joint: bolt-on.
I would call the Yamaha PAC012DLX the best budget guitar for grunge because it is definitely a good rock instrument for a small price. It will appeal to those who like aggressive genres and distortion, but the guitar is a bit underwhelming for Metal performance. So the instrument will give you a level of distortion just right for grunge.
Yamaha PAC611HFM
So, Yamaha. The brand that ranks among the leaders in manufacturing guitars (and not only) is taking it to the next level with its Pacifica lineup, featuring excellent build quality, magical design, and affordable prices. In this Yamaha PAC611HFM review, I will tell you about one that is sure to grab your attention. The mid-priced segment makes it affordable for those who dream of playing a worthwhile instrument. I can't wait, can you?
Body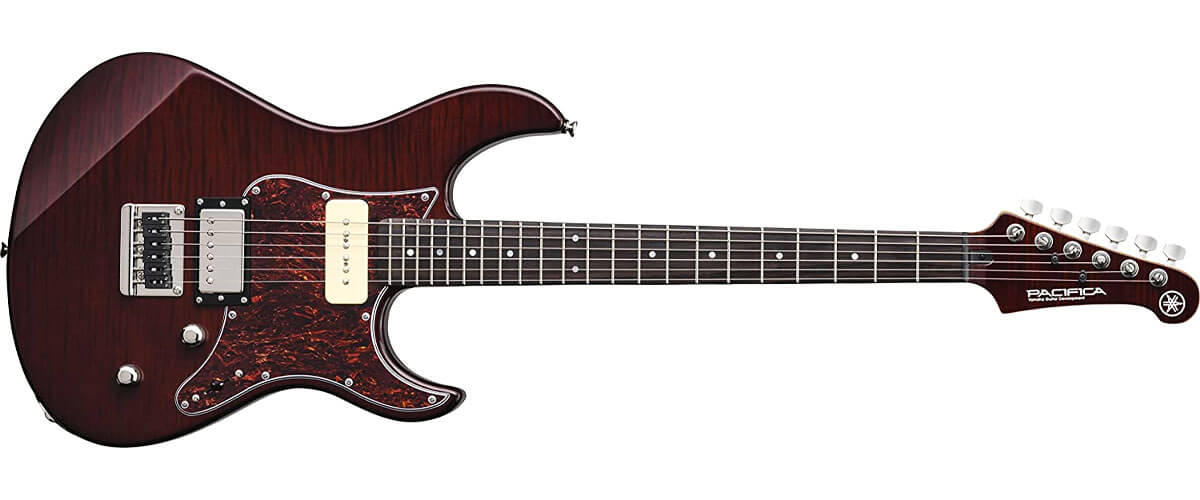 The PAC611HFM comes in five colors: Root Beer, Translucent Black, Translucent Purple, Light Amber Burst, and Black with Gloss Polyurethane Finish. The guitar is in a reminiscent, but still not original Stratocaster shape and wears the unchanged 4-Ply Tortoiseshell pickguard. The body is made of Alder, giving it a slight but recognizable tone. Alder sounds smoother and brighter than other woods.
The chic Flamed Maple Laminated top features a Hardtail Bridge with Graph Tech String Saver Saddle and controls. The bridge is highly adjustable and provides excellent stability. And the control knobs are simple and understated, which is great for a bright overall experience. It's easy: Master Volume and Master Tone. But the Tone has a Push-Pull Coil Split feature, so you can translate playing to one coil. There is also a 3-Position Pickup Selector for tuning the pickups.
Pickup system
As for electronics, it has a rather unusual combination of old-school and modern. The sound, as a result, is excellent but unusual. It's relatively heavy and distorted. So if that style doesn't suit you, the Yamaha PAC611HFM probably won't suit you too.
So, the Seymour Duncan TB-14 found its place on the bridge. And the single-coil Seymour Duncan SP90-1 with a very clear tone was placed on the neck. With the help of the 3-position switch, the guitar gets a powerful timbre. It's clean and vintage, with a pronounced midrange. You don't get that sound with a regular Humbucker, don't expect it. The PAC611HFM is a special style.
Neck, fingerboard, headstock
The PAC611HFM Maple neck is very hard, durable, and very resonant. This is why Maple wood is used more often than any other. The Gloss Polyurethane coating makes it unusually smooth and comfortable to play. The 13-3/4" radius is also comfortable but not the thinnest. The Rosewood overlay has 22 Medium frets. All parts are perfectly executed without any nicks or chips and also have excellent tonal abilities.
The hardware won't let you down here, either. The Nut is made of Graph Tech TUSQ, a synthetic material. What sets it apart is that it's very slippery; the strings just float on it. So you're spared the trouble of replacing it for a long time. Grover Locking Tuners are good too. They hold tuning steadily and are easy to change strings with.
Sound quality
The Yamaha PAC611HFM sound, as I said earlier, is tough. It's expressive, powerful, bright, and full. That doesn't mean you can't play other genres on this guitar. Of course, you can! It is a Yamaha, after all. But still, I think it's more rock than, for example, blues. But in the end, it all depends on your understanding of a particular genre. As for its quality - it's definitely worth every dollar. It's a long-lasting instrument of a high level.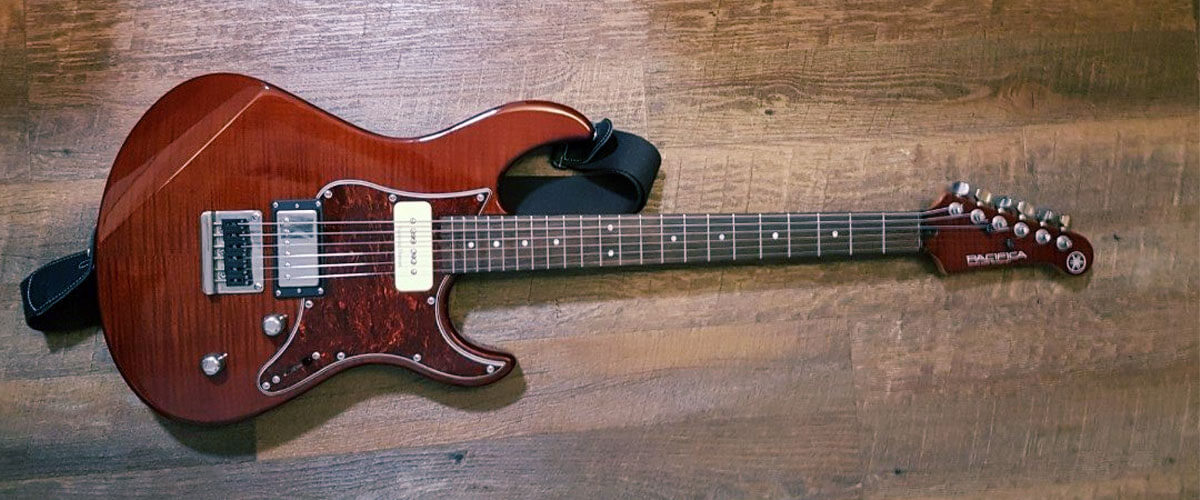 Key specs
Scale, in/cm: 25.5/64.7.
Frets: 22.
Fretboard radius, in/cm: 13.7/35.
Type: electric.
Body material: alder, maple.
Neck material: maple.
Neck joint: bolt-on.
Its sound is hard but expressive, powerful, bright, and full. Indeed, it's a rock instrument. As for its quality, it is definitely worth every penny. This guitar is a long-lasting instrument of a high level.
You may need it
Ernie Ball Regular Slinky 10-46 – best strings for grunge music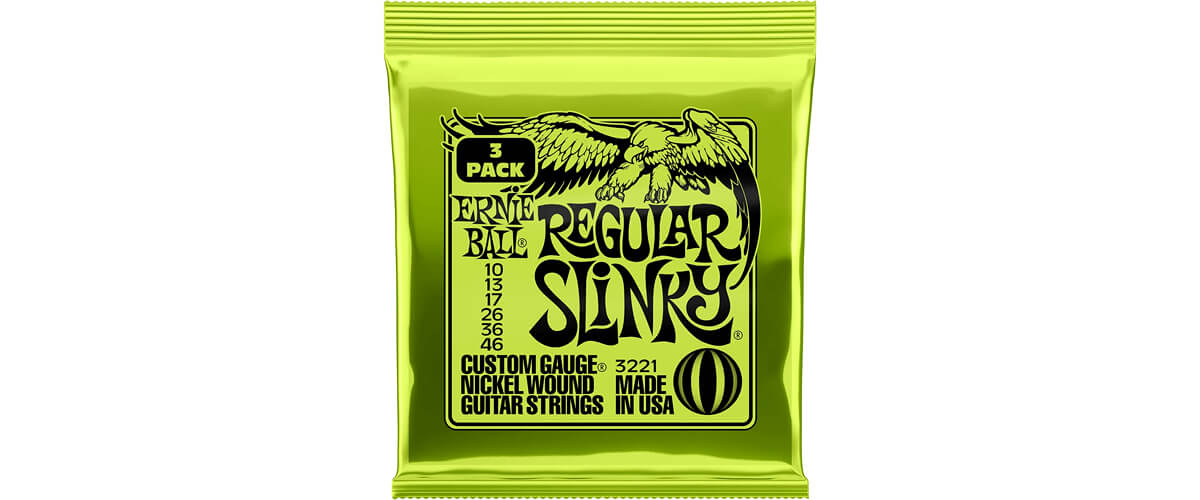 You may also be interested in considering the effect of paint on the sound quality of a guitar.
FAQ
Is Stratocaster good for grunge?
Guitars for grunge must have a lot of distortion, and the Strat is very good at that. Its sound is recognizable and has a wide range with vibrato, and the frequencies are powerful and crisp but not ringing. That makes it great for performing the Grunge genre. If you need proof, you should remember the occasion when Kurt Cobain used a Sunburst Stratocaster during his concert. Many celebrities have played these guitars, so just listen to their sound.
The biggest grunge bands
The king of grunge is, deservedly, Kurt Cobain. And indeed, Nirvana compositions are still popular, though the band was at the origins of this style in the early 90s and became a cult band. Actually, it was after Kurt's death in 1994 that Grunge started to fade away.
In the second place, I would put Pearl Jam. The music of this band also had a great influence on the Grunge and Rock style in general.
Also, the compositions of Alice in Chains, Soundgarden, Stone Temple Pilots, Smashing Pumpkins, Mother Love Bone, Hole, Mudhoney, and Dinosaur Jr. were and are very popular now.
Why is grunge called grunge?
The word Grunge, meaning "grime or dirt," "raunch," and "neglect," was not initially used in the mainstream but only in the meaning of the Seattle Sound. The first musician to use the term in 1981 is believed to be Mark Arm, lead singer of Seattle band Green River (later Mudhoney). He wrote a letter to a newspaper, where he criticized his own band with the words, "The purest grunge! Purest noise! The purest shit!". Then the word started to be used by newspapers and later by famous labels in the late 80s. The founders of Grunge as a style of music embodied the meaning of the word not only in the sloppy manner of playing but even in their look, most often appearing at concert venues in unkempt, rumpled, and shabby clothes.
Also, you can consider those decent electric guitars:
Yamaha electric guitars.
Fender electric guitars.
ESP electric guitars.
Schecter electric guitars.
Jackson electric guitars.
Or you can choose an electric guitar for your style:
Electric guitar for death metal.