In this article, I bring to your attention three best Epiphone electric guitars. And today, it is hard to imagine that one of the most famous companies producing electric and acoustic guitars started its long way in 1923 with the creation of the banjo. A Greek immigrant with the name Epaminondas Stathopoulos already 1924 registered the trademark with the now well-known name and, until the 1950s, expanded the range of various stringed instruments, as well as his fame. At that time, the popular Gibson company paid attention to this fact. As a result, it merged its production with Epiphone to offer the world more affordable versions of its expensive models. Of course, a lot of water has flowed since then. Still, one thing remains unchanged: if you don't have a chance to touch a Gibson legend, you can become the owner of a worthy alternative that inherits the tradition of the originals in quality, exterior, and sound.
Our pick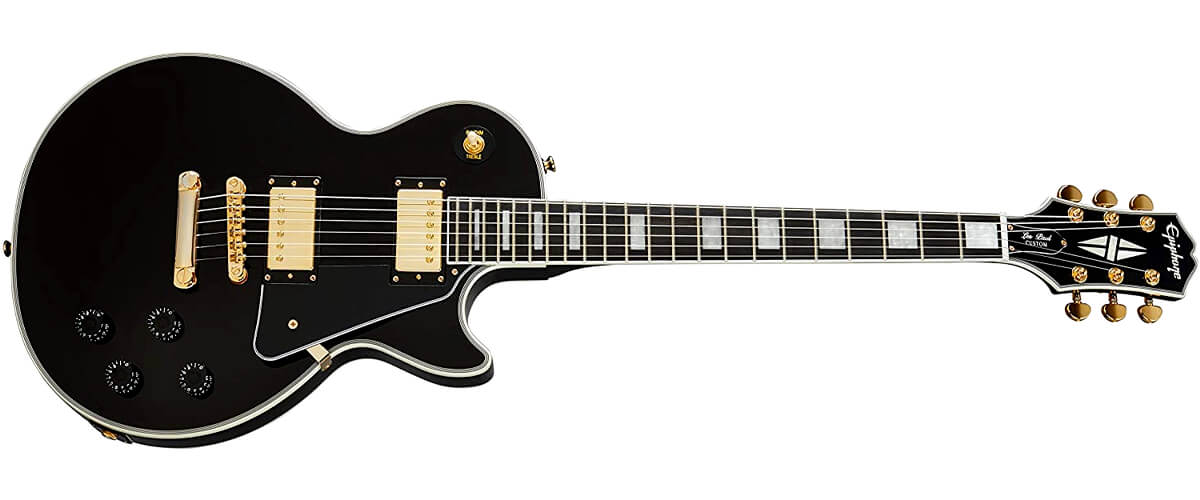 Epiphone Les Paul Custom
Best Epiphone electric guitar
The Epiphone Les Paul Custom has a mahogany body, a 60s SlimTaper neck, ebony fingerboard gold Epiphone LockTone Tune-O-Matic bridge, and a Stop Bar tailpiece. All those components provide a full, rich sound.
Read the full review
.
Epiphone guitars comparison table
Guitar
Scale, in/cm
Fretboard radius, in/cm
Neck joint
Detailed review
Epiphone Les Paul Custom

best overall

24.7/62.6
12/30.4
glued
Review
Epiphone SG Standard
24.7/62.6
16/40.6
bolt-on
Review
Epiphone Firebird
24.7/62.6
12/30.4
bolt-on
Review
How to pick the best Epiphone electric guitar?
Body shape and size
Unlike an acoustic guitar, the shape and size of an electric guitar do not affect its sound. Therefore, the choice of these parameters belongs individually to the person who will play the instrument. Given the wide range of Epiphone products, you don't have to bother with the choice because you can find single-cut, double-cut, V-shaped, or inverted cases. Most of them echo the design of the original Gibson, as evidenced by their names and the notation Inspired by Gibson. Guitars can be heavy or not too much, so it's worth understanding your physical capabilities if you're going to stand for hours on stage or even in the studio. The size of the guitar determines how comfortable you can play, so you must try it out before you buy and find just the right one for you. I would also say that the shape and size of the guitar determine your playing style. For heavy genres, musicians choose unusual, aggressive, brightly colored bodies; for softer genres, classic ones.
Pickup
Epiphone guitar models use cheaper pickups (often manufactured in-house to help maintain the mid-priced segment) than Gibson, but they all do their job well. However, your choice of pickup system depends on the genre you play in. For heavier styles, you should go for the split-controlled active humbuckers, they give you the distortion you need, and for classic styles, you should go for single coil pickups that give you a clean sound.
Scale Length & Fret Count
A larger scale implies more string tension and is suitable for hard playing. And the shorter variants make it easier to play with your fingers and are, therefore, comfortable for rhythm and solo parts. At the same time, the number of frets is not necessarily more on a longer scale. Instead, you can find different combinations which only affect the positioning of the pickups and the length of the neck. So, just like in previous cases, the choice of these parameters depends only on your preference, playing habits and comfort, and style.
Best Epiphone electric guitars
Good news for Gibson Les Paul fans awaits in this Epiphone Les Paul Custom review. A much cheaper version of the famous guitar has almost identical qualities because Epiphone has long been popular among guitarists as a decent alternative to expensive iconic models. Les Paul Custom is part of the Inspired by Gibson series and is based on the Les Paul "Tuxedo" model from 1954. So I suggest you start getting to know it better and see if it's as good as I suppose.
Body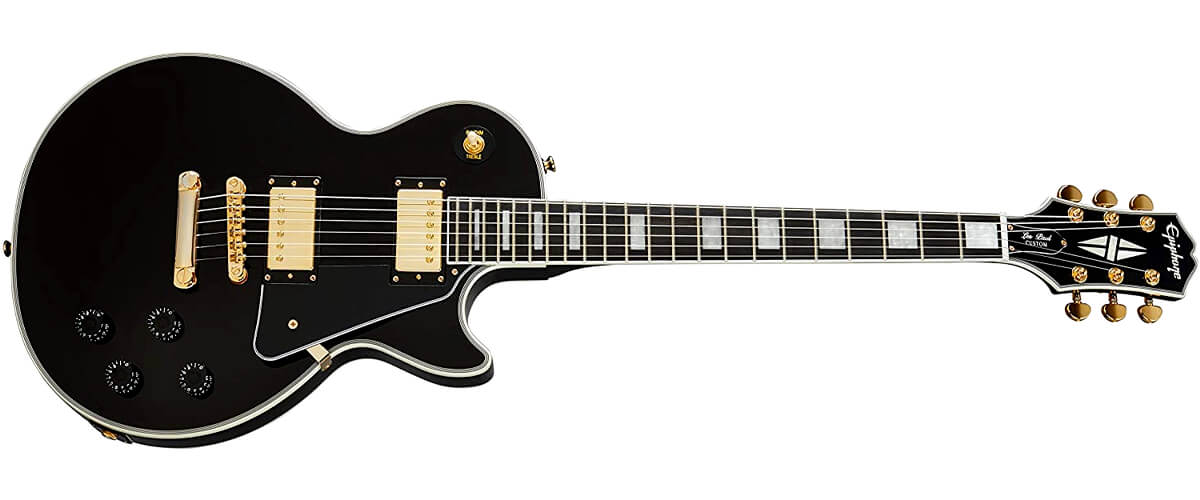 Expectedly, the guitar body is shaped and styled like a Les Paul. The model has two colors, Ebony or Alpine White, and I got the black version, which I was absolutely thrilled with. Coated in Gloss, with Multi-ply Custom binding, and a black Pickguard with white edging, the guitar looks simply stunning. Sure, it's not as shiny as a Gibson, but overall very similar from a distance. The construction is very powerful, made of solid Mahogany. For those unfamiliar with Les Paul, it will seem heavy, and it is. So prepare your back before you go on stage for a heavy load. However, the tonality of this stuff needs no description, so it's a worthy sacrifice for a high-end sound.
Four controls, located on the body, are very comfortable, in black, almost invisible against the background of gold fittings, which once again emphasizes the chicness of the Epiphone Les Paul Custom.
The set does not include a case, but a hardshell or soft EpiLite Case, specially prepared for this model, can be purchased separately.
Pickup system
Epiphone Les Paul Custom specs include a PAF-style humbucker system. These are the Neck Pickup Epiphone ProBucker 2 and the Bridge Pickup Epiphone ProBucker 3. They were designed as a cheaper alternative to the Burstbucker that Gibson uses. However, the manufacturer really tried to get closer to the original. And even though you can't seriously compare them because of the price, they still convince me with their sound.
There are CTS potentiometers tone and volume controls for each humbucker separately, allowing for optimal tuning. And also, a 3-way Epiphone toggle selector separates or combines the humbucker operation as you wish.
Rounding out with the Epiphone LockTone Tune-O-Matic bridge and a standard 1/4" Output Jack. Let's move on!
Neck, fingerboard, headstock
The glued fingerboard matches the basic image of the guitar. It's a 60s SlimTaper Mahogany and very comfortable to play. The 12" radius Ebony fingerboard with 24.75" scale length and 22 Medium Jumbo frets looks great with Pearloid Block inlay that finishes at the head of the neck with a diamond appliqué. The Nut Material is Graph Tech NuBone, 1.69" wide. The Grover Rotomatic Tuners are very good both in appearance and function. It was easy for me to tune my guitar as they have a great gear ratio (18:1). It all looks organic and works well together.
Sound quality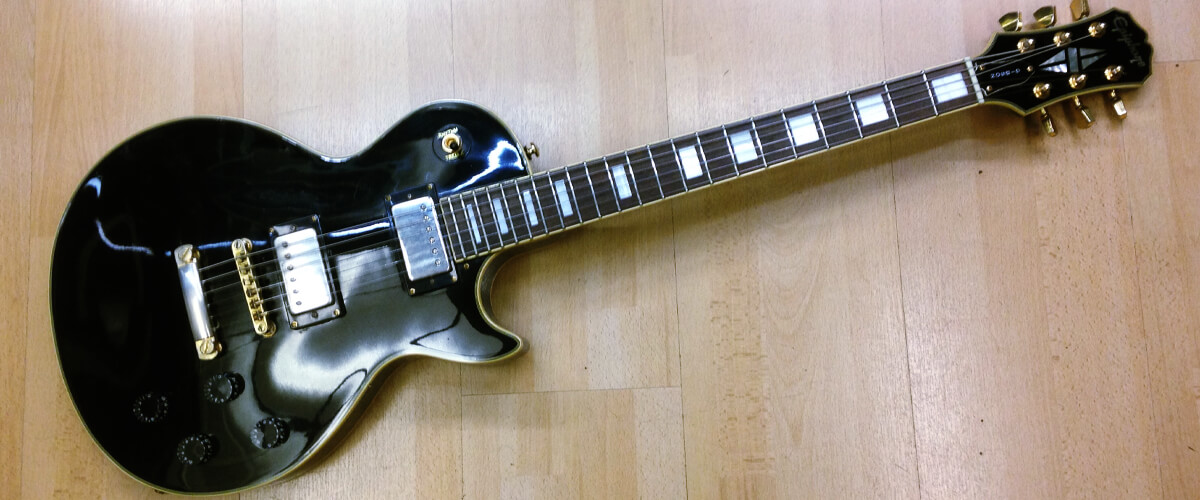 Epiphone Les Paul Custom is a voluminous, warm, deep sound with humbuckers providing good ringing tops and great bass. It is amazingly versatile. I specifically tried jazz, blues, rhythm parts, and classic rock, and by connecting a distortion pedal came out very convincing heavy metal (even though I'm not a fan, but for the purity of the experiment). That said, I can't claim that the sound is crystal clear. But for the styles mentioned above, it doesn't need to be. The notes are crisp and rich, and the sustain is elongated. Describing the sound of this guitar is quite easy, but it's better to hear it.
Key specs
Scale, in/cm: 24.7/62.6.
Frets: 22.
Fretboard radius, in/cm: 12/30.4.
Type: electric.
Body material: mahogany.
Neck material: ebony.
Neck joint: glued.
I will start my list with the best Epiphone Les Paul (several of them in the company's range), and this is the Les Paul Custom. Its quality, functionality, fittings, and electronics are of very good quality and justify an average, but by no means, the lowest price. Moreover, in addition to the stunning exterior, the guitar offers a wide range of versatility, suitable for performing both heavy and lighter genres.
Epiphone SG Standard
Epiphone SG Standard review is, of course, about the guitar, which represents an affordable alternative to the Gibson SG. It differs in the usage of less expensive and not as high-end materials and electronics as the original. Nevertheless, it will suit connoisseurs of Gibson, who, for some reason, cannot afford to buy it. But is it worth spending huge sums on an instrument if you are not going to perform at the most famous music venues in the world and there is an affordable alternative? Let's see together what this model has to offer us.
Body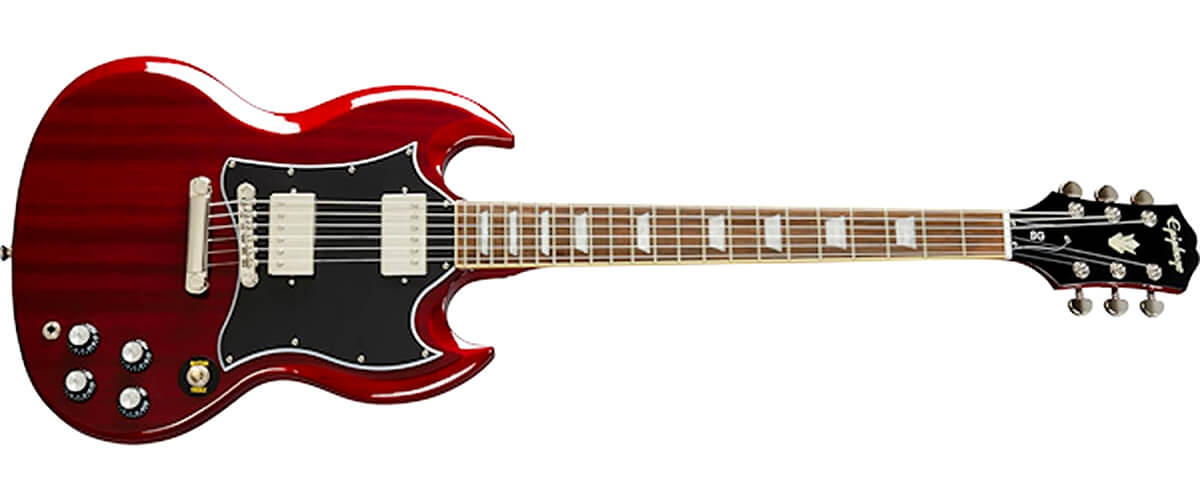 I try to choose a black color for testing, that's my taste. And this time, I got lucky. But the model comes in three variants: Heritage Cherry, Alpine White, and Ebony. The shape of the guitar made of solid Mahogany is called SG, and it has two cutaways, which reminds Batman's sign. Actually, the 5-Ply, Black Pickguard has the name "bat wing". With the glossy finish and the brass-colored hardware, the guitar looks great; I would say it looks much more expensive than it is. You can naturally see differences from the original Gibson SG on close inspection. For example, Gibson uses a luxurious nitrocellulose coating. But overall, the instrument retains the tradition.
There are Epiphone LockTone Tune-O-Matic Bridge, four Black Top Hats with Inserts Control Knobs, 1/4" Output Jack, and bottom and heel Strap Buttons on the body.
Pickup system
The main difference between Epiphone SG Standard and Gibson SG is the set of humbuckers. In Gibson, they are gorgeous 490R, and in our Epiphone, they are lower quality and very inexpensive Alnico Classic PRO. But to be fair, I want to say that this guitar sounds just great for its price.
So, here are Epiphone Alnico Classic PRO Neck Pickup and Epiphone Alnico Classic PRO Bridge, which can be used together or separately with a 3-ways Epiphone toggle selector. Also notable is that each humbucker in the guitar has its own Volume and Tone CTS pots, so the adjustment is very precise and detailed.
After testing, I can say that the Epiphone SG Standard specs are very good for its level. And even though this guitar doesn't quite match its original, the instrument itself still sounds fat and gives the distortion you would expect from an SG guitar, but more about that a little later.
Neck, fingerboard, headstock
Playability is, of course, provided by the quality of the neck. In this guitar, we have 60s SlimTaper, like in many other Epiphone models, which is attached to the body on the principle of a Glued-in; Set Neck. And not without reason, they often use it because the fingerboard is incredibly comfortable and fast. Despite the name, it's not too thin with a 12" radius, so a hand of any size will lay well.
The Indian Laurel fingerboard has a 24.75" scale length and 22 Medium Jumbo frets. Trapezoid Inlays fit perfectly into the overall design image, making the guitar even more attractive, ending with the ornamentation on the updated Epiphone SG Standard headstock. Graph Tech NuBone 1.692" width and vintage Epiphone Deluxe Tuners 18:1 ratio, which are very tunable, crowning the fingerboard.
Sound quality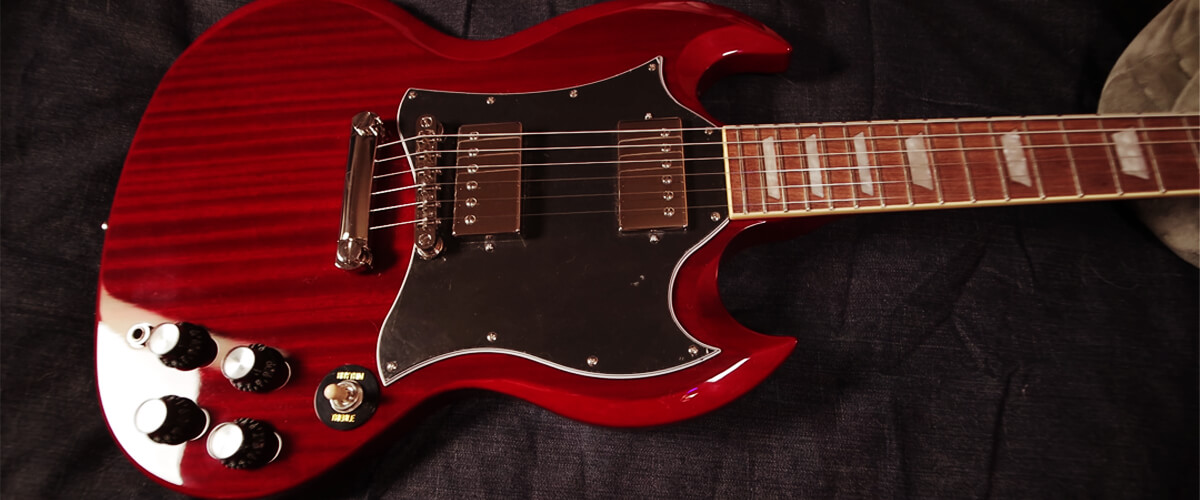 Well, it remains to tell at last how the Epiphone SG Standard sounds. And to start with, it's worth noting that SG models are designed for rock styles. So I was expecting a little bit of muddy sound on the low end and piercing high notes. And overall, the instrument didn't disappoint me; the humbuckers produced tight lows, warm voluminous mids, and clean highs. But to be completely honest, it can't be compared to the Gibson, which is the Queen of Rock. So let's say, for its price, the SG Standard is simply gorgeous. Really. Excellent balance, long sustain, and clarity of the extracted sounds at a very high level is what I heard.
Key specs
Scale, in/cm: 24.7/62.6.
Frets: 22.
Fretboard radius, in/cm: 16/40.6.
Type: electric.
Body material: mahogany.
Neck material: indian laurel.
Neck joint: bolt-on.
To the list of the best Epiphone guitars, I confidently include the more inexpensive model Epiphone SG Standard, which also looks amazing. However, it offers a slightly lower price, respectively, not the highest quality humbuckers. But in terms of price/quality ratio, it is an excellent option, which is also versatile and can serve fans of rock, jazz, and blues.
Epiphone Firebird
Since Epiphone focuses on producing affordable alternatives to the famous Gibson luxury models, I thought it was worth making an Epiphone Firebird review. Agree that this model is worthy of attention in terms of how popular and unusual the original is. Running a little ahead, I will say that if these two guitars can't be compared from the beginning to the end, Epiphone still tried to keep maximum traditions of construction and appearance, replacing humbuckers with cheaper ones and probably lost in the identity of sound, nevertheless having created a decent instrument. Let's go.
Body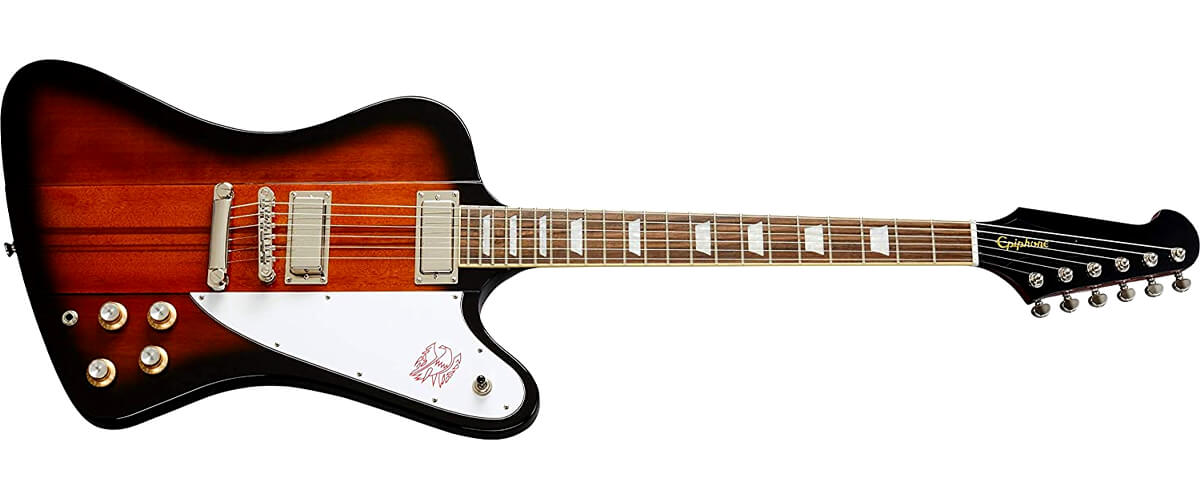 Gibson first introduced the reverse slim body and headstock design in 1963. No one is surprised by it today, yet the Firebird shape looks unique and recognizable. Well, the Epiphone Inspired by Gibson Firebird has a solid Mahogany body and glossy finish, which, like the other models, is inferior to the original, though identical in appearance. The instrument comes in one Vintage Sunburst color, and in my opinion, you couldn't have thought of a better one. It looks gorgeous and really fiery, especially with the Nickel fittings and the white Pickguard with the Firebird image.
The body features an Epiphone LockTone Tune-O-Matic Bridge, four Gold Top Hats with Silver inserts Control Knobs, and bottom and heel Strap Buttons, and you can purchase the Firebird Hard Case 940-EFBCS separately. And while I'm not a fan of unconventional shapes, the guitar still impresses me with its look.
Pickup system
Epiphone Firebird specs are inferior to Gibson, as I said in the beginning. The HH configuration offers us the Epiphone ProBucker FB720 Neck Pickup and the Epiphone ProBucker FB720 Bridge Pickup. But I am not saying they are bad on their own. They are passive pickups cleaner than single-coil ones but don't provide as much distortion and power as the more expensive models. Nevertheless, this is a Rock guitar with warm tones to suit many styles. And you can replace the humbuckers over time if you suddenly want to change your style to a more hardcore one. For me, the native ones are fine.
The humbuckers are controlled by four CTS pots for Volume and Tone separately for each, as well as a 3-way Epiphone toggle Pickup Selector that allows you to combine or separate them, which provides a fat range of genres. It was easy for me to control the instrument, and the result was very satisfying.
Neck, fingerboard, headstock
This model uses Neck-through fingerboard mounting technology. It provides incredible stability. The 9-ply neck is made of Mahogany/Walnut and has a SlimTaper C-profile shape. It conveys an incredibly warm, rich tone and feels great in hand, allowing you to move along quickly and easily. Pretty standard for Epiphone guitars of this rank, the fingerboard is made of Indian Laurel, has 22 Medium Jumbo frets with Trapezoid Inlays, and a 24.75" scale length.
The tapered top has a 1.692" Graph Tech NuBone Nut and a headstock with Grover Mini 18:1 ratio machine heads on one side. The guitar sounded great out of the box, though. Although the guitar sounded great out of the box, I tried out the picks and found them smooth and comfortable.
Sound quality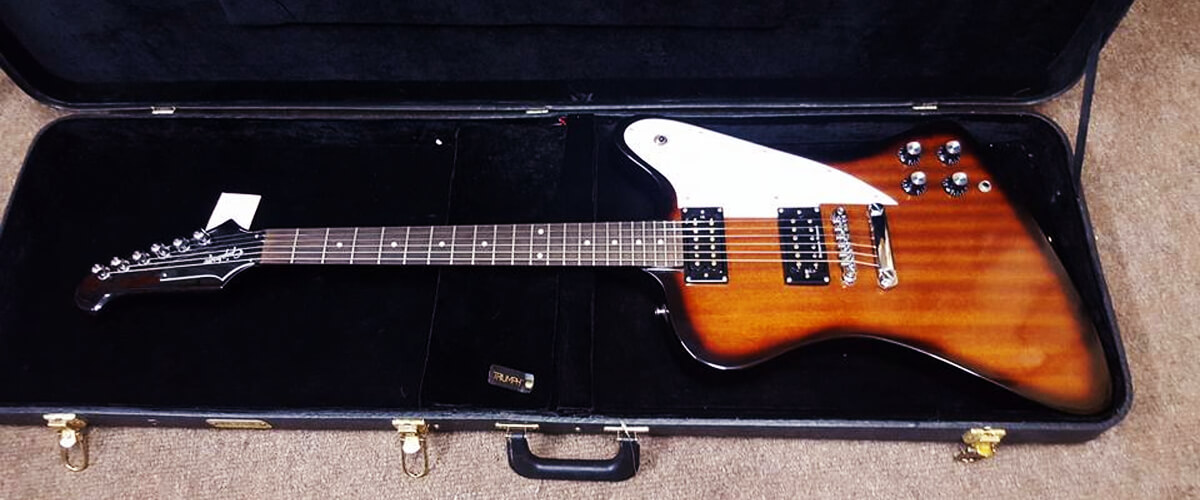 The Epiphone Firebird sound is deep, warm, and rich, as I mentioned earlier. It's incredibly pleasant but can sound dirty when distortion or overdrive pedals are used. Although after trying a few different genres to determine what the Firebird suits better, I can say it's pretty versatile, I still lean toward styles like classic rock, blues, and jazz, and I also see it as a good rhythm guitar. It doesn't produce the cleanest notes but feels great in those not-so-hard genres.
Key specs
Scale, in/cm: 24.7/62.6.
Frets: 22.
Fretboard radius, in/cm: 12/30.4.
Type: electric.
Body material: mahogany.
Neck material: indian laurel.
Neck joint: bolt-on.
Also, I find the Epiphone Firebird to be one of the best Epiphone electric guitars. Keeping all the traditions of the original, this model, in addition to its stunning appearance, construction quality, and warm deep sound on the background of the affordable price, offers a wide range of performances in the soft stirring styles of jazz, blues, R&B, classic rock and many others.
FAQ
Do any famous musicians play an Epiphone?
Yes! And the most famous among them was the incomparable band The Beatles. At different times John Lennon and George Harrison performed their hits in the Casino, and Paul McCartney on the Epiphone Texan (acoustic). In addition, the Epiphone Les Paul appeared in the hands of T. Ray Toro of My Chemical Romance, and the Wilshire was in the hands of Pete Townshend of The Who. Musicians who have used Epiphone instruments include Tommy Thayer (Kiss), Tony Iommi, Jeff Waters (Annihilator), Noel Gallagher, B.B. King, Billie Joe Armstrong, Joe Bonamassa, Vivian Campbell, Dave Rude, Jack Casady, many others.
Is Epiphone good for beginners?
Epiphone offers guitars, including entry-level models and at very nice prices. At the same time, the company creates certified copies of the most famous Gibson models, which indicates a high class. But that doesn't mean an inexperienced player won't be comfortable using them as their first guitar either. Many instruments have a thin neck that suits musicians with different hand sizes, so it can even suit teenagers. But you should pay attention to the weight of the guitar. So, no one can forbid you to use an Epiphone as a starter instrument if you wish to do so; the main thing is to consider all aspects when choosing.
Is Epiphone just as good as Gibson?
No, and you can even see that with a close look. However, if you want details, here are the main differences:
Epiphone electric guitars use solid Mahogany with a Maple veneer top. Gibson's top is a solid thick piece of Rosewood.
Gibson uses a high-grade nitrocellulose lacquer in the body coating, while Epiphone uses a no-name gloss finish. And you can see the difference with the naked eye.
Any pickup system used in Epiphon is inferior to Gibson in quality.
But I wouldn't put the question that way at all. Instead, I would say that Epiphone is as good in its segment as Gibson is in its segment. Following the mold of the originals, Epiphone builds instruments as similar to their "older luxury brothers" as possible, saving on individual components to offer a more appropriate price for the general consumer.
Are older Epiphones better?
I'm sure you can find completely different answers to this question. After all, the choice of guitar is as individual as it can be, and for each musician depends on different conditions. If you have an old Epiphone instrument, I believe replacing it with a brand new one is unnecessary because you can replace old parts with original new ones and get an almost modern instrument. On the other hand, some people don't like the new technology at all and prefer a vintage sound. I consider this brand more than worthy, and I don't see any difference between old and new models, but you decide for yourself. The main thing is how the guitar sounds in your hands, which depends not only on the instrument but also your skills.