In this article, I turn to such a technique of guitar playing as Sliding, and I offer you my selection of the three best electric guitars for slide. Of course, there is no such thing as a slide guitar, but there are still some requirements that the instrument must meet to sound in this style perfectly. About that later, but for now, let's find out what kind of technique it is.
Our pick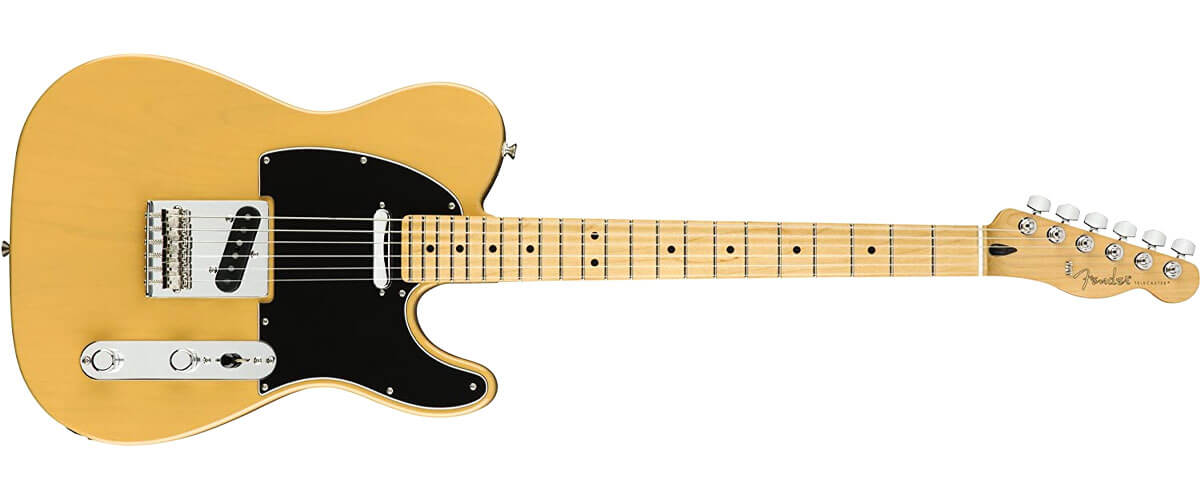 Fender Player Telecaster
Best electric guitar for slide
The feel, the style, and, most importantly, the sound are all there. The Fender Player Telecaster is a versatile workhorse that is a trusty sidekick for your musical vision.
Read the full review
.
It is also called "bottle guitar" because a glass bottle was previously used to extract the piercing, long whining sounds. Today, special steel tubes on the finger make it easier for the musician to slide the strings comfortably.
The origins of this technique are considered in Hawaii. And most often, it can be found in the styles of exactly Hawaiian steel guitar, blues, and country. And today, it is difficult to say which genre influenced the other originally, but you can see the mutual influence of all these styles on each other. To me, sliding is one of the most appealing sounds you can get from a guitar. And apparently, I'm not alone in that because, among slide guitarists, you can find such names as Robert Johnson, Elmore James and Muddy Waters, Joseph Kekuku, Leon McAuliffe of Bob Wills, Texas Playboys, and the Dillards, Lowell George of Little Feat, Rusty Young of Poco, "Mean" Pete Kleinow of Flying Burrito. And now, let's figure out what the instrument for such playing should be.
Electric guitar for slide comparison table
Guitar
Scale, in/cm
Fretboard radius, in/cm
Neck joint
Detailed review
Fender Player Telecaster

best overall

25.5/64.7
9.5/24.1
bolt-on
Review
Yamaha Revstar Standard RSS20
24.7/62.8
12/30.4
fixed
Review
Epiphone Les Paul Custom
24.7/62.6
12/30.4
glued
Review
What to look for in a guitar for a slide?
Neck profile
The most important part of a guitar for playing style is its neck. And, of course, it plays a huge role in playing comfort. To understand which fingerboard is right for you, you need to understand its profile, and here I will tell you a little bit about this.
Four basic shapes are U-shape, V-shape, D-shape, and C-shape, defined by the curvature of the back end. U-shape is more suitable for people with big hands and assumes an aggressive game. The V-shape is more common on older models and will suit those who prefer to put extra pressure on the fingerboard. Finally, C- and D-shapes are flatter versions of the U (D is even flatter than C) and are optimal for smooth and speedy playing. Of course, the choice will depend on your habits and preferences. Still, I consider the C-shape to be the most suitable for sliding.
Neck Radius
The neck radius, as opposed to a profile, is the shape of its front section, its convexity. The radius is defined by the virtual extension of the circle from the fingerboard and is calculated as 7.25″, 9.5″, or 16″. And even though visually, the difference is not as noticeable as on the back, it will be felt while playing. Accordingly, a more convex radius is appropriate for sliding, thereby easing the downforce on the frets, which means a smaller circle with a radius of 7.25″, 9.5″ or even 12″ would be optimal.
Best electric guitars for slide
Well, ambiguous instruments always cause a storm of controversy, and fans of this or that brand come up with unsound nicknames for competitors. For example, such as "the one-armed pony," which was awarded to the Telecaster. In this Fender Player Telecaster review, I will tell you what I think of this guitar. After all, there's a reason it's used by such popular musicians today as Brad Paisley and Vince Gill. Isn't it interesting? Let's find out.
Body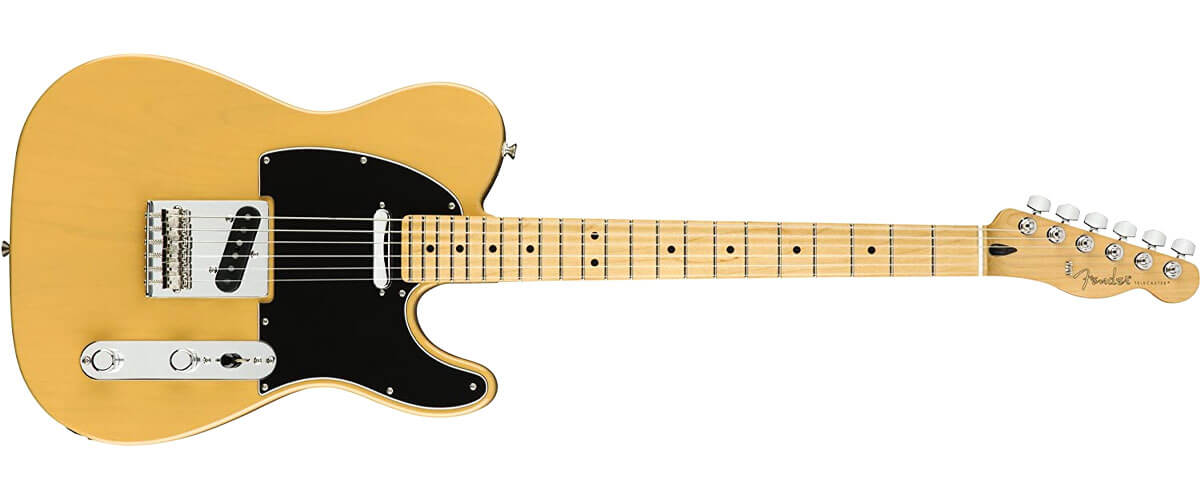 The guitar comes in 6 colors: 3-Color Sunburst, Black, Tidepool, Polar White, Butterscotch Blonde, and Capri Orange. Its single-cut body was an innovation when it was created in 1950, but now it is a classic. The one-piece body of their Gloss Polyester Finish Alder creates a nice bright resonance.
The build quality is excellent. The guitar is very comfortable to use, and you will feel it confidently in your hands. Also, there is a Pickguard on the body made of 3-ply parchment and a 6-Saddle String-Through-Body Tele with block steel saddles. You should know your attitude towards bent steel ahead of time because not all players like it. Regarding Hardware, I can't point out anything special: the standard cast/sealed tuning machines are simple and comfortable to play with. But they are made of what is called synthetic bone, which is plastic, even though it's chrome-plated.
Pickup system
As for the electronics, there are two passive pickups in the SS configuration Player Series Alnico 5 Tele Single-Coil and bridge pickup 6-Saddle String-Through-Body Tele. They provide clean, detailed sound, perhaps with some low frequencies. You can switch and play in 3 positions: bridge pickup, bridge and neck pickups, and Neck Pickup. This will allow you to play songs in different genres without much effort. All in all, I would say that for its price this guitar has decent electronics that will give you a clean powerful sound.
Neck, fingerboard, headstock
Fender fingerboards are an art form in their own right. Made of solid maple with Satin Urethane Finish on the Back, Gloss Urethane Finish on the Front, it has a Modern C-shape with a 9.6" radius. The Maple fingerboard overlay provides a bright, bouncy sound with rounded tones. The scale length is 25.5 inches, and 22 Medium Jumbo frets. This, too, is a specificity that takes some getting used to, as previous models had 21-fret lengths. The fingerboard fits my hand like a fixture, and thanks to the finish, my hand glided smoothly, allowing for quick playability.
Sound quality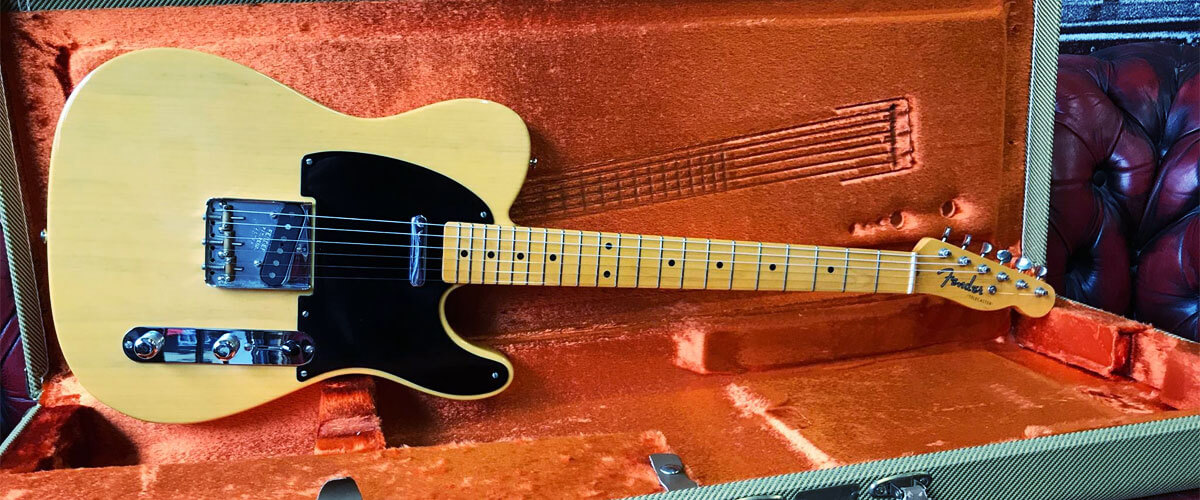 Is the Fender Player Telecaster a good guitar? My answer is unequivocal yes. The combination of quality and price is impressive because it's the entry-level of the line, but it is a brand! The Fender Player Telecaster sounds great and clean but not vintage if that's what you expect. However, the pickup system offers a spectrum of sound for many performance styles: the bridge pickup will give you plenty of twangs, and the more jazzy and mellow sounds will come from the neck pickup. Put it together, experiment, and you'll have a great stage-worthy guitar.
Key specs
Scale, in/cm: 25.5/64.7.
Frets: 22.
Fretboard radius, in/cm: 9.5/24.1.
Type: electric.
Body material: alder.
Neck material: maple.
Neck joint: bolt-on.
I consider the Fender Player Telecaster the best electric guitar for sliding because its fingerboard is exactly what you need for this technique. In addition, the neck pickup is perfect for playing the blues, giving the right amount of distortion. And even though its price is not so low (although for Fender, it is more of an entry-level) still, in terms of price/quality ratio, it is an excellent choice.
Yamaha Revstar Standard RSS20
If you've been dreaming of attracting attention with your guitar, the Yamaha Revstar Standard RSS20 review is for you. At least this model makes a strong impression on me. The design is just "wow," but also some features of the guitar are unusual, I would say unique, which makes it "stand out from the crowd" in all senses. And the price is affordable. I am in anticipation and invite you to get an introduction to this miracle.
Body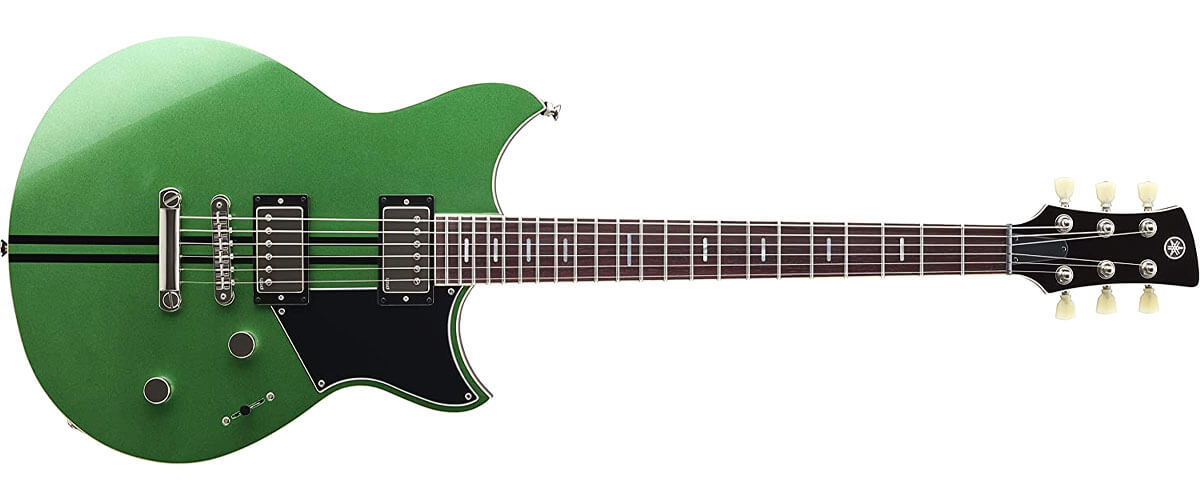 The Yamaha Revstar Standard RSS20 Set-in body is a company development inspired by the vintage Yamaha SG. First, it has additional hollow spots inside to make the guitar lighter. Despite that, the model is quite heavy (almost 8 pounds), so keep that in mind. But it's comfortable to play both standing and sitting. Secondly, the complemented unusual double-cut design comes in 6 bright colors: Swift Blue, Sunset Burst, Vintage White, Hot Merlot, Flash Green, and Black c 3-Ply Pickguard. I love it. The body is made of Chambered Mahogany, and the top is of Maple. All are made for the finest resonance and balance.
The overall style of the guitar is understated. The Master Volume and Master Tone controls, as well as the 5-Way switch, are compact and not conspicuous. There is also a very stable Tune-o-Matic bridge on the body. I think many musicians know it. The attention is concentrated on the shape and bright colors. Let's continue.
Pickup system
They say that Yamaha tested over 50 pickup prototypes before they succeeded in producing their Revstar. I willingly believe that because they sound excellent. The VH5b AlNiCo 5 bridge and Neck VH5n AlNiCo 5 humbucker together produce a powerful, balanced timbre and rich, vibrant modern sound with vintage elements.
I think the trademark Focus-Switch deserves special attention. It shifts the resonant frequency of the tone and performs passive amplification. I personally like this option, but I know that not everyone likes it. Well, to each his own.
Neck, fingerboard, headstock
The Revstar neck is special for this guitar, too. It is three-section and made of reinforced carbon Mahogany. The fingerboard is glued-in, and the slightly beveled body makes it incredibly stable and straight. You also have full access to the top frets. By the way, the 22 Jumbo frets here are stainless steel, smooth, comfortable, and, of course, hard-wearing. The Rosewood fretboard with a 12" radius has white lines inlays. I like to hold it in my hands. It is comfortable, stable, and very pleasant to the touch because of the Satin Polyurethane coating.
Sound quality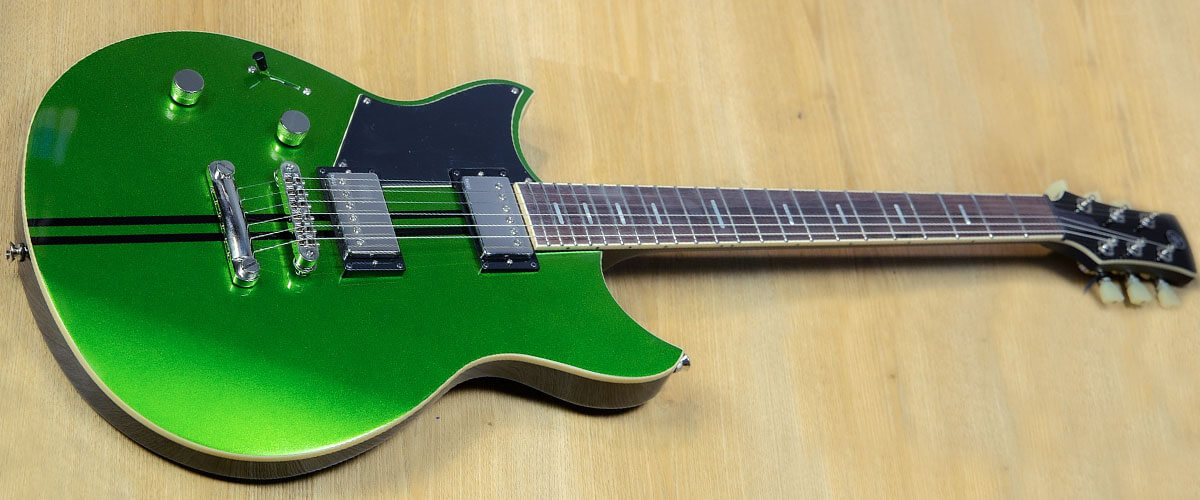 What conclusion can you expect from me when I initially confessed that I was in love with this guitar? The Yamaha Revstar Standard RSS20 sounds great. It can be powerful, but it can also be soft. With the Focus option, you can get jazzy tones, blues riffs, single tones, or amplified to overdrive levels. The range is as wide as it gets. It feels gorgeous everywhere. The RSS20 is a "Wow" to me.
Key specs
Scale, in/cm: 24.7/62.8.
Frets: 22.
Fretboard radius, in/cm: 12/30.4.
Type: electric.
Body material: mahogany, maple.
Neck material: mahogany.
Neck joint: fixed.
Another very suitable guitar for playing slide is the Yamaha Revstar Standard RSS20. Even though its fingerboard radius is 12″, the instrument sits comfortably in your hand. Its jazzy tones, bluesy riffs, and understated overdrive are great for genres of music in which our technique is used. And its exterior will make listeners remember you for a long time.
Epiphone Les Paul Custom
Good news for Gibson Les Paul fans awaits in this Epiphone Les Paul Custom review. A much cheaper version of the famous guitar has almost identical qualities because Epiphone has long been popular among guitarists as a decent alternative to expensive iconic models. Les Paul Custom is part of the Inspired by Gibson series and is based on the Les Paul "Tuxedo" model from 1954. So I suggest you start getting to know it better and see if it's as good as I suppose.
Body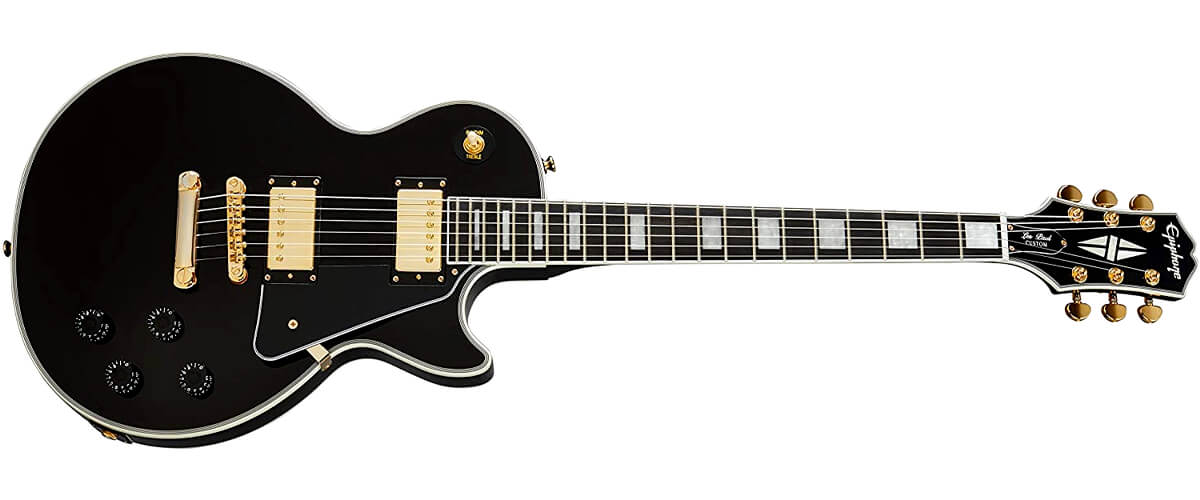 Expectedly, the guitar body is shaped and styled like a Les Paul. The model has two colors, Ebony or Alpine White, and I got the black version, which I was absolutely thrilled with. Coated in Gloss, with Multi-ply Custom binding, and a black Pickguard with white edging, the guitar looks simply stunning. Sure, it's not as shiny as a Gibson, but overall very similar from a distance. The construction is very powerful, made of solid Mahogany. For those unfamiliar with Les Paul, it will seem heavy, and it is. So prepare your back before you go on stage for a heavy load. However, the tonality of this stuff needs no description, so it's a worthy sacrifice for a high-end sound.
Four controls, located on the body, are very comfortable, in black, almost invisible against the background of gold fittings, which once again emphasizes the chicness of the Epiphone Les Paul Custom.
The set does not include a case, but a hardshell or soft EpiLite Case, specially prepared for this model, can be purchased separately.
Pickup system
Epiphone Les Paul Custom specs include a PAF-style humbucker system. These are the Neck Pickup Epiphone ProBucker 2 and the Bridge Pickup Epiphone ProBucker 3. They were designed as a cheaper alternative to the Burstbucker that Gibson uses. However, the manufacturer really tried to get closer to the original. And even though you can't seriously compare them because of the price, they still convince me with their sound.
There are CTS potentiometers tone and volume controls for each humbucker separately, allowing for optimal tuning. And also, a 3-way Epiphone toggle selector separates or combines the humbucker operation as you wish.
Rounding out with the Epiphone LockTone Tune-O-Matic bridge and a standard 1/4" Output Jack. Let's move on!
Neck, fingerboard, headstock
The glued fingerboard matches the basic image of the guitar. It's a 60s SlimTaper Mahogany and very comfortable to play. The 12" radius Ebony fingerboard with 24.75" scale length and 22 Medium Jumbo frets looks great with Pearloid Block inlay that finishes at the head of the neck with a diamond appliqué. The Nut Material is Graph Tech NuBone, 1.69" wide. The Grover Rotomatic Tuners are very good both in appearance and function. It was easy for me to tune my guitar as they have a great gear ratio (18:1). It all looks organic and works well together.
Sound quality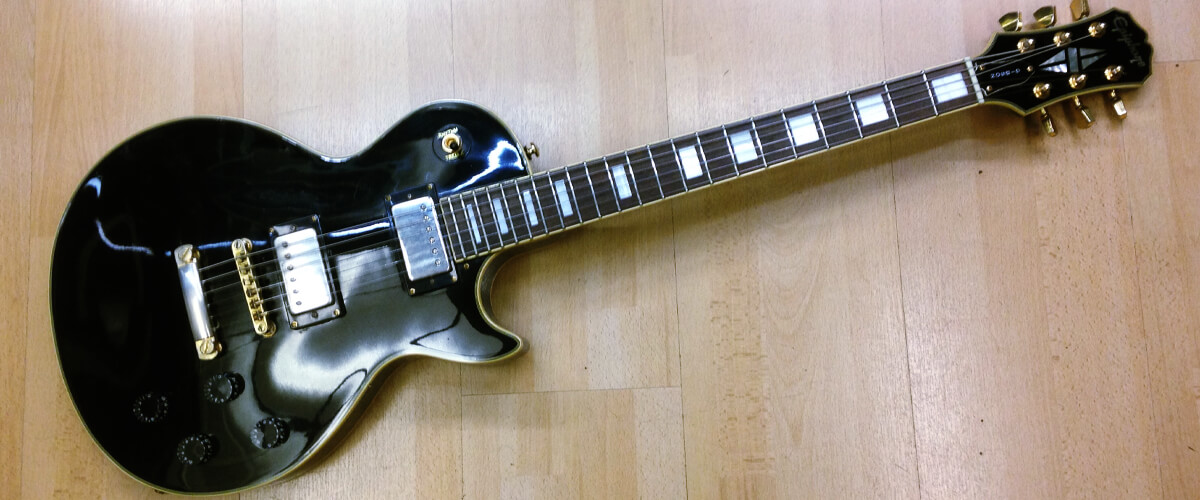 Epiphone Les Paul Custom is a voluminous, warm, deep sound with humbuckers providing good ringing tops and great bass. It is amazingly versatile. I specifically tried jazz, blues, rhythm parts, and classic rock, and by connecting a distortion pedal came out very convincing heavy metal (even though I'm not a fan, but for the purity of the experiment). That said, I can't claim that the sound is crystal clear. But for the styles mentioned above, it doesn't need to be. The notes are crisp and rich, and the sustain is elongated. Describing the sound of this guitar is quite easy, but it's better to hear it.
Key specs
Scale, in/cm: 24.7/62.6.
Frets: 22.
Fretboard radius, in/cm: 12/30.4.
Type: electric.
Body material: mahogany.
Neck material: ebony.
Neck joint: glued.
The 12″-radius fingerboard and excellent split humbuckers make the Epiphone Les Paul Custom a great slide guitar. The guitar's gorgeous, unforgettable design, brand, and not-so-clean sound will ensure your status as a star on stage. It is incredibly versatile and can serve as a great jazz and blues performer.
Don't forget to buy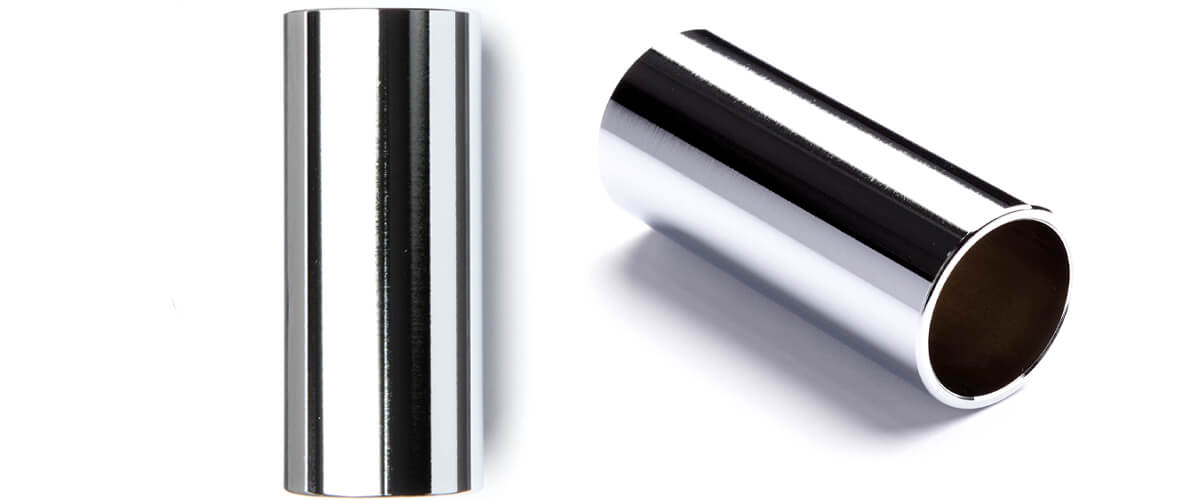 FAQ
Can any guitar be a slide guitar?
Essentially, of course, yes. Any guitar is suitable for any style, and it all depends on how comfortable you are performing it and whether you like the sound of it. But some guitars are still more suitable for sliding than other models. Namely, guitars with a thin C-shaped profile, a slight fingerboard radius, and a slightly distorted steel sound if we're talking about an electric guitar. For acoustics, the minimum requirement is to have steel strings on hand.
Are heavier strings better for sliding?
Yes, objectively, heavier strings are better because they have better stability and tension. So for sliding, I would choose a gauge from 0.010 to 0.013. And if we are talking about the "steel" sound, steel strings give it, and they are always heavier. Although in the end, as for many other questions, "what is better" I will answer as usual, "what is more comfortable for you".
Can you play slide on a classical guitar?
I keep telling you over and over again that you can play anything on anything. All you have to do is have an instrument and your hands. But, of course, it all depends on whether you like what you hear. Who would have thought that the сello was a great Rock instrument? But 2Cellos proves otherwise every day. So go for it! Give it a try. Who knows, maybe you'll be the next pioneer. For me personally, the sliding technique on nylon doesn't produce enough whine, but some musicians claim it sounds good, so, as they say, to each his own.
Is playing slide easy?
As a matter of fact, yes. It is very easy to learn and apply to playing. And I think it's especially easy because you want to start playing that stretchy sound on your own as soon as possible, to the point of getting goosebumps. But anyway, like any technique, sliding involves practice. More for some compositions than others. But the main thing is to believe in yourself, and everything will work out!