Initially a subgenre of Thrash Metal and, in the mid-1980s, an independent genre, Death Metal is characterized by complex high-speed performance and low string structure with maximum overdrive. Accordingly, instruments to perform this style should be strong, have thick strings, a longer scale, and hardware that will allow maximum sound distortion. So I offer you the three best guitars for death metal and also answer some questions related to this style. First of all, let's discuss what parts of an electric guitar you should pay attention to.
Our pick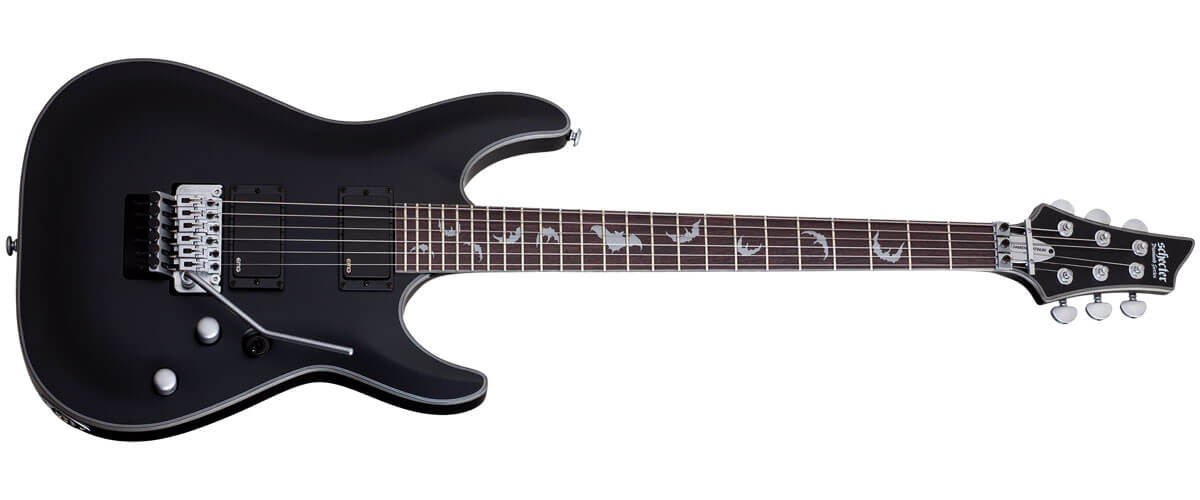 Schecter Damien Platinum 6 FR
Best guitar for death metal
The Floyd Rose Special tremolo, a pair of vivacious EMG active humbuckers, and an ultra-rigid 3-piece neck give blistering leads and crunchy riffs from your Schecter Damien Platinum 6 FR electric guitar.
Read the full review
.
Electric guitar for death metal comparison table
Guitar
Scale, in/cm
Fretboard radius, in/cm
Neck joint
Detailed review
Schecter Damien Platinum 6 FR

best overall

25.5/64.7
14/35.5
one-piece
Review
ESP E-II Horizon FR-7

for professionals

25.5/64.7
12/30.5
fixed
Review
Schecter Omen Extreme-6
25.5/64.7
14/35.5
bolt-on
Review
Guide to the death metal guitar
Pickups
When it comes to any choice, I always point out that it all depends on the preferences and the comfort of the musician. And, of course, the pickups are very important for the style and affect the overall sound. So, objectively speaking, you usually use active pickups for Death Metal because they are more powerful and have more sustain, which is essential.
Scale
Death metal is characterized by the natural, melodic, harmonic minor and Hungarian, Phrygian, Lydian, Doric reduced, enlarged, and other symmetrical gammas. All this gives the melody darkness and depth, "heaviness," as they say. Guitarists use lower guitar scales (Drop A, Drop B), and it's better to use guitars with a longer Scale Length for this purpose.
Bridge system
Another important detail of a guitar for performing death metal style, which requires high technique, speed, and therefore the endurance of the instrument, is the bridge. You need to keep your tuning precision and unlock the guitar's potential. And that's where a tremolo bridge comes in. Plus, the Floyd Rose system makes the most of it.
Design
Basically, there are no requirements for the design of your guitar, its age, or its style. But in my opinion, when it comes to one of the most aggressive genres, it's worth paying attention to, especially if you're going on stage. Your instrument should shout about what it is, complement your character, and be " angry," "furious," and "burning." Luckily, among the models of electric guitars for Death Metal, such points are common and taken into account.
Best guitars for death metal review
What a Hard Rock guitar should be, Schecter Guitar Research knows. If you are a fan of the genre, you probably know it. In that case, I offer you Schecter Damien Platinum 6 FR review, in which I will tell you about its details. Not having anything special at first glance, nevertheless, this model can surprise and delight, especially considering its remarkably affordable price. Let's get started!
Body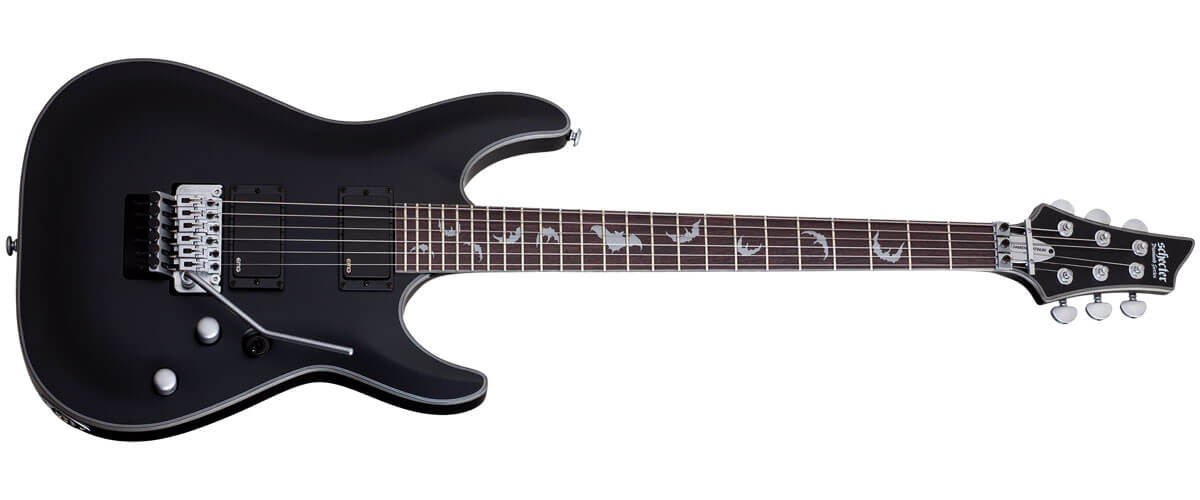 The understated look is my favorite. And the Schecter Damien Platinum 6 FR, presented in Satin Black with Silver/Platinum Multi-ply binding, is an example of elegance and style, including Metal Knurled Knobs in Satin Chrome color. The Arched Top body is made of Mahogany, which means you get the resonance and tone at optimum volume because it is the most popular wood with excellent vibration qualities. The classic Superstrat shape makes it easy to handle and comfortable to play, whether sitting or standing. And it also provides access to the high frets, which is rare, unfortunately.
Pickup system
The electronics in the Damien Platinum 6 FR are top-notch. I'd bet that this is exactly what you need for Metal performance. The EMG 81 in the bridge and the EMG 85 in the neck with Alnico V magnets give a great modern, heavy, powerful, and tight sound. For their control, there are Volume and Tone knobs, as well as a 3-Way Switch that will allow you to achieve an extremely wide range to perform compositions of any complexity. These humbuckers are high-performance, so there is room on the back of the guitar for a 9V battery, which is not included. Overall, the controls are pretty simple and understated, like everything but the sound on this model. The Floyd Rose Special tremolo bridge differs from the original with zinc alloy saddles and a zinc alloy fret block instead of brass, making it more reliable during dynamic playing. All for Rock, folks!
Neck, fingerboard, headstock
The excellent Thin-C Mahogany guitar neck is an extension of the guitar itself. The Set-Neck binding system provides incredible stability no matter what you play. It consists of Maple 3-pc and has a Rosewood fingerboard with a Scale Length of 25.5 inches, compensating for the tone of the Mahogany. As a result, it sounds steady and smooth, providing high-level playability. The special pronounced curves of the Ultra Access allow you to play the 24 X-Jumbo frets quickly and fluently. Even the Platinum Bats Inlays, which look Gothic, make up for the understated design of the Schecter Damien. And the logo on the head with Grover Tuners is Gothic. You're sure to love this comfortable, beautiful fingerboard that's comfortable to play with small hands with thin fingers or not.
Sound quality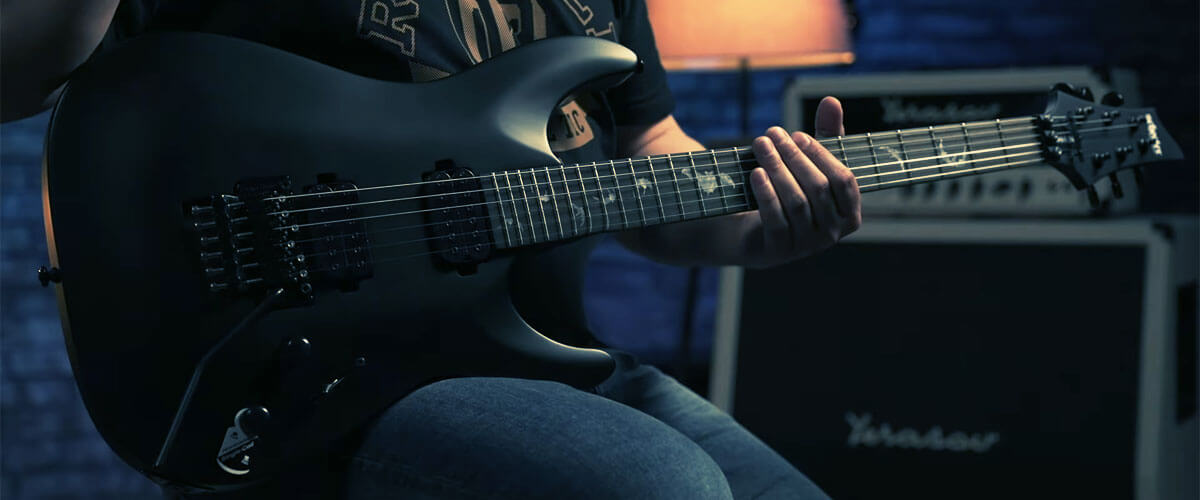 In Schecter Damien Platinum 6 FR, every detail is worthy of attention, especially its sound. With extremely simple controls, the guitar's pickups produce great clean rock classics. In addition, the warm tone of the bridge and the somber tone of the neck humbuckers will take you to new levels of overdrive and distortion. But to be fair, they're not super-powerful, and also, this model has no single-coil playability because it doesn't have a coil tap. Still, it has a decent place in its segment, and I'm sure it will find many fans who will appreciate it.
Key specs
Scale, in/cm: 25.5/64.7.
Frets: 24.
Fretboard radius, in/cm: 14/35.5.
Type: electric.
Body material: mahogany.
Neck material: maple.
Neck joint: one-piece.
Schecter Damien Platinum 6 FR is the best guitar for death metal in terms of performance and price. Every detail here is worthy of attention, especially its sound. With extremely simple controls, the guitar's pickups produce great clean rock classics. And the bridge's warm tone and the neck humbucker's dark tone take you to a new level of overdrive and distortion.
ESP E-II Horizon FR-7 – for professionals
I have finally found the time to do an ESP E-II Horizon FR-7 review. At first sight, I realized that this 7-string guitar is capable of surprising. After all, it's literally made for playing Hard Rock and Heavy Metal. It even looks powerful, and its sound is astonishing. Assembled in Japan, it is a model of high-quality construction. I could go on and on in my compliments, but let's take a closer look at the features that make it so special. Here we go.
Body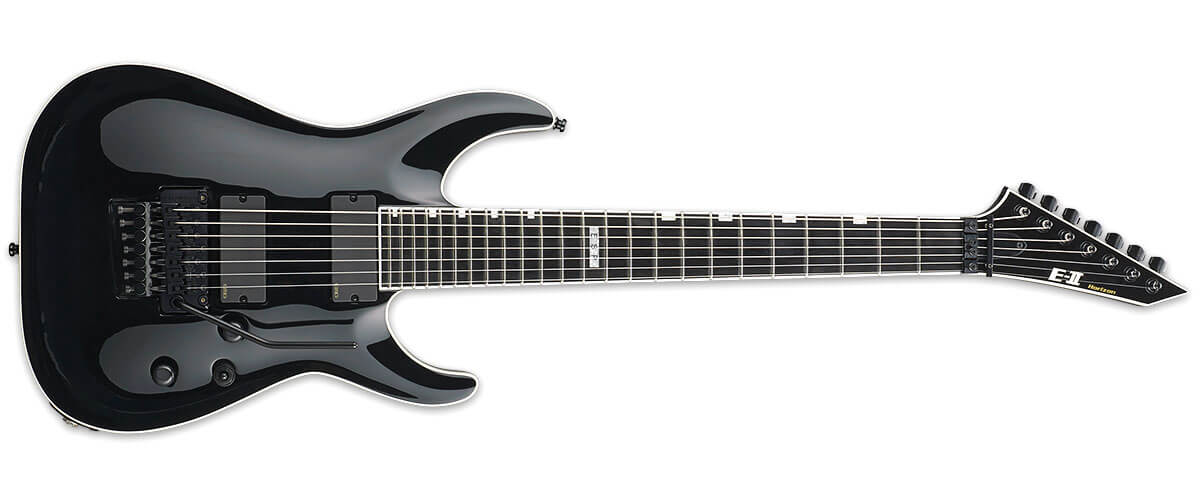 I love the way this instrument looks. The understated, elegant, yet the eye-catching design is very much in keeping with the guitar's purpose. Its solid alder body comes in Black and Black Turquoise Burst. The streamlined shape plays glossy in the spotlight. And the E-II Horizon FR-7's cream finish makes it stand out even more. With its sharp, signature head, the neck also looks very powerful. So even in the largest of hands, it will feel appropriate. On top of all that, it's pretty comfortable to play. Two notches provide access to the high frets.
The hardware is rounding out the design. As sleek as it is in black, it's almost invisible, but it has premium quality. Floyd Rose Original, Gotoh Tuners, and Master Volume and Tone, as well as a 3-way Toggle Switch, play their part, but more on that later.
Pickup system
When it comes to balancing the guitar, the restrained design is compensated for by the most powerful Pickup system. EMG is one of the leading brands for pickups. They are called "hot," "monsters," and other epithets in that vein. And that's exactly what they are. The two active EMG 707s, specially designed for 7-string guitars, are in the bridge and neck and together create an incredible vintage sound effect. Like all EMG pickups, they won't give you a clean, undistorted sound. But I told you in the beginning that this guitar is made for Metal and Rock. Anyway, I don't think you understand it until you hear it.
The electronics have a simple control that nevertheless can give you a wide range of action. The Floyd Rose Original bridge is premium here, and it's fixed.
Neck, fingerboard, headstock
As I said before, the E-II Horizon FR-7's Thin U-shaped neck matches the image of the guitar. It connects to the body with the Neck-Through system, which is considered the most reliable. The material is 3Pc Maple with a 12" Ebony overlay. The glossy finish makes the neck comfortable and very fast, which is important because it has a 25.5" Scale length and 24 XJ (Extra-Jambo) frets. Offset block inlays and the name of this guitar on the 12th fret are distinctive design features. Impressed? I am. Powercording or Shredding - easily!
Sound quality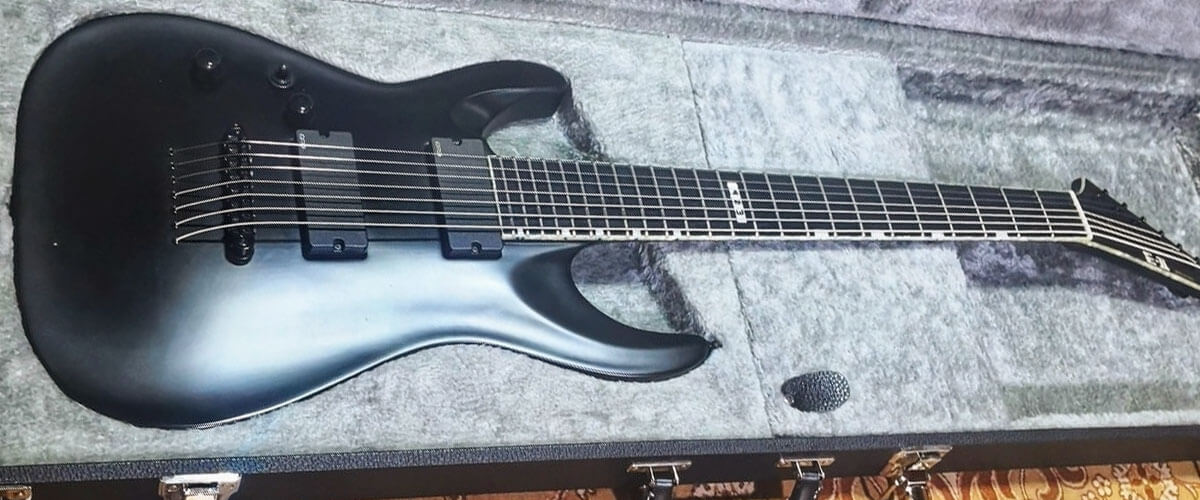 The ESP E-II Horizon FR-7 sound is impressive. Of course, it's a result of the EMG pickups I described above. Thrash-, death-metal is what you need to play on it. No doubt about it. Incredibly loud, powerful, with super heavy tones, fast, and with such necessary distortion for heavy styles, it's just created for the stage.
Key specs
Scale, in/cm: 25.5/64.7.
Frets: 24.
Fretboard radius, in/cm: 12/30.5.
Type: electric.
Body material: mahogany.
Neck material: ebony.
Neck joint: fixed.
The 7-string ESP E-II Horizon FR-7 is the best ESP guitar for metal. It even looks powerful, and its sound is astonishing. Thrash and dead-metal are the things to play on it. Incredibly loud, powerful, with super heavy tones, fast, and with such necessary distortion for heavy styles, it's just created for the stage.
Schecter Omen Extreme-6
Schecter has been on the market for a while now, but it has become a recognized leader among instrument manufacturers at an affordable price. I am always interested in such guitars because I sincerely believe that even not expensive instruments can be your companion for many years. In this Schecter Omen Extreme-6 review, I want to take a closer look at one of the most inexpensive guitars in the lineup. Let's see if it's that simple.
Body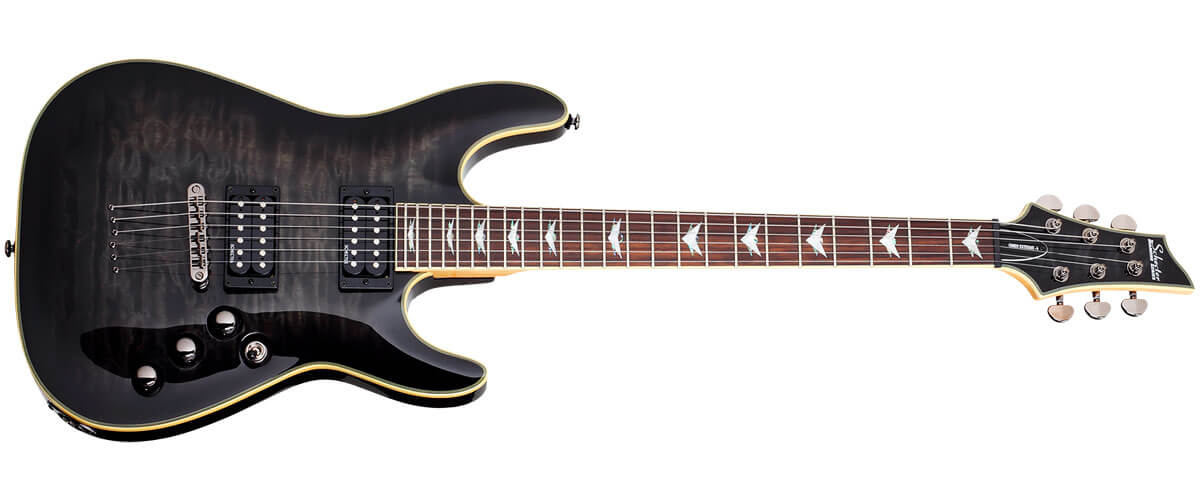 The Omen Extreme-6 comes in five awesome colors: Black Cherry, Blood Burst, Gloss Natural, See-Thru Black, and Vintage Sunburst. They're really cool, especially thanks to the cream trim, which makes the design even brighter. The Arched Top guitar body with two cutaways is made of Mahogany and has a Quilted Maple top. Excellent resonance is guaranteed, and you can also be sure of the longevity of the instrument and its tonal capabilities. The strings are attached to the body with the String Thru Body system on the Tune-O-Matic bridge. And there are robust metal controls for Volume and Tone. It looks and feels solid.
Pickup system
Regarding the electronics, I would call the Omen Extreme a versatile guitar. The humbuckers that come with it are not the most popular or well-known, but they are good enough. They are the bridge and neck Schecter Diamond Plus, which do their job and produce clear sounds the way you want them to. There are two Volume controls, one for each pickup and a 3-position switch with a push-pull coil tap. This control system gives you a wide range to play any genre or song. And that's a plus on this guitar.
Neck, fingerboard, headstock
The standard bolt-on neck provides stability and stiffness to your playing. This type of mounting is considered the simplest, but it's reliable. Plus, you can always fix the situation in case of a disconnect. A 2-way adjustable crank with a 5/32" (4mm) hex nut under the cap helps you do just that. The slim C-shaped Maple neck with Rosewood fingerboard has a 25.5" Scale Length and 24 Jumbo frets. In my opinion, these shapes are optimal because almost everyone can play them. Furthermore, you can always tell Schecter guitars apart by the original inlay. There's Abalone & Pearloid Vector on the Omen Extreme-6. And it's very beautiful.
Sound quality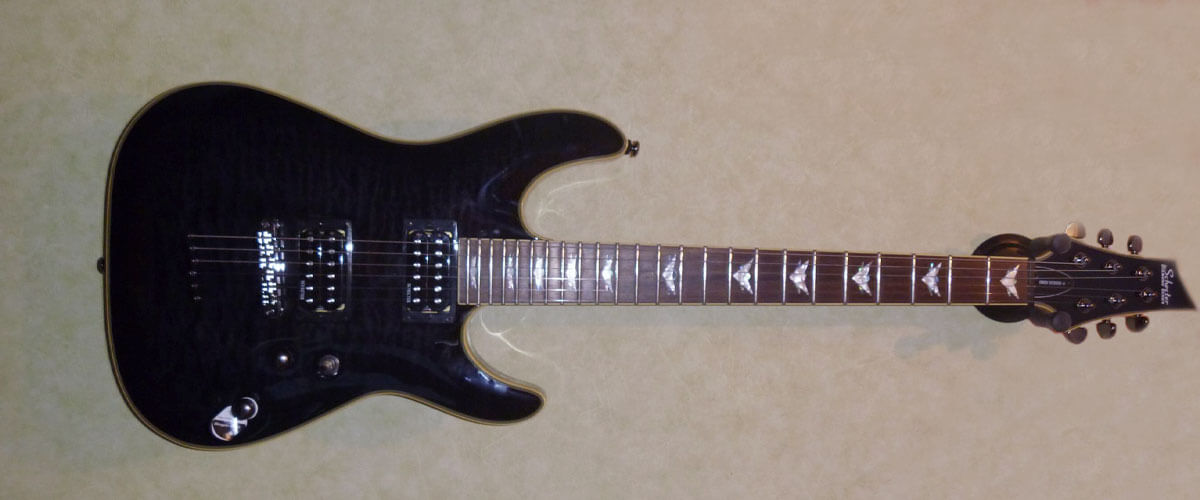 So, based on the above, we got to know a very worthwhile guitar. But how does the Schecter Omen Extreme-6 sound? The pickups did a great job with the amplification. I heard a clean, tight sound as well. The ability to switch to one coil makes it versatile, and I made sure of that by playing a few songs in different styles. It handles everything, but still, rock is its nature. I try to keep all the details in mind when testing the instruments, and this model justifies the price and the work put into it by the manufacturer. So it's easy to say - a great guitar for its money!
Key specs
Scale, in/cm: 25.5/64.7.
Frets: 24.
Fretboard radius, in/cm: 14/35.5.
Type: electric.
Body material: mahogany.
Neck material: maple.
Neck joint: bolt-on.
Schecter is deservedly considered the best brand of guitar for death metal. The proof of this is the Omen Extreme model, which despite its low price, sounds great. The pickups do a great job with the amplification, and you get a dense sound worthy of heavy rock and metal, including the death metal genre. Furthermore, you can be sure of its endurance and durability.
FAQ
Can I play death metal on any guitar?
Time after time, I postulate that you can play any genre on any guitar as long as you have the instrument and the hands. But it's all about what you get due to your playing. As was already said in this article, Death Metal is characterized by an aggressive dark sound. To achieve it, you need a guitar with certain parameters: long scale, thick strings, active pickups, and bridge tremolo. But if you can't afford to buy a death metal electric guitar with all these options, you can try to achieve the desired distortion with effects pedals. You'll definitely need them in this style.
Can I play rock on a metal guitar?
There are no clear rules in music, otherwise, new styles and trends would not have been born. But there are general guidelines and accepted concepts for each already existing style. And no guitar exists for playing only one genre. So, of course, you can play Rock on the guitar, which is preferred for Metal. This style, of course, is heavier and darker, in some places more aggressive, and has a lot more distortion. Nevertheless, you can use effects pedals, adjusting more overdrive and less distortion. But ultimately, it all depends on how you play and whether you like what you hear. Explore it!
Do metal guitarists play chords?
Of course, they do. But metal guitarists use power chords, which means any type of chord is played with the same hand shape anywhere on the fingerboard. These chords consist of a root and a 5th interval, forming a perfect 5th beat. Power chords are also a type of Dyads, which consist of 2 – 3 notes.
Is it hard to learn a 7 string guitar?
To answer briefly, no, it's not hard. But you might encounter some differences if you already know how to play a 6-string guitar. For example, its fretboard is wider, and you also have an extra string at the top (just above the lower E). This string is tuned to B, but some people may prefer the A tuning. It'll just take you a while to get used to it. But you won't be disappointed with the result because the 7-string guitar offers you a great playing experience, especially suited for Rock and Metal.
Also, you can consider those decent electric guitars:
Yamaha electric guitars.
Fender electric guitars.
ESP electric guitars.
Schecter electric guitars.
Jackson electric guitars.
Or you can choose an electric guitar for your style:
Electric guitar for grunge.