Relative to other guitar brands, Jackson is a fairly young company, having started production in the 1970s. But its guitars are highly appreciated among musicians, as the company offers various instruments from beginner to professional. In this Jackson Pro Plus Series DK Modern HT7 MS review, I want to present you with a unique model in its appearance and data, ready to provide you with a comfortable playing experience and tone suitable for different styles and genres.
Body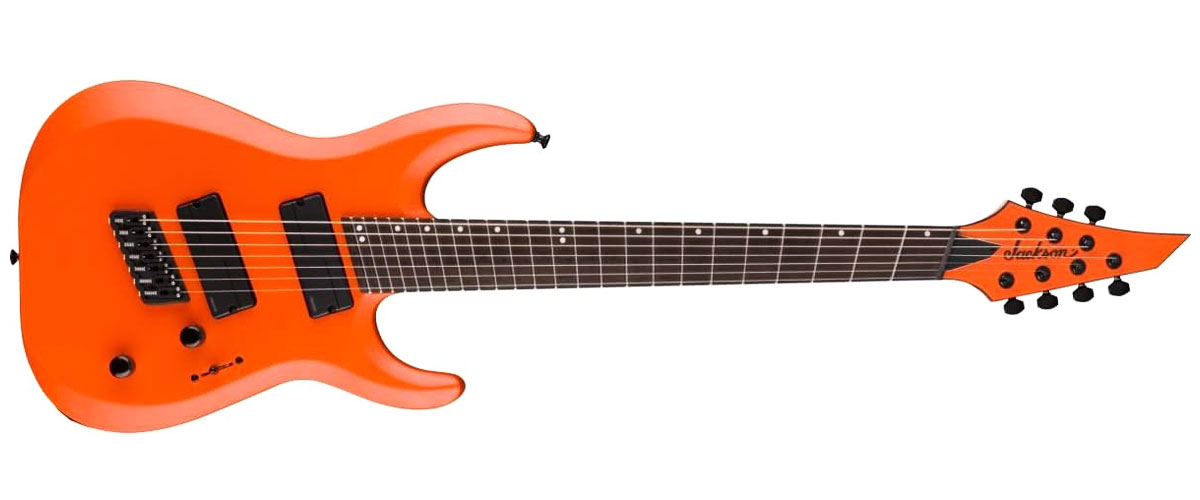 The body of the guitar is crafted with care. Cut edges around the perimeter give the Jackson Pro Plus Series DK Modern HT7 MS a streamlined feel, and the bright orange coloring seems to be specially designed to be recognizable. You're sure to get noticed.
The instrument is quite expensive, so it's no surprise that Basswood with a Satin finish was chosen for the body. The splendor of the design is emphasized by black angled humbuckers and ceramic Hipshot fixed bridge, where 7 strings are attached. The Tone and Volume controls are also black as if they were two eyes looking at you from the body, emphasized by the "smile" of the three-way blade switch.
Pickup system
Jackson's Pro Plus Series DK Modern HT7 MS specs include a pair of Fishman Fluence Modern PRF-MH8 ceramic humbuckers, where the neck is equipped with Alnico magnets. You can't say too much about them except that these active humbuckers with HH configuration sound great with this instrument. They are aggressive, powerful, humming, and dynamic. I was able to extract beautiful fat bass, crisp, clean tone in the classic Rock style, and by switching positions – crunch and lead with distortion worthy of the Hard genre world hits.
Neck, fingerboard, headstock
A seven-string guitar with such a tonal range needs a stable fingerboard. And the DK Modern HT7 MS bolted to the body for added stability, is pretty unique. For starters, it's made of 3-piece Maple/Wenge/Maple, and the fingerboard also has 2 27-25.5″ scales. This construction makes it incredibly comfortable and fast to play, especially considering the graphite reinforcement rods. I didn't get tired of holding the guitar in my hand, and my fingers moved easily and quickly, navigating the 24 jumbo frets as if I had been practicing with this particular instrument for a long time. The Ebony fingerboard overlay, with a compound radius of 12″-16″, also contributes to this feeling. The Jackson Pro Series Dinky DK Modern HT7 MS has Gotoh locking tuners on the pointed head of the Jackson Pro Series Dinky DK Modern HT7 MS fingerboard, which are quite tight but hold tone just fine; just set them in the position you want, and you won't go back to them for a long time.
Sound quality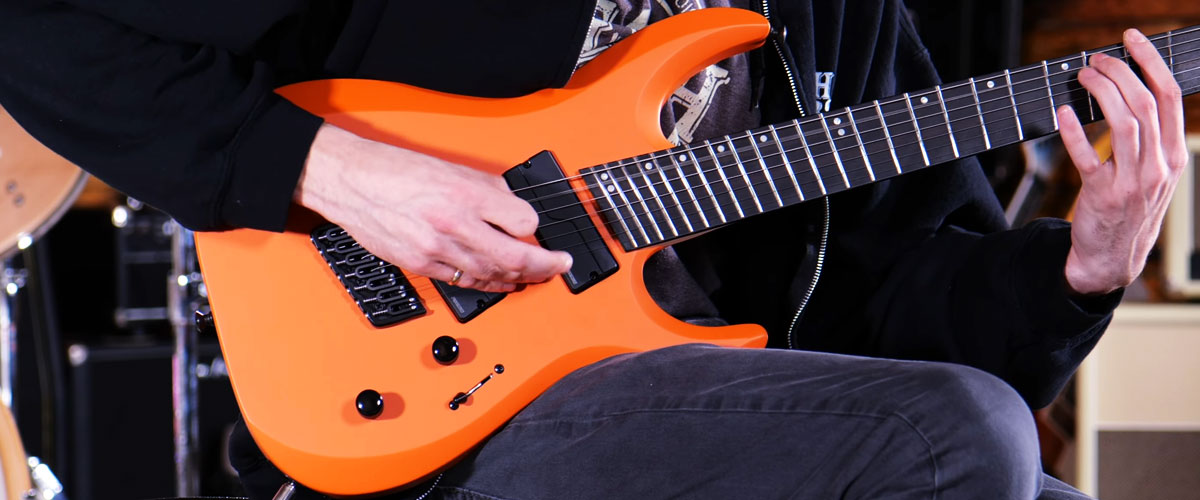 Basically, in describing the guitar, I have already described how the Jackson Pro Plus Series DK Modern HT7 MS sounds. I can only add that the humbuckers transmit vibration very well. Although the fingerboard design is unusual, and playing on some frets takes some time to get used to, it doesn't take long for a professional musician to get used to it. But the feedback from the instrument is great. I've played ZZ Top, Gimme All Your Lovin', AC/DC – Thunderstruck and Led Zeppelin, Rock And Roll with equal enjoyment. But you can take it to other challenges; the DK Modern HT7 MS tone will allow you to play quieter parts and those that require hard-hitting and percussive technique. You'll love it, I promise.
Key specs
Scale, in/cm: 25.5-27/64.7-68.5.
Frets: 24.
Fretboard radius, in/cm: 1.8/4.7.
Type: electric.
Body material: basswood.
Neck material: 3-piece maple/wenge/maple.
Neck joint: bolt-on.