If you've been dreaming of attracting attention with your guitar, the Yamaha Revstar Standard RSS20 review is for you. At least this model makes a strong impression on me. The design is just "wow," but also some features of the guitar are unusual, I would say unique, which makes it "stand out from the crowd" in all senses. And the price is affordable. I am in anticipation and invite you to get an introduction to this miracle.
Body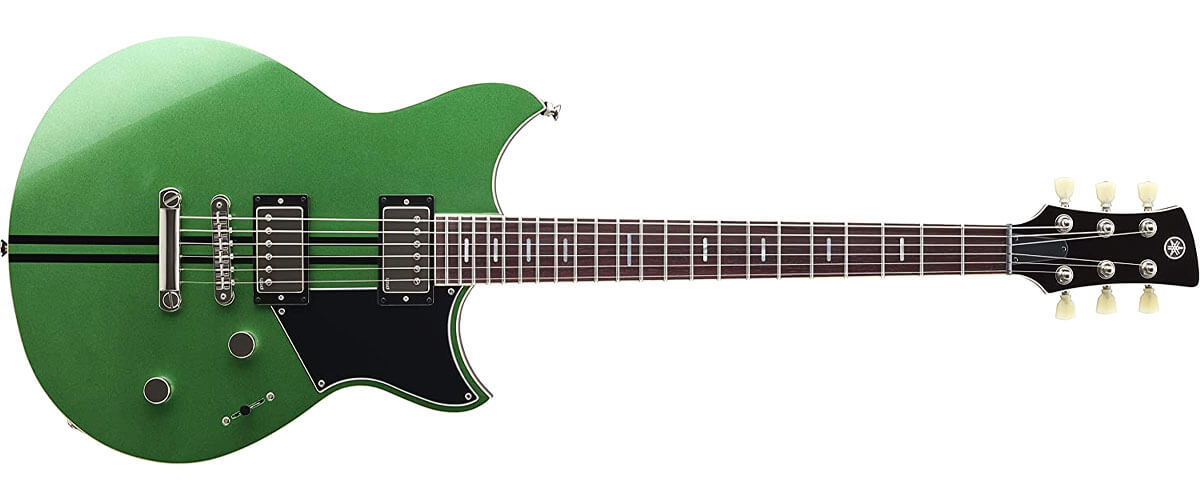 The Yamaha Revstar Standard RSS20 Set-in body is a company development inspired by the vintage Yamaha SG. First, it has additional hollow spots inside to make the guitar lighter. Despite that, the model is quite heavy (almost 8 pounds), so keep that in mind. But it's comfortable to play both standing and sitting. Secondly, the complemented unusual double-cut design comes in 6 bright colors: Swift Blue, Sunset Burst, Vintage White, Hot Merlot, Flash Green, and Black c 3-Ply Pickguard. I love it. The body is made of Chambered Mahogany, and the top is of Maple. All are made for the finest resonance and balance.
The overall style of the guitar is understated. The Master Volume and Master Tone controls, as well as the 5-Way switch, are compact and not conspicuous. There is also a very stable Tune-o-Matic bridge on the body. I think many musicians know it. The attention is concentrated on the shape and bright colors. Let's continue.
Pickup system
They say that Yamaha tested over 50 pickup prototypes before they succeeded in producing their Revstar. I willingly believe that because they sound excellent. The VH5b AlNiCo 5 bridge and Neck VH5n AlNiCo 5 humbucker together produce a powerful, balanced timbre and rich, vibrant modern sound with vintage elements.
I think the trademark Focus-Switch deserves special attention. It shifts the resonant frequency of the tone and performs passive amplification. I personally like this option, but I know that not everyone likes it. Well, to each his own.
Neck, fingerboard, headstock
The Revstar neck is special for this guitar, too. It is three-section and made of reinforced carbon Mahogany. The fingerboard is glued-in, and the slightly beveled body makes it incredibly stable and straight. You also have full access to the top frets. By the way, the 22 Jumbo frets here are stainless steel, smooth, comfortable, and, of course, hard-wearing. The Rosewood fretboard with a 12″ radius has white lines inlays. I like to hold it in my hands. It is comfortable, stable, and very pleasant to the touch because of the Satin Polyurethane coating.
Sound quality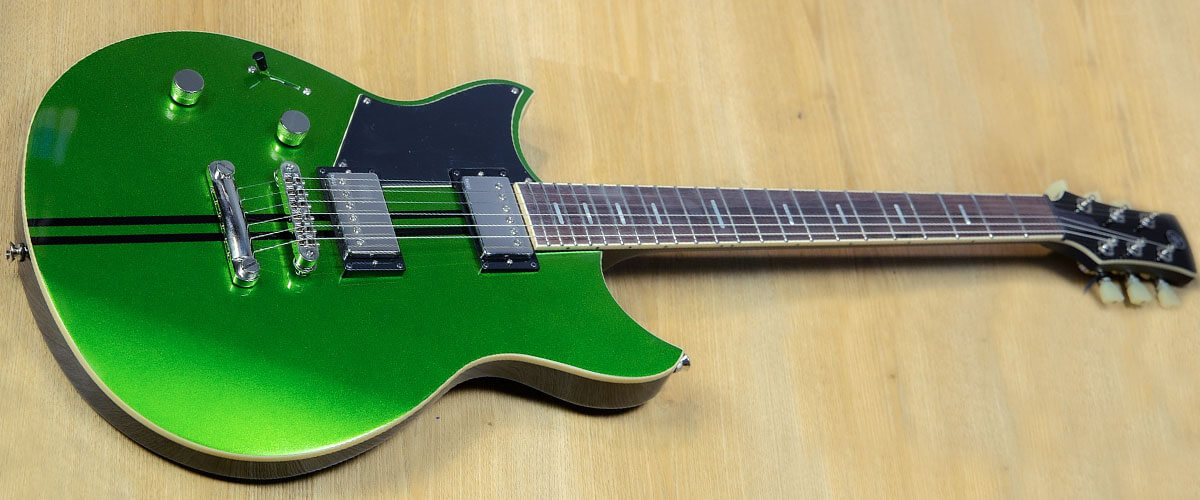 What conclusion can you expect from me when I initially confessed that I was in love with this guitar? The Yamaha Revstar Standard RSS20 sounds great. It can be powerful, but it can also be soft. With the Focus option, you can get jazzy tones, blues riffs, single tones, or amplified to overdrive levels. The range is as wide as it gets. It feels gorgeous everywhere. The RSS20 is a "Wow" to me.
Key specs
Scale, in/cm: 24.7/62.8.
Frets: 22.
Fretboard radius, in/cm: 12/30.4.
Type: electric.
Body material: mahogany, maple.
Neck material: mahogany.
Neck joint: fixed.