Schecter has been on the market for a while now, but it has become a recognized leader among instrument manufacturers at an affordable price. I am always interested in such guitars because I sincerely believe that even not expensive instruments can be your companion for many years. In this Schecter Omen Extreme-6 review, I want to take a closer look at one of the most inexpensive guitars in the lineup. Let's see if it's that simple.
Body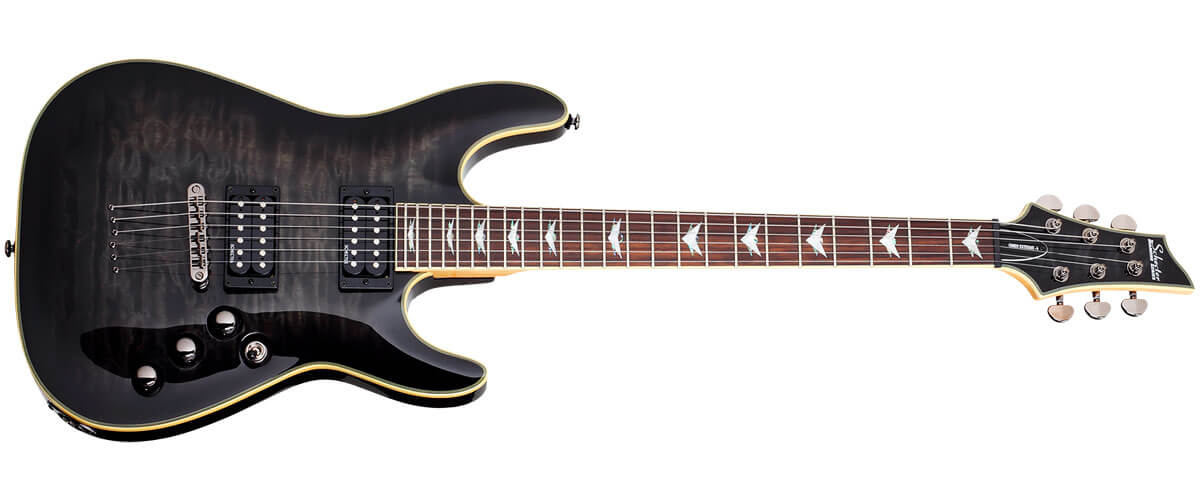 The Omen Extreme-6 comes in five awesome colors: Black Cherry, Blood Burst, Gloss Natural, See-Thru Black, and Vintage Sunburst. They're really cool, especially thanks to the cream trim, which makes the design even brighter. The Arched Top guitar body with two cutaways is made of Mahogany and has a Quilted Maple top. Excellent resonance is guaranteed, and you can also be sure of the longevity of the instrument and its tonal capabilities. The strings are attached to the body with the String Thru Body system on the Tune-O-Matic bridge. And there are robust metal controls for Volume and Tone. It looks and feels solid.
Pickup system
Regarding the electronics, I would call the Omen Extreme a versatile guitar. The humbuckers that come with it are not the most popular or well-known, but they are good enough. They are the bridge and neck Schecter Diamond Plus, which do their job and produce clear sounds the way you want them to. There are two Volume controls, one for each pickup and a 3-position switch with a push-pull coil tap. This control system gives you a wide range to play any genre or song. And that's a plus on this guitar.
Neck, fingerboard, headstock
The standard bolt-on neck provides stability and stiffness to your playing. This type of mounting is considered the simplest, but it's reliable. Plus, you can always fix the situation in case of a disconnect. A 2-way adjustable crank with a 5/32″ (4mm) hex nut under the cap helps you do just that. The slim C-shaped Maple neck with Rosewood fingerboard has a 25.5″ Scale Length and 24 Jumbo frets. In my opinion, these shapes are optimal because almost everyone can play them. Furthermore, you can always tell Schecter guitars apart by the original inlay. There's Abalone & Pearloid Vector on the Omen Extreme-6. And it's very beautiful.
Sound quality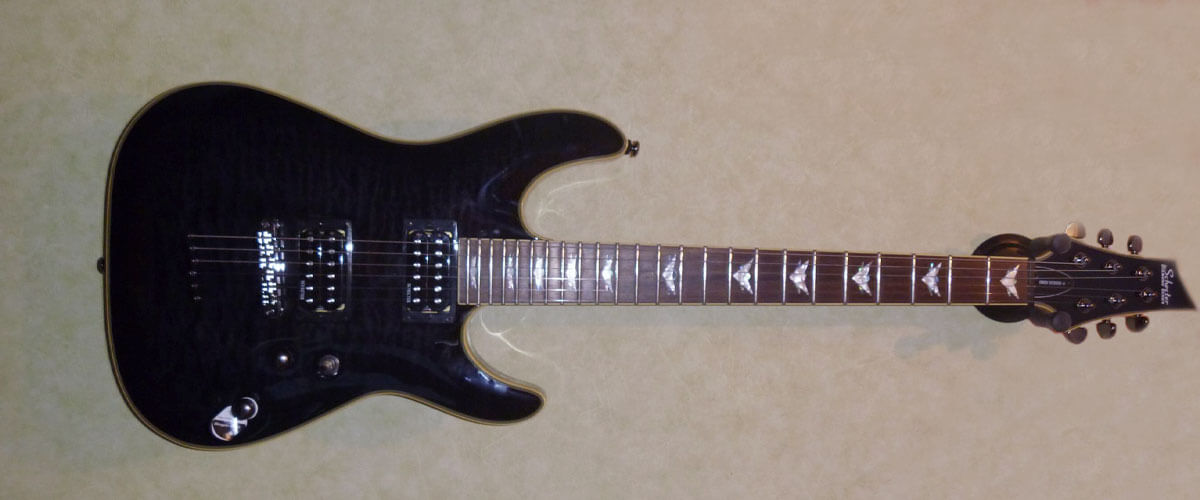 So, based on the above, we got to know a very worthwhile guitar. But how does the Schecter Omen Extreme-6 sound? The pickups did a great job with the amplification. I heard a clean, tight sound as well. The ability to switch to one coil makes it versatile, and I made sure of that by playing a few songs in different styles. It handles everything, but still, rock is its nature. I try to keep all the details in mind when testing the instruments, and this model justifies the price and the work put into it by the manufacturer. So it's easy to say – a great guitar for its money!
Key specs
Scale, in/cm: 25.5/64.7.
Frets: 24.
Fretboard radius, in/cm: 14/35.5.
Type: electric.
Body material: mahogany.
Neck material: maple.
Neck joint: bolt-on.