Today I've prepared the Schecter Hellraiser C-1 review, which seems to me very attractive in price/quality ratio, and that's why it is very popular. It has a great style, but I should mention right away that it is a narrow-purpose guitar, like many guitars of this brand. Schecter Guitar Research has been known for instruments for metal and other heavy genres since 1976, when it started as a workshop. But being narrowly focused doesn't make the Hellraiser C-1 any less desirable to many connoisseurs because its features are worth noting.
Body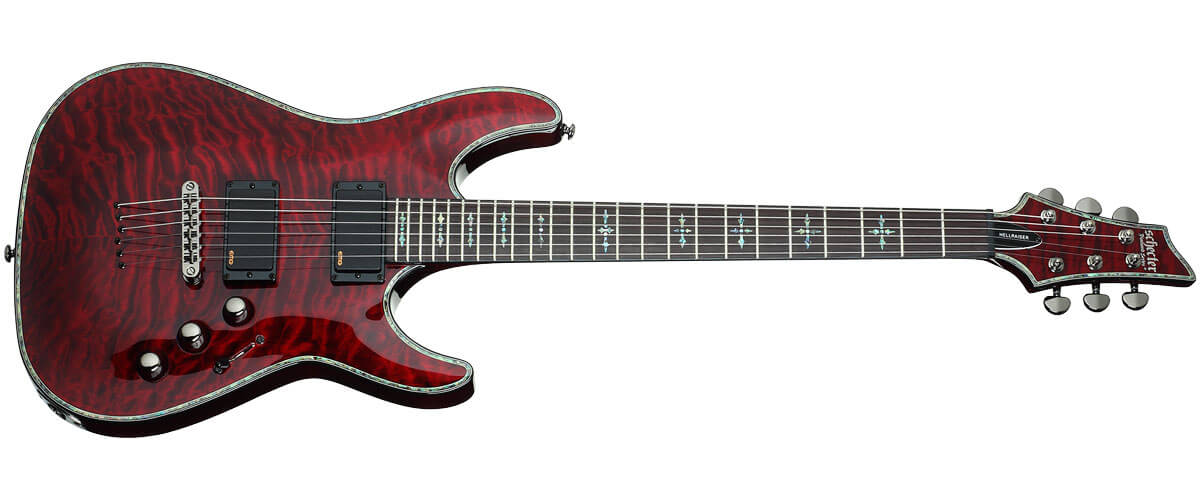 Like most Schecter guitars, the guitar's body is shaped like a superstrat with a double cutaway and an Arched top. Made of Mahogany with a Quilted Maple top, the guitar is pretty light, so it's comfortable to play sitting or standing without getting tired. This is the most commonly used wood combination for guitar bodies, so the tonal properties and vibe have long been known and never fail. Three available colors in the series (Gloss Black, Gloss White, and Black Cherry) and the Abalone binding with its layered finish look terrific. The metal knobs with knurled chrome in Black also match the style. Combined, everything looks stylish and understated but definitely noticeable.
Pickup system
Of course, the pickup is the most important element for any electric guitar. And when it comes to heavy styles, experts know that it's likely to be EMGs that are capable of delivering the necessary distortion. The Hellraiser C-1 features two active high-performance 81TWs in the bridge and 89 in the neck, which means you'll find a 9V battery compartment on the back of the guitar body. It's also remarkable that the pickups have separate coils that are controlled by separate volume knobs. There's also the main tone knob and a three-band pickup selector switch, which doesn't make it easy to control, but makes the guitar versatile, with a wide tonal range. The Push-Pull feature also helps with that. The bridge TonePros T3BT TOM w/ String Thru Body, which I find very reliable and comfortable, rounds out the electronics section.
Neck, fingerboard, headstock
The Set-Neck mounting is the neck's most reliable and stable attachment to the body. Essentially, you get a single block of Mahogany. The Hellraiser C-1 has a three-piece Thin-C fingerboard with terrific playability because of Schecter's Ultra Access design. Thanks to these pronounced curves, you can easily reach the top fret, even with small hands. And there are 24 X-Jumbo frets on the 25.5″ Rosewood fretboard, recognizable by the Gothic Cross inlays. Very heavy-metal. The head fits perfectly with the overall design of the guitar. It features Graph Tech XL Black Tusq Nut and excellent Schecter locking tuners. As you can understand, the neck is chic, but not all of its elements are of high quality, which explains the overall cost of the instrument.
Sound quality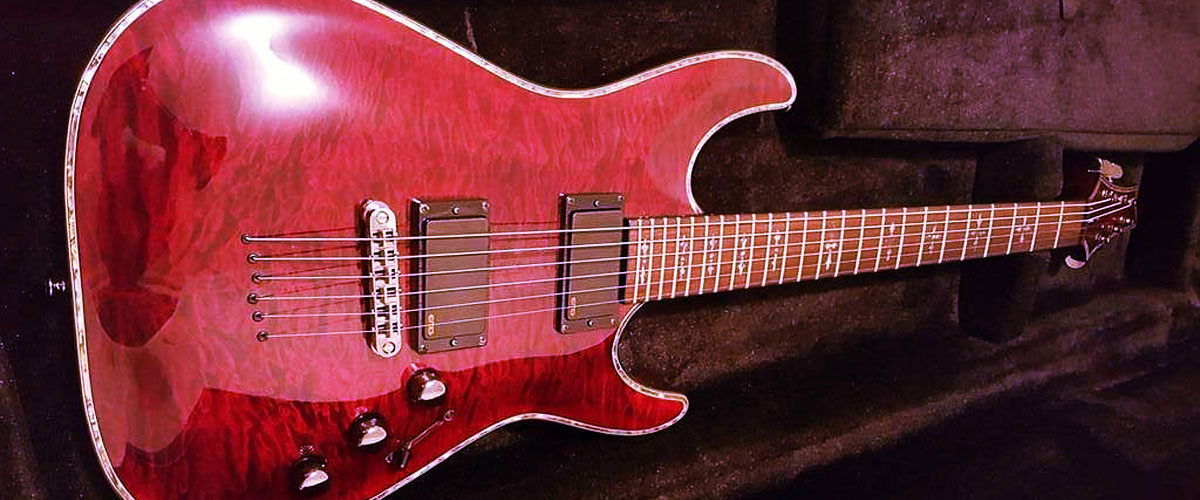 The Schecter Hellraiser C-1 sound matches its design and build. The mahogany gives its tone a warmth, and the pickups handle intricate tricks like overtones, harmonies, plucks, slides, and everything else you need for Hard Rock. Sure, I've tried playing some of the other styles on it, and it works, but it lacks the clarity of sound that makes it great for playing the styles it was designed for. I think it is worthy of experienced players and will last long, even with aggressive playing.
Key specs
Scale, in/cm: 25.5/64.7.
Frets: 24.
Fretboard radius, in/cm: 14/35.5.
Type: electric.
Body material: mahogany.
Neck material: rosewood.
Neck joint: one-piece.