What a Hard Rock guitar should be, Schecter Guitar Research knows. If you are a fan of the genre, you probably know it. In that case, I offer you Schecter Damien Platinum 6 FR review, in which I will tell you about its details. Not having anything special at first glance, nevertheless, this model can surprise and delight, especially considering its remarkably affordable price. Let's get started!
Body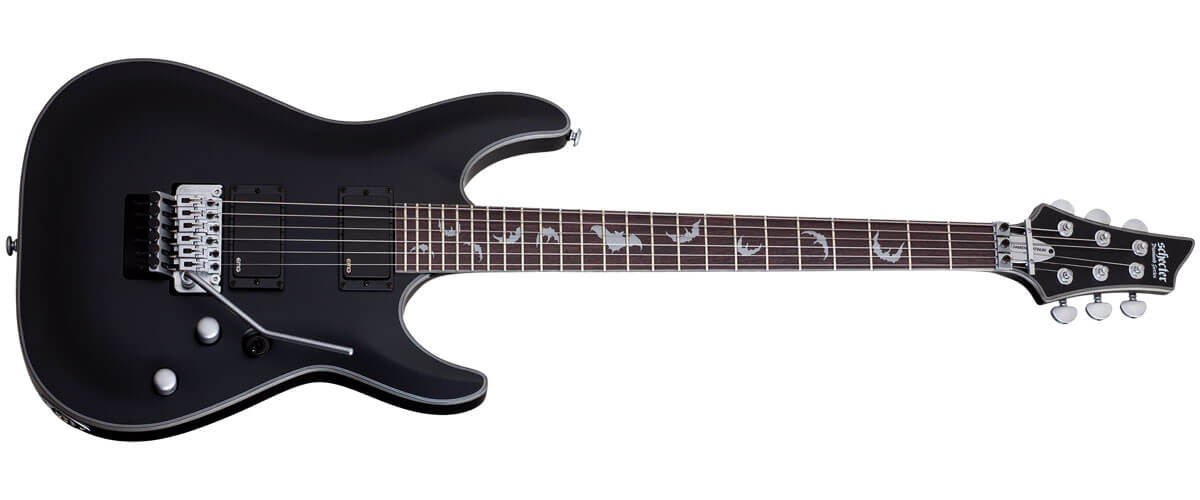 The understated look is my favorite. And the Schecter Damien Platinum 6 FR, presented in Satin Black with Silver/Platinum Multi-ply binding, is an example of elegance and style, including Metal Knurled Knobs in Satin Chrome color. The Arched Top body is made of Mahogany, which means you get the resonance and tone at optimum volume because it is the most popular wood with excellent vibration qualities. The classic Superstrat shape makes it easy to handle and comfortable to play, whether sitting or standing. And it also provides access to the high frets, which is rare, unfortunately.
Pickup system
The electronics in the Damien Platinum 6 FR are top-notch. I'd bet that this is exactly what you need for Metal performance. The EMG 81 in the bridge and the EMG 85 in the neck with Alnico V magnets give a great modern, heavy, powerful, and tight sound. For their control, there are Volume and Tone knobs, as well as a 3-Way Switch that will allow you to achieve an extremely wide range to perform compositions of any complexity. These humbuckers are high-performance, so there is room on the back of the guitar for a 9V battery, which is not included. Overall, the controls are pretty simple and understated, like everything but the sound on this model. The Floyd Rose Special tremolo bridge differs from the original with zinc alloy saddles and a zinc alloy fret block instead of brass, making it more reliable during dynamic playing. All for Rock, folks!
Neck, fingerboard, headstock
The excellent Thin-C Mahogany guitar neck is an extension of the guitar itself. The Set-Neck binding system provides incredible stability no matter what you play. It consists of Maple 3-pc and has a Rosewood fingerboard with a Scale Length of 25.5 inches, compensating for the tone of the Mahogany. As a result, it sounds steady and smooth, providing high-level playability. The special pronounced curves of the Ultra Access allow you to play the 24 X-Jumbo frets quickly and fluently. Even the Platinum Bats Inlays, which look Gothic, make up for the understated design of the Schecter Damien. And the logo on the head with Grover Tuners is Gothic. You're sure to love this comfortable, beautiful fingerboard that's comfortable to play with small hands with thin fingers or not.
Sound quality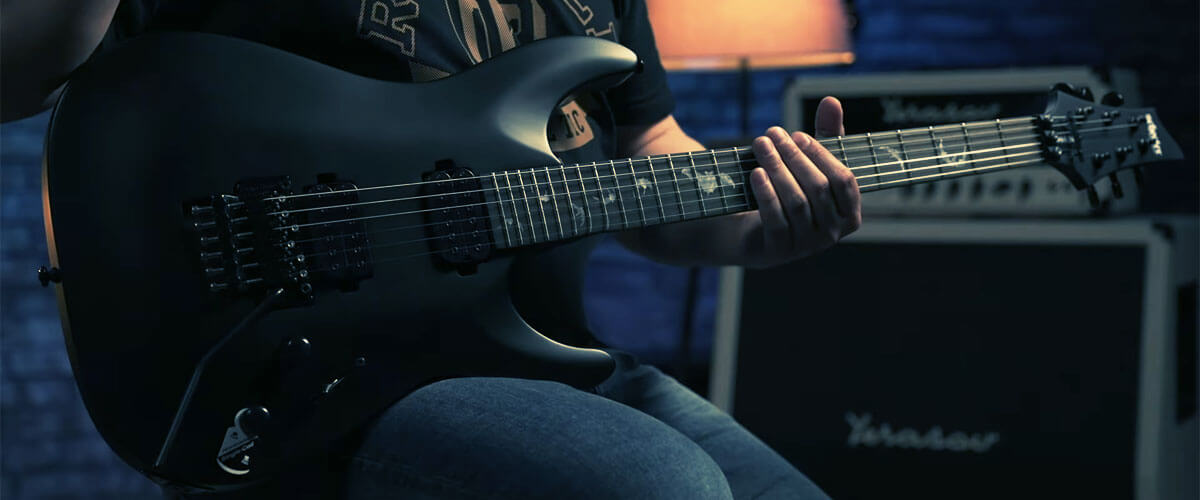 In Schecter Damien Platinum 6 FR, every detail is worthy of attention, especially its sound. With extremely simple controls, the guitar's pickups produce great clean rock classics. In addition, the warm tone of the bridge and the somber tone of the neck humbuckers will take you to new levels of overdrive and distortion. But to be fair, they're not super-powerful, and also, this model has no single-coil playability because it doesn't have a coil tap. Still, it has a decent place in its segment, and I'm sure it will find many fans who will appreciate it.
Key specs
Scale, in/cm: 25.5/64.7.
Frets: 24.
Fretboard radius, in/cm: 14/35.5.
Type: electric.
Body material: mahogany.
Neck material: maple.
Neck joint: one-piece.