In this Jackson RRX24 review, I bring you a regal and proud guitar, as the manufacturer calls it, with a fantastic tone and incredible playability. Jackson developed its offset V-shaped design in collaboration with young Black Sabbath guitarist Randy Rhoads in the 1980s. The guitar has changed since then, but it continues Rhoads' legacy with dignity, delighting those lucky enough to get their hands on it.
Body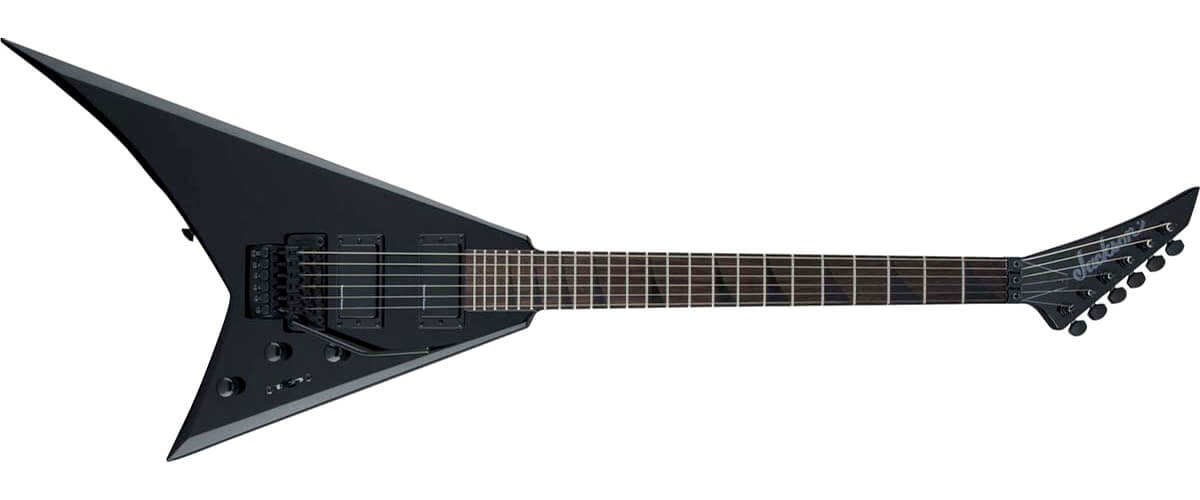 The unusual guitar body is made of Basswood, which is considered a soft and inexpensive wood, but also has excellent midrange emphasis from the humbucker, as well as being lightweight and easy to use. And the chrome fittings, consisting of a bridge, volume, tone controls, and sealed Jackson molded tuners, will last you a very long time.
Sure, it's hard to imagine playing this guitar sitting or lying down, as it won't be comfortable, but you can enjoy all its benefits on stage! Even its different colors will shine in the lights: black with neon-green bevels with reverse shark neon-green inserts and chrome hardware; black with yellow bevels with reverse shark pearloid inserts and gold hardware; black with neon-pink shark inserts and black hardware; gloss black with reverse shark black inserts and black hardware.
Pickup system
As for the Jackson Rhoads RRX24 specs, they are excellent for an electric guitar of this rank. I'll start with the two active Seymour Duncan Blackout pickups (bridge AHB-1B and neck AHB-1N), which are made for Metal playing with their powerful and highly compressed signal. The brand is one of the leaders in humbuckers, so they are quality and durable. The pickups' configuration is HH, meaning they give a warm tone without noise. They are controlled by two volume controls (separately for each humbucker), one tone control, and a three-band switch.
The Floyd Rose Special provides dive bombs and plucking harmonics without going out of tune with a double-locking tremolo system in the bridge. If the humbuckers lack versatility (they can't be separated), the bridge makes up for it. However, some will find it difficult to tune the strings.
Neck, fingerboard, headstock
The Neck-Through-Body maple fingerboard with graphite reinforcement and scarf joint is incredibly fast. It's sturdy, heavy, and compact, emphasizing midrange and treble. It's 25.5 inches long, and the Compound radius of the Laurel fretboard is 12″-16″. There are 24 Jumbo frets with reversible shark-eye inlays and a pointed Jackson headstock with Floyd Rose Special Locking Nut. That's all about the fingerboard and its components, but I can't help but say that it's one of the most comfortable I've ever had the pleasure to hold. The manufacturer did literally everything he could, and it's up to your skill to take it from here.
Sound quality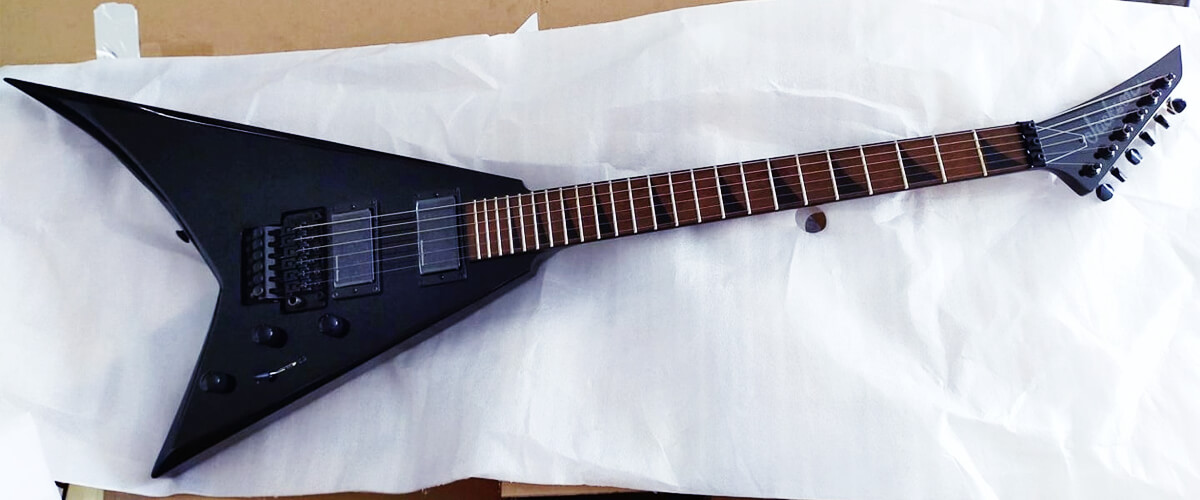 After reading not only this article but many reviews from happy owners of this guitar, you will realize that the Jackson X Series Rhoads RRX24 sounds like a monster. The humbuckers provide a searing, powerful tone and a crisp sound at the same time. But it's not clean. You can't play any part on this guitar without distortion; that's not what it's for. It feels great in Jazz, Blues, and Grunge because it has enough warmth. But the hyper-speed riffs, shredding, and amazing sustain on high notes make it also perfect for Hard Rock, Heavy Metal, Punk, or Hair.
Key specs
Scale, in/cm: 25.5/64.7.
Frets: 24.
Fretboard radius, in/cm: 12-16/30.4-40.6.
Type: electric.
Body material: basswood.
Neck material: maple.
Neck joint: bolt-on.