My Jackson Pro Series Dinky DK2 review is dedicated to an interesting model made in Indonesia, like most Jackson guitars. It's not cheap, but it doesn't cost a fortune, so it might appeal to many who appreciate good playability, decent sound, build quality, and unusual appearance. Let's go!
Body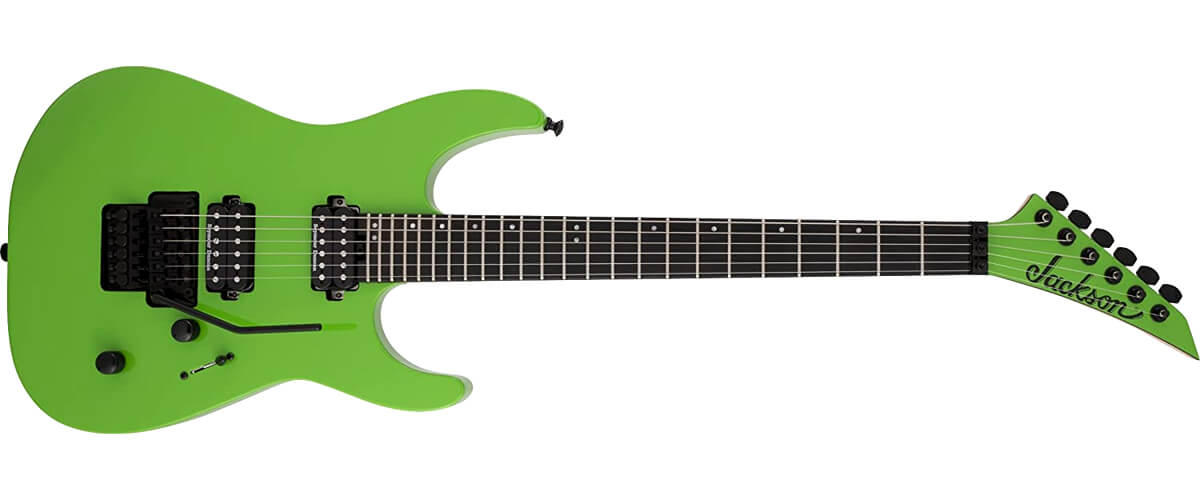 Well, those who like to stand out from the crowd will love the two colors of Neon Pink or Slime Green finishes. These colors are stage-worthy; you'll be seen even from Mars! They look incredibly cool on the Alder body in Gloss, which resembles the Strat shape, but with sharper edges and is, therefore, a licensed Jackson Dinky shape. The two deep notches give the guitar the aggressiveness it needs, especially when combined with the hardware in black (pickups, bridge, tone and volume controls, and slide switch and tuners), and provide access to the high frets. The DK2 is fantastically beautiful, comfortable, and reliable.
Pickup system
Now let's take a look at the Jackson Pro Series Dinky DK2 specs. And there is something that might surprise you! A pair of humbuckers from one of the world's leading manufacturers sounds great, and you won't have to worry about replacing them for years to come. More power, more sustain, more sound!
The Seymour Duncan JB TB-4 bridge and the Seymour Duncan '59 SH-1N neck with HH configuration are controlled by single volume and tone controls and, at the same time, a five-position switch that opens up the range of pickups for playing a variety of styles. Mostly heavy, but also ones with some distortion, like jazz and blues.
The Floyd Rose 1000 Series recessed tremolo bridge with double-locking for improved tuning stability also fits the guitar's style perfectly, though some might find it challenging. Well, this guitar will satisfy the needs of sophisticated players as well!
Neck, fingerboard, headstock
The neck didn't let you down, either. Made of Maple, it is attached to the guitar's body by a reliable Bolt-On system with graphite reinforcement and a scarf joint. The urethane coating is hand-applied, feels great in the hand, and is conducive to fast playing. Then there's everything for the comfortable playing of heavy styles. For example, the 12″-16″ radius Ebony fingerboard with 24 Jumbo frets is perfect for chords and solos, and the crank adjusting wheel mounted on the heel allows for quick and comfortable fingerboard relief changes. Finally, a pointed beveled head with Jackson sealed die-cast tuners and inlaid offset Pearloid dots, as on many Jackson models, completes the Metallic look of the Jackson Pro.
Sound quality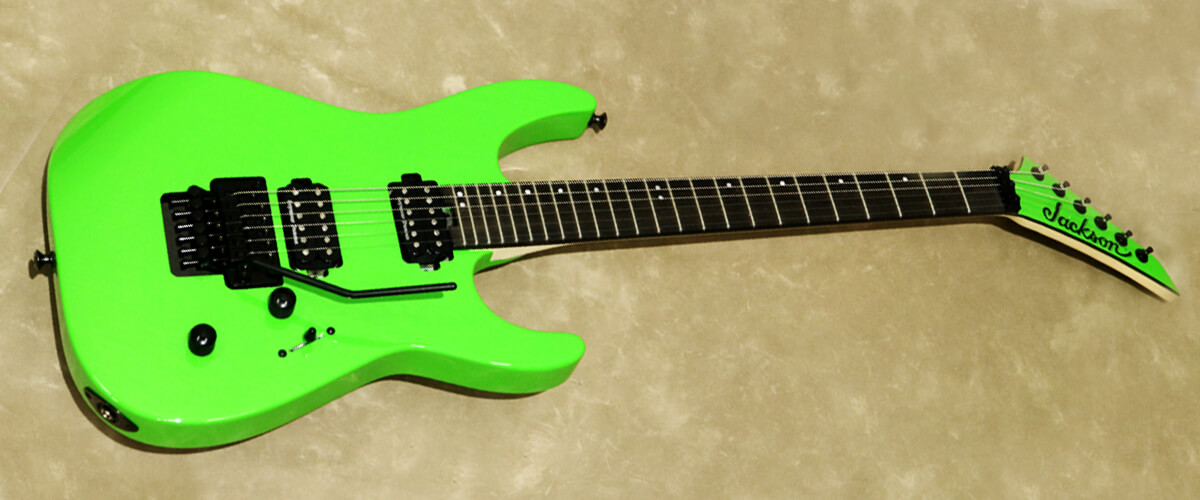 The Jackson Pro Series DK2 Dinky sound is amazing. By changing the gain mode and switching the pickups, you get a wide range and variety of tones. The melody and riffs of classic rock, the warmth of jazz, aggressive metal – all distortion styles are available to it. Yes, it's not as versatile as many models of its rank, but Hard Rock and Heavy Metal fans will definitely love it. I mean, what's so surprising? It was created for that purpose!
Key specs
Scale, in/cm: 25.5/64.7.
Frets: 24.
Fretboard radius, in/cm: 12-16/30.4-40.6.
Type: electric.
Body material: alder.
Neck material: maple.
Neck joint: bolt-on.