Although the Jackson company was founded relatively recently, in the 70s of the last century (unlike many competitors, engaged in production for over 100 years), it is still firmly established in the market, producing a wide range of models, among which there are budget ones. So today, in the Jackson Dinky Arch Top JS22 review, I will introduce you to a cool JS series model for pretty little money, which has excellent playability and a set of additional virtues that will definitely interest you. Let's get started.
Body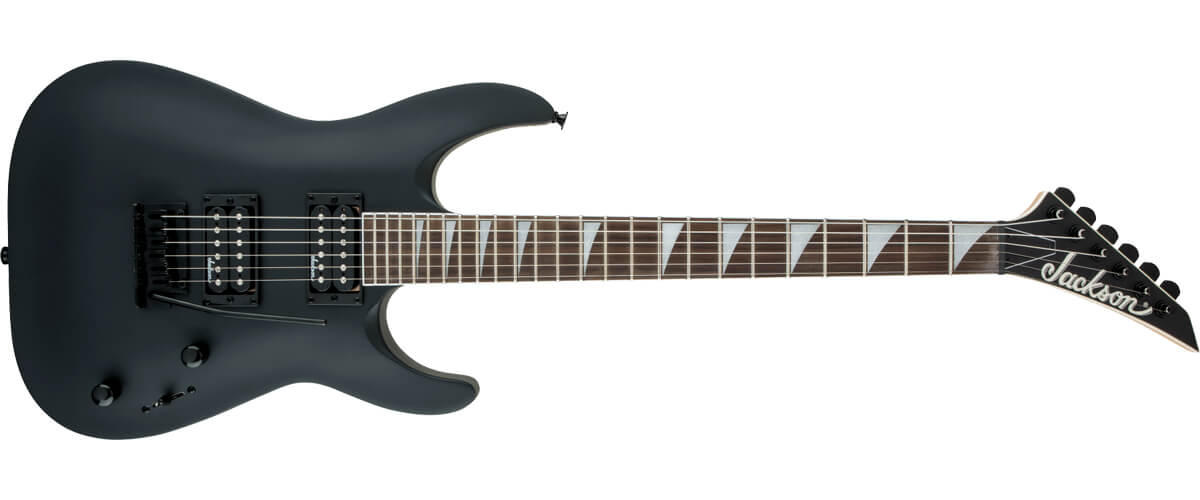 The body of the guitar is made of Poplar with a Satin-coated arched top and has a Dinky shape that is very similar to the SuperStrat. Poplar is an inexpensive wood, yet it has good tonal qualities, especially in the mid frequencies, and it is also light and soft.
The double cutaways give the Jackson Dinky JS22 style and character, especially with the beveled edges, which in addition to the design intent, make it easier to access the high frets. The top has two tone and volume controls and a humbucker selection slider, which, like the bridge, are in black and add to the guitar's appearance of aggressiveness. There are four body colors in the lineup: Metallic Blue, Natural Oil, Satin Black, or Snow White. And they all look very cool.
Pickup system
The two original Jackson High-Output Humbucking pickups with ceramic magnets for the bridge and neck are pretty high-performance. With the HH configuration, they promote a clean, voluminous, warm tone and an old-school metallic sound. They're not versatile. Sure, they're not the most reliable construction, but you must remember the guitar's price here and settle down. For their rank, these are good components. The operation is simple, with volume controls separately for each humbucker, one tone control, and a 3-position switch: bridge, bridge, and neck, neck.
The bridge here is a thorough two-point tremolo with individual bridge saddle adjustments. Don't push it too hard, and it will hold up to anything you play on it, even bends with a dive bomb (but not all the time). The tuners here are molded and Jackson-branded, too. They hold intonation very well. Yes, the Jackson Dinky JS22 specs are generally designed for Metal, but it's still worth taking it with restraint and saving it from too aggressive a load.
Neck, fingerboard, headstock
The Maple neck is attached to the body by a Bolt-On system with graphite reinforcement and a scarf joint, so it's very stable. It's smooth and wide all the way around, and the 24 Jumbo frets are pretty low, which will also be helpful, especially if you're just starting to play. The Amaranth overlay has a full-size 25.5″ Scale Length and 12″-16″ Compound Radius, making it fast and comfortable and providing a low-frequency response. Pearloid inlays in the shape of shark fins add style to the guitar, which is completed by a beveled pointed head. And that's further proof that it's Metal.
Sound quality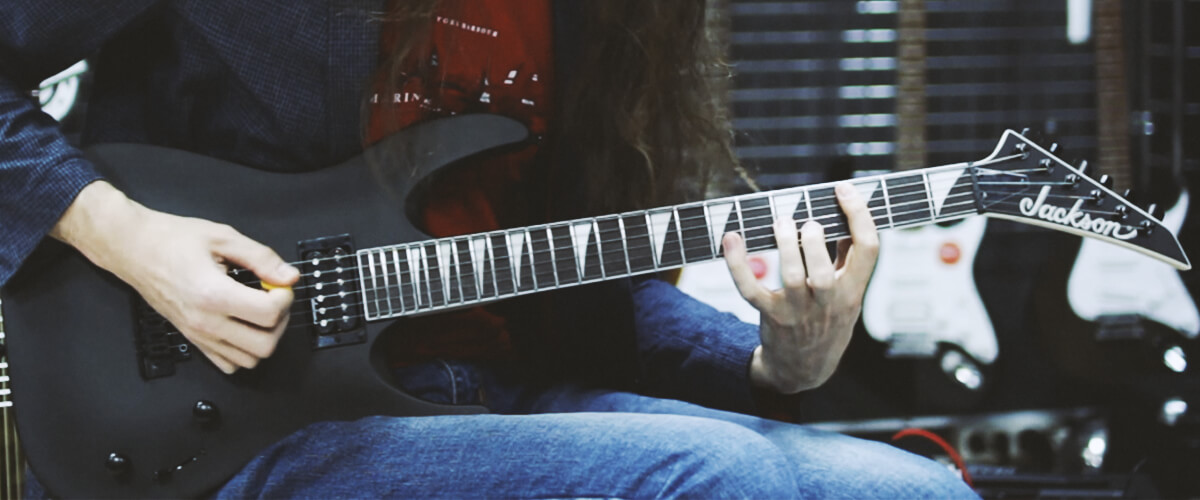 So what does the Jackson JS22 Dinky sound like? As you have already realized, it will appeal to those who do not want to spend all the money out of their pockets to buy an instrument yet and still like to play the heaviest music. Don't look for any clarity, just distortion, crunch, and bite. This guitar does great with speed soloing, tapping, shredding, and sweeping, and overall sounds powerful and very decent. Add an amp to it, and you'll be amazed at how good it is for its segment.
Key specs
Scale, in/cm: 25.5/64.7.
Frets: 24.
Fretboard radius, in/cm: 12-16/30.4-40.6.
Type: electric.
Body material: polar.
Neck material: maple.
Neck joint: bolt-on.