I have finally found the time to do an ESP E-II Horizon FR-7 review. At first sight, I realized that this 7-string guitar is capable of surprising. After all, it's literally made for playing Hard Rock and Heavy Metal. It even looks powerful, and its sound is astonishing. Assembled in Japan, it is a model of high-quality construction. I could go on and on in my compliments, but let's take a closer look at the features that make it so special. Here we go.
Body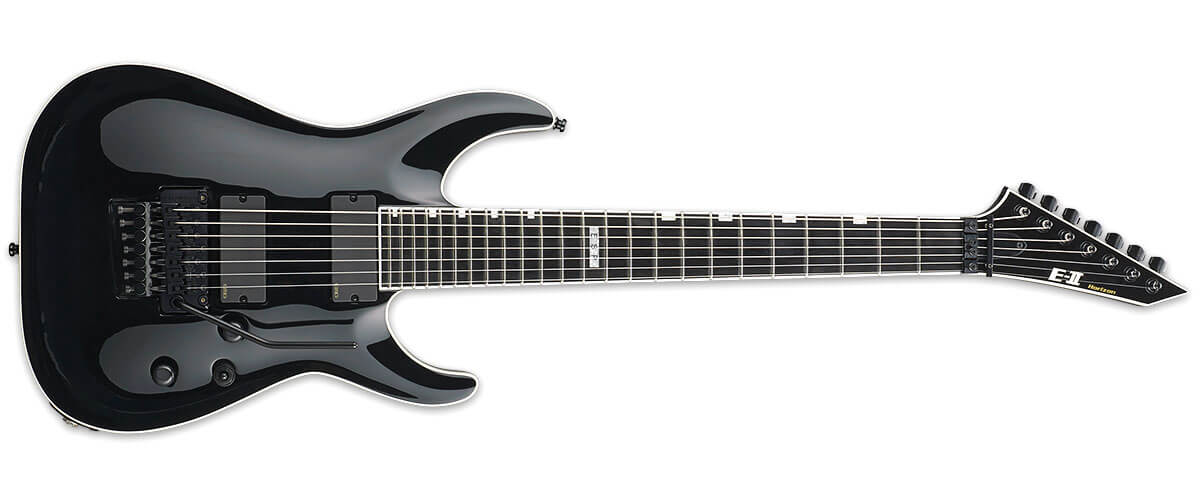 I love the way this instrument looks. The understated, elegant, yet the eye-catching design is very much in keeping with the guitar's purpose. Its solid alder body comes in Black and Black Turquoise Burst. The streamlined shape plays glossy in the spotlight. And the E-II Horizon FR-7's cream finish makes it stand out even more. With its sharp, signature head, the neck also looks very powerful. So even in the largest of hands, it will feel appropriate. On top of all that, it's pretty comfortable to play. Two notches provide access to the high frets.
The hardware is rounding out the design. As sleek as it is in black, it's almost invisible, but it has premium quality. Floyd Rose Original, Gotoh Tuners, and Master Volume and Tone, as well as a 3-way Toggle Switch, play their part, but more on that later.
Pickup system
When it comes to balancing the guitar, the restrained design is compensated for by the most powerful Pickup system. EMG is one of the leading brands for pickups. They are called "hot," "monsters," and other epithets in that vein. And that's exactly what they are. The two active EMG 707s, specially designed for 7-string guitars, are in the bridge and neck and together create an incredible vintage sound effect. Like all EMG pickups, they won't give you a clean, undistorted sound. But I told you in the beginning that this guitar is made for Metal and Rock. Anyway, I don't think you understand it until you hear it.
The electronics have a simple control that nevertheless can give you a wide range of action. The Floyd Rose Original bridge is premium here, and it's fixed.
Neck, fingerboard, headstock
As I said before, the E-II Horizon FR-7's Thin U-shaped neck matches the image of the guitar. It connects to the body with the Neck-Through system, which is considered the most reliable. The material is 3Pc Maple with a 12″ Ebony overlay. The glossy finish makes the neck comfortable and very fast, which is important because it has a 25.5″ Scale length and 24 XJ (Extra-Jambo) frets. Offset block inlays and the name of this guitar on the 12th fret are distinctive design features. Impressed? I am. Powercording or Shredding – easily!
Sound quality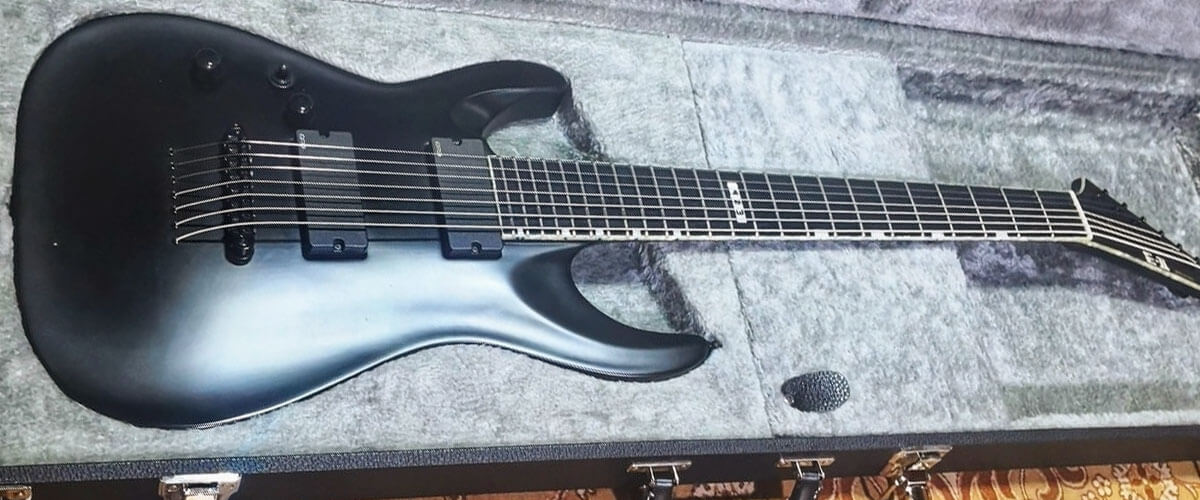 The ESP E-II Horizon FR-7 sound is impressive. Of course, it's a result of the EMG pickups I described above. Thrash-, death-metal is what you need to play on it. No doubt about it. Incredibly loud, powerful, with super heavy tones, fast, and with such necessary distortion for heavy styles, it's just created for the stage.
Key specs
Scale, in/cm: 25.5/64.7.
Frets: 24.
Fretboard radius, in/cm: 12/30.5.
Type: electric.
Body material: mahogany.
Neck material: ebony.
Neck joint: fixed.