Good news for Gibson Les Paul fans awaits in this Epiphone Les Paul Custom review. A much cheaper version of the famous guitar has almost identical qualities because Epiphone has long been popular among guitarists as a decent alternative to expensive iconic models. Les Paul Custom is part of the Inspired by Gibson series and is based on the Les Paul "Tuxedo" model from 1954. So I suggest you start getting to know it better and see if it's as good as I suppose.
Body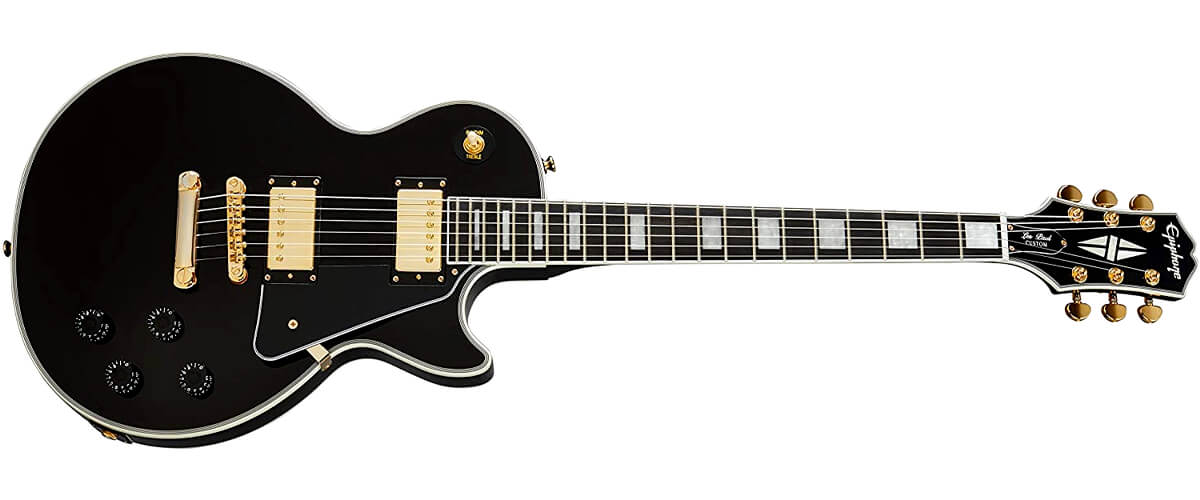 Expectedly, the guitar body is shaped and styled like a Les Paul. The model has two colors, Ebony or Alpine White, and I got the black version, which I was absolutely thrilled with. Coated in Gloss, with Multi-ply Custom binding, and a black Pickguard with white edging, the guitar looks simply stunning. Sure, it's not as shiny as a Gibson, but overall very similar from a distance. The construction is very powerful, made of solid Mahogany. For those unfamiliar with Les Paul, it will seem heavy, and it is. So prepare your back before you go on stage for a heavy load. However, the tonality of this stuff needs no description, so it's a worthy sacrifice for a high-end sound.
Four controls, located on the body, are very comfortable, in black, almost invisible against the background of gold fittings, which once again emphasizes the chicness of the Epiphone Les Paul Custom.
The set does not include a case, but a hardshell or soft EpiLite Case, specially prepared for this model, can be purchased separately.
Pickup system
Epiphone Les Paul Custom specs include a PAF-style humbucker system. These are the Neck Pickup Epiphone ProBucker 2 and the Bridge Pickup Epiphone ProBucker 3. They were designed as a cheaper alternative to the Burstbucker that Gibson uses. However, the manufacturer really tried to get closer to the original. And even though you can't seriously compare them because of the price, they still convince me with their sound.
There are CTS potentiometers tone and volume controls for each humbucker separately, allowing for optimal tuning. And also, a 3-way Epiphone toggle selector separates or combines the humbucker operation as you wish.
Rounding out with the Epiphone LockTone Tune-O-Matic bridge and a standard 1/4″ Output Jack. Let's move on!
Neck, fingerboard, headstock
The glued fingerboard matches the basic image of the guitar. It's a 60s SlimTaper Mahogany and very comfortable to play. The 12″ radius Ebony fingerboard with 24.75″ scale length and 22 Medium Jumbo frets looks great with Pearloid Block inlay that finishes at the head of the neck with a diamond appliqué. The Nut Material is Graph Tech NuBone, 1.69″ wide. The Grover Rotomatic Tuners are very good both in appearance and function. It was easy for me to tune my guitar as they have a great gear ratio (18:1). It all looks organic and works well together.
Sound quality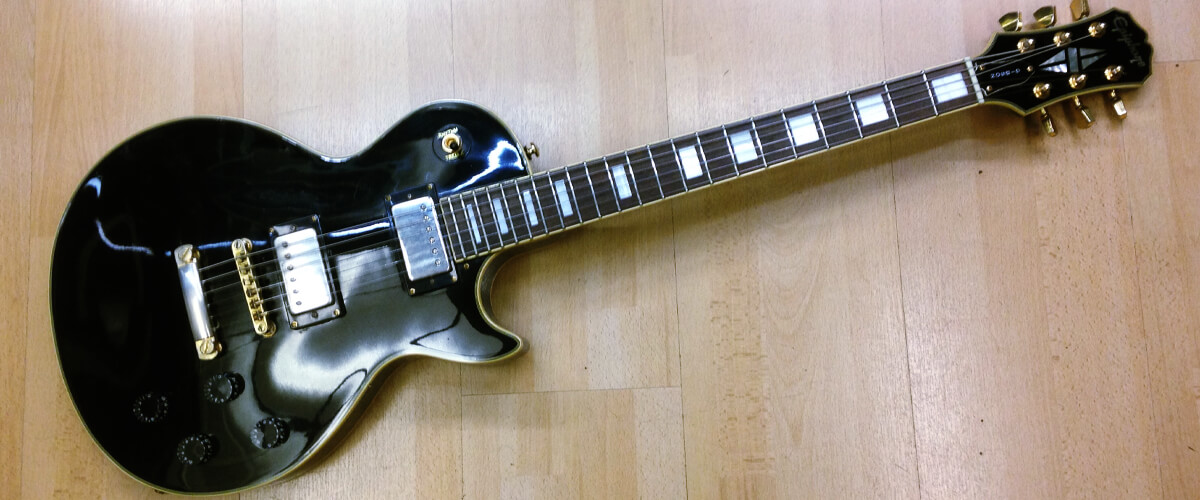 Epiphone Les Paul Custom is a voluminous, warm, deep sound with humbuckers providing good ringing tops and great bass. It is amazingly versatile. I specifically tried jazz, blues, rhythm parts, and classic rock, and by connecting a distortion pedal came out very convincing heavy metal (even though I'm not a fan, but for the purity of the experiment). That said, I can't claim that the sound is crystal clear. But for the styles mentioned above, it doesn't need to be. The notes are crisp and rich, and the sustain is elongated. Describing the sound of this guitar is quite easy, but it's better to hear it.
Key specs
Scale, in/cm: 24.7/62.6.
Frets: 22.
Fretboard radius, in/cm: 12/30.4.
Type: electric.
Body material: mahogany.
Neck material: ebony.
Neck joint: glued.