Since Epiphone focuses on producing affordable alternatives to the famous Gibson luxury models, I thought it was worth making an Epiphone Firebird review. Agree that this model is worthy of attention in terms of how popular and unusual the original is. Running a little ahead, I will say that if these two guitars can't be compared from the beginning to the end, Epiphone still tried to keep maximum traditions of construction and appearance, replacing humbuckers with cheaper ones and probably lost in the identity of sound, nevertheless having created a decent instrument. Let's go.
Body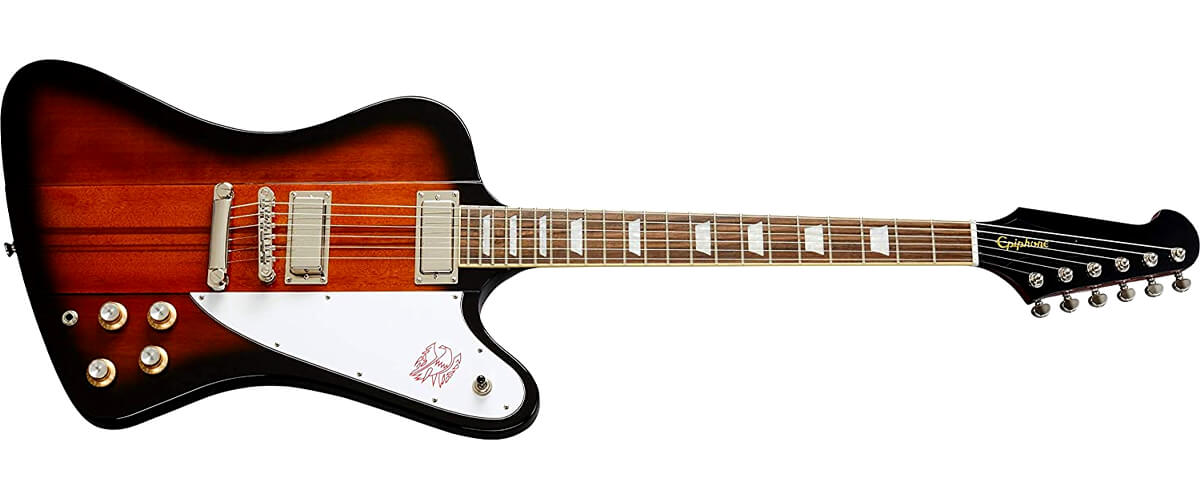 Gibson first introduced the reverse slim body and headstock design in 1963. No one is surprised by it today, yet the Firebird shape looks unique and recognizable. Well, the Epiphone Inspired by Gibson Firebird has a solid Mahogany body and glossy finish, which, like the other models, is inferior to the original, though identical in appearance. The instrument comes in one Vintage Sunburst color, and in my opinion, you couldn't have thought of a better one. It looks gorgeous and really fiery, especially with the Nickel fittings and the white Pickguard with the Firebird image.
The body features an Epiphone LockTone Tune-O-Matic Bridge, four Gold Top Hats with Silver inserts Control Knobs, and bottom and heel Strap Buttons, and you can purchase the Firebird Hard Case 940-EFBCS separately. And while I'm not a fan of unconventional shapes, the guitar still impresses me with its look.
Pickup system
Epiphone Firebird specs are inferior to Gibson, as I said in the beginning. The HH configuration offers us the Epiphone ProBucker FB720 Neck Pickup and the Epiphone ProBucker FB720 Bridge Pickup. But I am not saying they are bad on their own. They are passive pickups cleaner than single-coil ones but don't provide as much distortion and power as the more expensive models. Nevertheless, this is a Rock guitar with warm tones to suit many styles. And you can replace the humbuckers over time if you suddenly want to change your style to a more hardcore one. For me, the native ones are fine.
The humbuckers are controlled by four CTS pots for Volume and Tone separately for each, as well as a 3-way Epiphone toggle Pickup Selector that allows you to combine or separate them, which provides a fat range of genres. It was easy for me to control the instrument, and the result was very satisfying.
Neck, fingerboard, headstock
This model uses Neck-through fingerboard mounting technology. It provides incredible stability. The 9-ply neck is made of Mahogany/Walnut and has a SlimTaper C-profile shape. It conveys an incredibly warm, rich tone and feels great in hand, allowing you to move along quickly and easily. Pretty standard for Epiphone guitars of this rank, the fingerboard is made of Indian Laurel, has 22 Medium Jumbo frets with Trapezoid Inlays, and a 24.75″ scale length.
The tapered top has a 1.692″ Graph Tech NuBone Nut and a headstock with Grover Mini 18:1 ratio machine heads on one side. The guitar sounded great out of the box, though. Although the guitar sounded great out of the box, I tried out the picks and found them smooth and comfortable.
Sound quality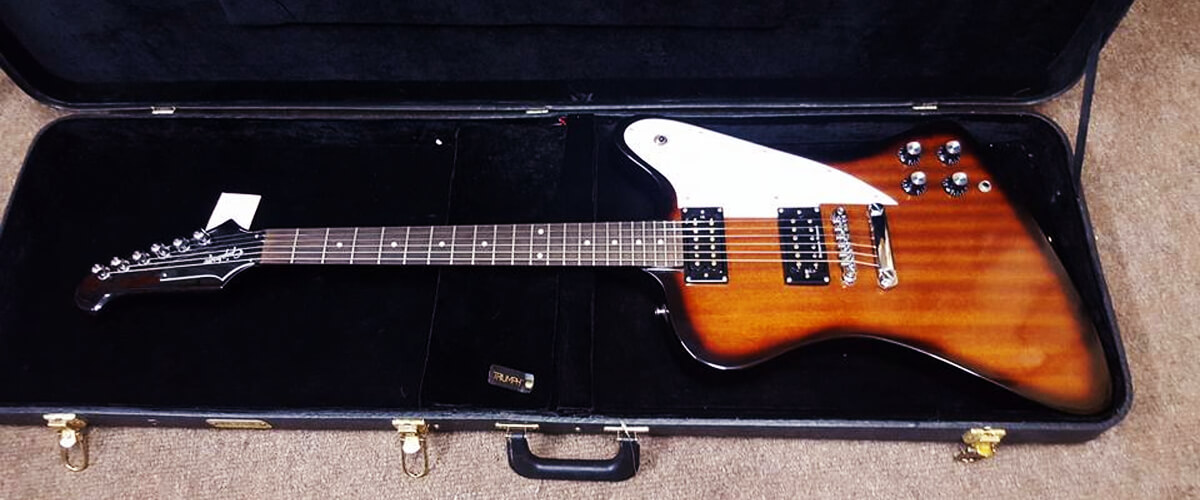 The Epiphone Firebird sound is deep, warm, and rich, as I mentioned earlier. It's incredibly pleasant but can sound dirty when distortion or overdrive pedals are used. Although after trying a few different genres to determine what the Firebird suits better, I can say it's pretty versatile, I still lean toward styles like classic rock, blues, and jazz, and I also see it as a good rhythm guitar. It doesn't produce the cleanest notes but feels great in those not-so-hard genres.
Key specs
Scale, in/cm: 24.7/62.6.
Frets: 22.
Fretboard radius, in/cm: 12/30.4.
Type: electric.
Body material: mahogany.
Neck material: indian laurel.
Neck joint: bolt-on.