My today's Charvel Pro-Mod San Dimas Style 1 review is about the guitar, which is a true gem in the manufacturer's lineup. The Pro-Mod San Dimas guitar pays homage to the original San Dimas models that were highly regarded among guitarists in the 1980s. Charvel is known for its meticulous attention to detail when making guitars, and today's guest of my review is a perfect example of that. I can't wait to share my impressions with you, so let's get to the fun part.
Body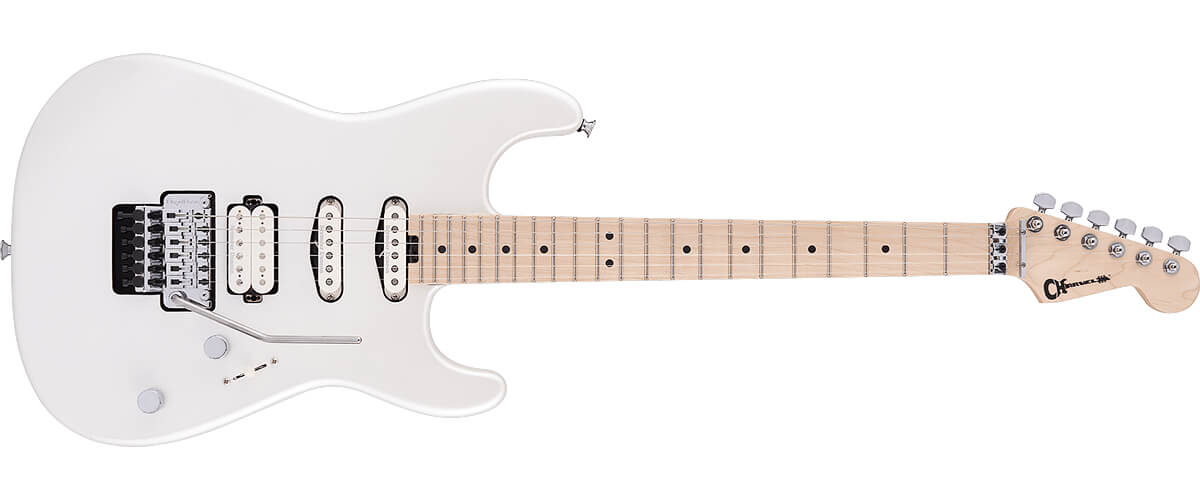 In keeping with tradition, I will start my Charvel Pro-Mod review with the construction of this guitar. Visually, the Charvel guitar is a stunner! The sleek body contours, glossy finishes, and stylish hardware choices give it a modern yet timeless aesthetic.
It features a classic double-cutaway body shape, crafted from high-quality alder in matte blue frost, shell pink, and snow white shades. The guitar's body is perfectly balanced and lightweight, allowing for hours of comfortable playing without any strain on the shoulders or back.
Pickup system
This model features a pair of powerful Seymour Duncan humbucking pickups: JB TB-4 for bridge pickup and '59 SH-1N as a neck pickup. They deliver a wide range of tones, from pristine cleans to roaring high-gain distortion, making them suitable for various genres and playing styles.
The bridge features Floyd Rose 1000 Series Double-Locking Tremolo, which is floating, but slightly upward tilting.
San Dimas Guitar specs for pickup switching include a 3-position blade. In the first position, the blade switch is set to the bridge pickup alone, which I use for driving rhythm sections. In the 2nd position, both outer coils are used, while in position 3, just a neck outer coil is on the go.
Neck, fingerboard, headstock
My Charvel San Dimas review would not be full enough without describing the neck, made from maple, which is a real joy to play. I felt excellent stability and resonance while playing. The sleek satin finish on the back of the neck allowed my hand to glide effortlessly up and down the fretboard, making it perfect for intricate lead work and lightning-fast solos.
This 12″ to 16″ compound radius fingerboard provided a unique playing experience, offering a more rounded profile for comfortable chord work and a flatter radius at the top fret, providing easy bends and shredding.
The headstock is a Licensed Fender Stratocaster, which has a unique angled contour. I would like to point out that it indeed contributes to the balance of the guitar and reduces neck dive.
Sound quality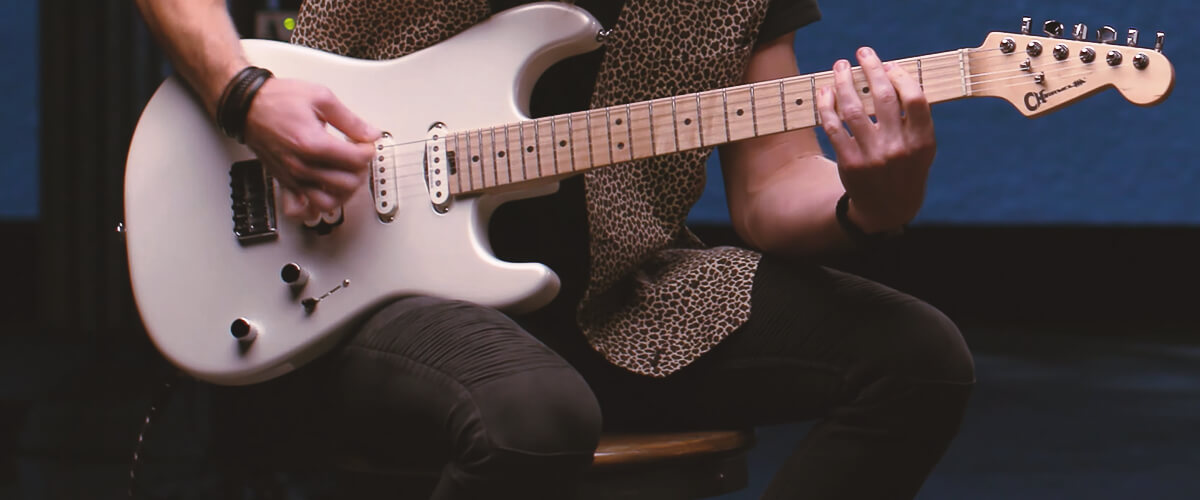 Overall, the Charvel San Dimas Pro Mod sound is full of chunky rhythm tones and soaring lead tones with ample sustain, which are great for my high-energy rock and metal music. Tone bypass at the 10 position and coil taping also deliver a wide range of sound options.
Despite my genre preference, I also tried moving to the neck position so it offers a warmer and more vintage-inspired tone. It produces a smooth, creamy sound with a well-rounded low end, rich midrange, and sweet, singing highs. As you can see, this "beauty" is versatile and will show itself perfectly in almost any musical genre.
Key specs
Scale, in/cm: 25.5/64.7.
Frets: 22.
Fretboard radius, in/cm: 12-16/30.4-40.6.
Type: electric.
Body material: alder.
Neck material: maple.
Neck joint: bolt-on.