So, you've purchased your first guitar, studied its basic anatomy, and are ready to learn how to play this beautiful musical instrument. But that begs the question – Should I take guitar lessons? It is asked by every beginner who is inspired by the instrument.
Are guitar lessons worth it if you want to change your daily routine and fully immerse yourself in your creativity? Can I learn on my own, or do I still need a mentor to speed up the process and guide me correctly? There is no definite answer here because it all depends on your skills and abilities in mastering information, motivation, discipline, and the availability of time and money.
Self-taught vs professional instruction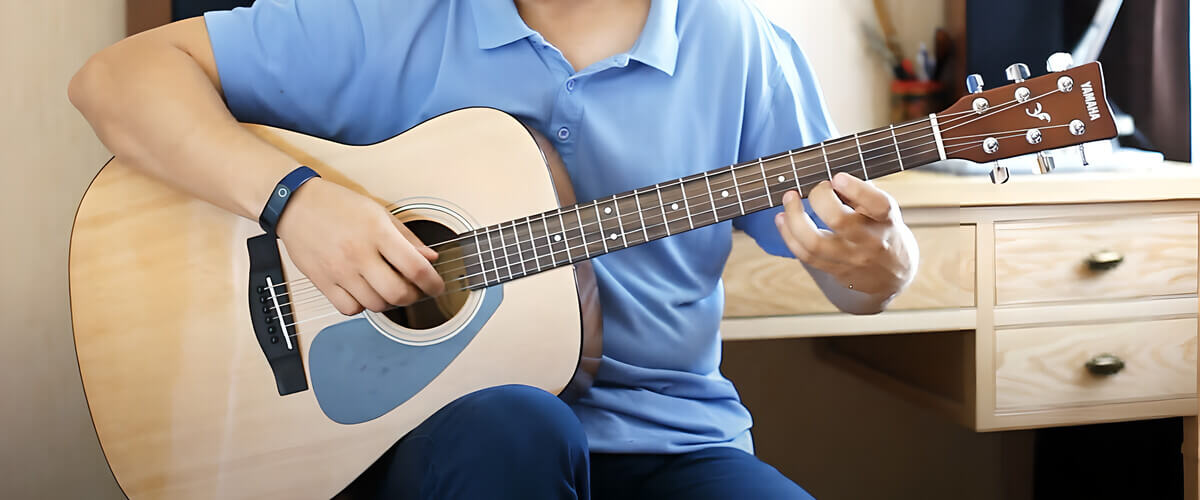 If you like to solve complex problems and understand all methodical materials on your own, do not like obligations, and want to minimize costs, then self-learning may be suitable for you to start with. Thanks to YouTube, specialized apps, and websites, you can teach yourself to play the guitar, it's all quite possible.
Let's say you're a very self-organized person who has clearly and correctly absorbed all the necessary manuals and video lessons, but you can't completely avoid the common mistakes associated with self-taught guitar lessons because you don't see yourself from the outside and don't hear feedback on your playing. This often leads to gaps in basic guitar technique. In this case, lessons with a professional teacher will be your excellent solution.
Online vs in-person lessons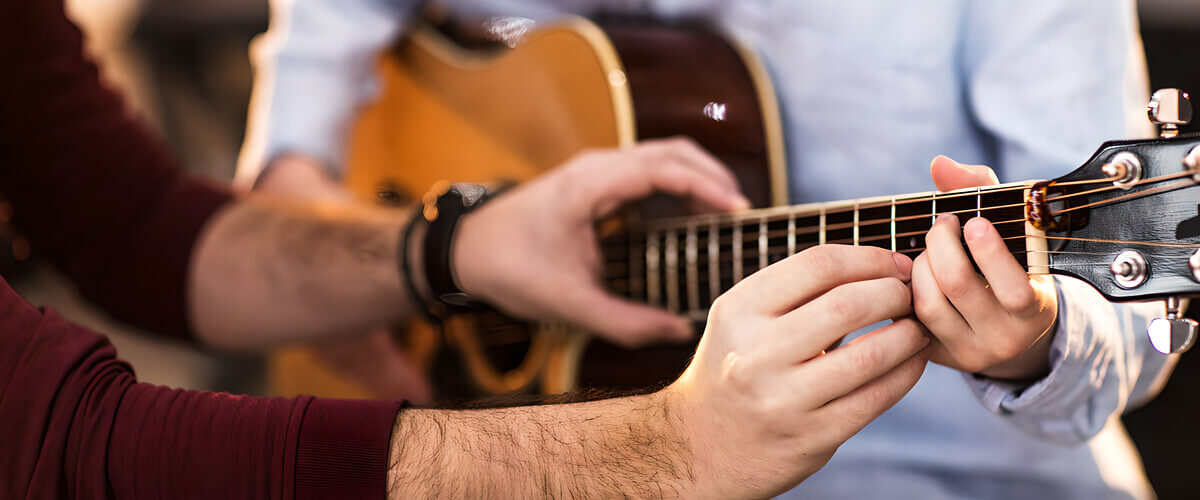 Undoubtedly, teacher-led lessons offer several important benefits, but online classes have also become very popular recently. But can online classes compare to real classes and face-to-face contact with a tutor?
The convenience of distance learning is that you can learn from the comfort of your own home, saving time, and your choice of teacher is not limited by location. You can ask questions, get guidance from a real person, and have a flexible learning schedule. The variety of learning styles, as well as online platforms with broad access to many resources, make distance learning more convenient and cost-effective.
Whether you prefer them to face-to-face classes depends on your preferences and circumstances. If you don't have any prejudices about learning online and are self-organized, then I recommend you try this method of learning guitar. If face-to-face contact and direct interaction with your teacher are important to you, then, of course, live interaction with your mentor is the way to go.
Frequently asked questions
How do I know if I'm ready for guitar lessons?
If you have a genuine interest in music and have long wanted to brighten your life with guitar sounds, you can start lessons at any time. Clearly define your goals, options, and pace of learning. You can try it on your own or hire a professional. All you have to do is start, and believe me, your hard work will only be rewarded.
How often should I take guitar lessons?
The frequency of lessons can vary depending on your goals, schedule, and current skill level. If you are an aspiring musician with limited experience, weekly guitar lessons with a teacher may have more advantages vs self-taught. I recommend practicing 2-3 times a week. This is more than enough for the first stage of your training.
Are group lessons effective?
The friendly, relaxed atmosphere, kind competition during rehearsals, and undoubtedly authoritative teacher make group guitar lessons more attractive to students of different levels of training, as there is a clear distribution of Raleigh. However, if you feel that you're not getting enough individual attention or that the pace is too slow or fast, consider supplementing with private lessons or additional hours of self-study.
Can I learn to play guitar as an adult?
There is no age limit for those who sincerely want to learn to play the guitar. Another question is whether an adult has enough free time for regular lessons since playing a musical instrument requires daily work and dedication. Also, the advantages of adulthood include the presence of serious motivation and strict self-control, which is often lacking in adolescents. It is never too late to learn a musical instrument!